Ukraine Prime Minister Yatsenyuk Survives Vote of No Confidence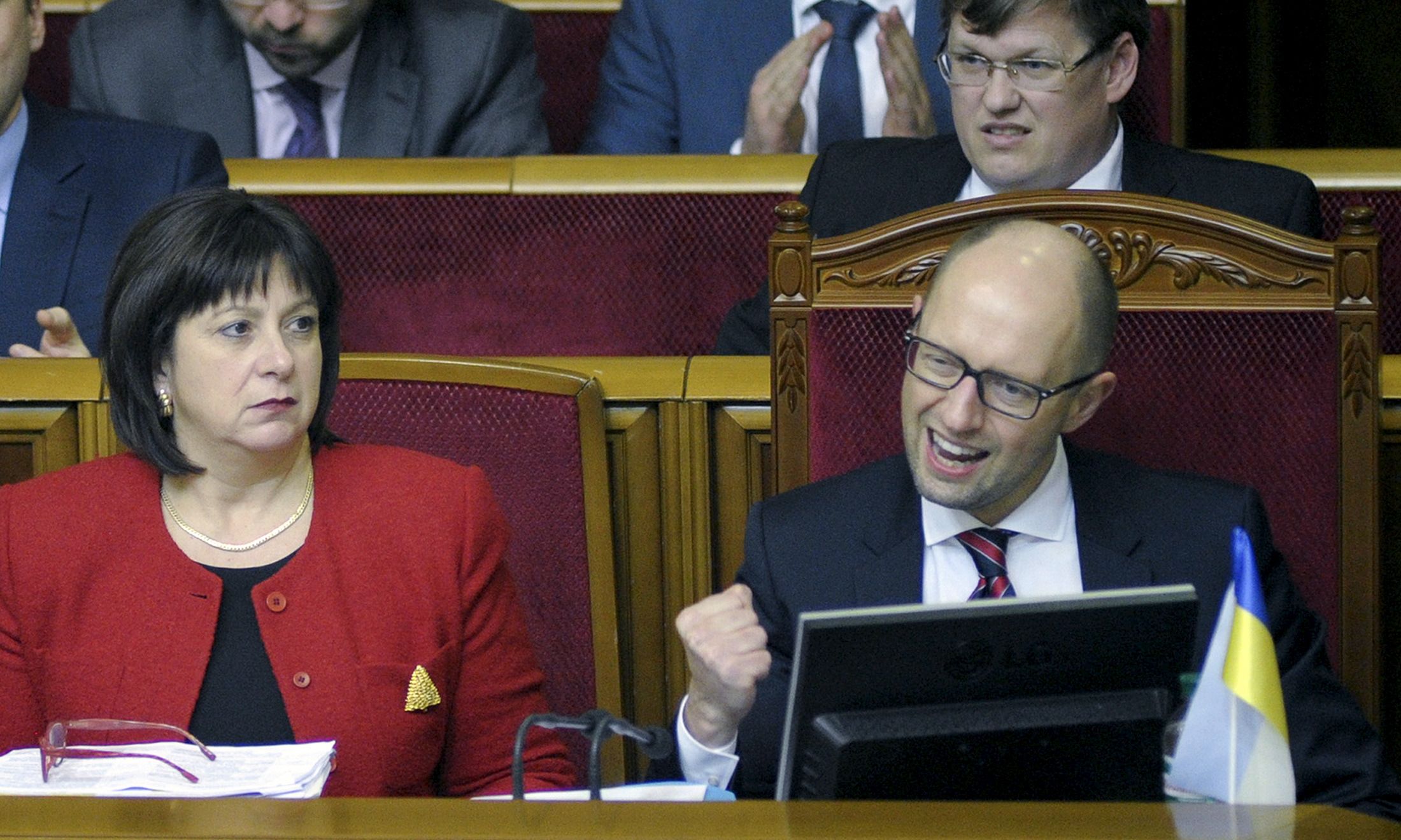 Ukrainian Prime Minister Arseniy Yatsenyuk has survived a parliamentary vote to sack him despite a harrowing assessment from the country's President Petro Poroshenko and parliamentarians on Tuesday.
Out of a majority of 226 parliamentarians required, only 194 voted against Yatsenyuk, as Mustafa Nayem from Poroshenko's BPP party reported that all members of the Opposition Bloc party had left the Ukrainian parliament (Verkhovna Rada) before the vote.
Yatsenyuk became prime minister in 2014 after his Popular Front (Narodniy Front) party won 81 seats, finishing behind Poroshenko's party. The two parties formed a pro-European government with three other smaller formations, as pro-Russian forces began advancing on swathes of land in the east. A year-and-a-half later, with the conflict somewhat frozen, public attention is on Kiev and criticism of Yatsenyuk has intensified.
"All that I have done, I believe, has been to do the right thing," Yatsenyuk said on Tuesday evening, when parliamentarians decided to hold a vote of no confidence.
Speaking at the end of a chastising parliamentary session, Yatsenyuk reminded lawmakers that when he took office in 2014, Ukraine was facing a serious fight in mobilizing a force capable of repelling the advance of pro-Russian fighters in its east. He said his government had amended this and more. If he were voted out of parliament now, Yatsenyuk said, his party "would leave with the country's treasury full, salaries and pensions paid."
On Tuesday, Poroshenko, whose party rules in coalition with Yatsenyuk, issued a statement claiming that 70 percent of the population had lost faith in the Yatsenyuk government and "a full reboot" was necessary. After calling on Ukraine's prosecutor Viktor Shokin to resign, he suggested that Yatsenyuk should follow the same route as previous efforts to merely reshuffle the cabinet piecemeal had not succeeded in restoring public faith.
The president said that despite some commendable work by the cabinet in a time of strife across Ukraine "the mistakes outweigh the achievements" in the eyes of voters.
"The dissolution of the parliament is not an obligation, but only a right of the president. And I will use it only as a last resort," Poroshenko added. A dissolution of parliament would trigger snap elections.
During his report to parliament, due only hours after Poroshenko's statement, Yatsenyuk appeared unwilling to resign, saying that his government had achieved a lot and "a lot remains to be done."
"We are ready to get the work done," Yatsenyuk said, before giving the floor to MPs to have their say on his government's work.
Lawmakers took turns taking shots at Yatsenyuk's record, from his economic policy to projects such as the planned $225 million wall on the Russian border that have largely not materialized. Coalition partners and opposition partners attacked Yatsenyuk as the mood in the Rada indicated the tide had turned strongly against him.
Kiev's ability to reform the country and rinse the system from corruption has been on the majority of the population's minds, according to opinion polls, and over the last year Yatsenyuk's reputation as a reformer has suffered. After the arrival of several Poroshenko allies from abroad, most notably former Georgian President Georgian Saakashvili, rows began to erupt over allegations that Yatsenyuk and other Ukrainian ministers were corrupt.
"Yatsenyuk shot up in popularity just before 2014 and his decline was equally steep," says Otilia Dhand, Central and Eastern Europe analyst at Teneo Intelligence. "While his government fell woefully short of expectations in many regards, his dismal popularity ratings in recent months were probably a result of the public perception that Yatsenyuk failed to deliver a shift to more transparent political culture and deal with legacy of high-level corruption."
In December 2015, a meeting of top officials was suspended by Poroshenko after Saakashvili vowed to expose corruption in the Ukrainian cabinet of ministers, prompting a shouting match between him, Interior Minister Arsen Avakov and Yatsenyuk, with Avakov tossing a jug of water at a relentless Saakashvili. The video of the meeting was shared widely in Ukraine.
To make matters worse, it came only days after one MP from the president's party caused a fistfight to breakout in parliament, after trying to lift Yatsenyuk off the speaker's podium mid-speech and carry him out.
Tuesday's vote means Yatsenyuk's cabinet will likely stay in power until September.