Ukraine Athlete's Wife Gives Birth During 'The Sound of Bombs and Sirens'
A Ukrainian soccer player says his newborn daughter was delivered "under the sounds of bombs and sirens" amid the ongoing Russian invasion. The child's birth is just one of many reported births that have happened as Russia continues its sixth day of attacks.
Igor Litovka, a 33-year-old goalie for the Desna Chernihiv soccer team of northern Ukraine, announced his daughter's birth via Instagram on Sunday.
"Today, about 9:07 near Kyiv, under the sounds of bombs and sirens, a sweet girl was born…alone in the center of our capital panicked!" Litovka wrote, according to Google Translate.
"I also want to say the words of kindness to those who, after asking for help, responded to my situation," his post continued.
Litovka's Instagram post showed the infant child wrapped in pink and white blankets while wearing a pink knit cap bearing the image of Eeyore, the grey stuffed donkey from Disney's animated Winnie the Pooh series. The photo showed the child resting in a small crib inside what appeared to be a hospital.
The post also showed a blue card bearing the child's name and birth weight and height.
Litovka has played for the Desna Chernihiv soccer team since 2017. In October 2021, he was named by the international betting site Parimatch as the best player during his team's match against the Oleksandriya soccer team. He has also played for three years in the Ukrainian Premier League, the highest division of Ukraine's annual football championship.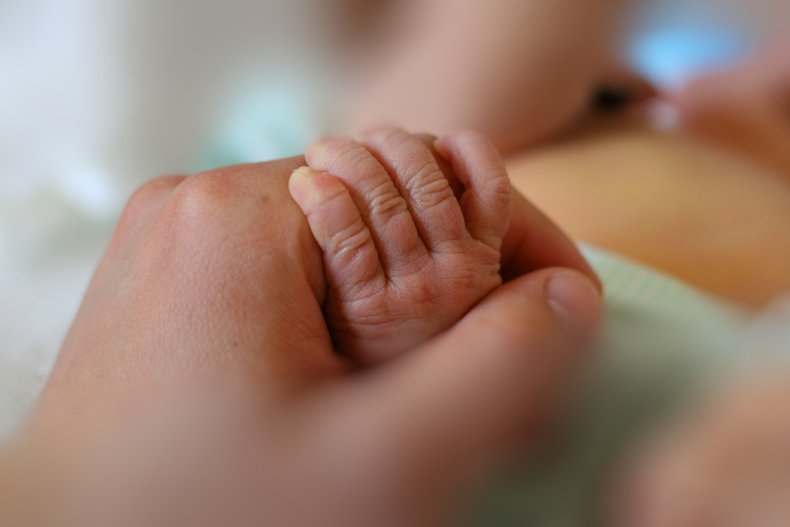 While Litovka's daughter was seemingly photographed in a hospital, other infants have been born in Ukrainian bomb shelters amid Russia's ongoing attack.
Last Friday, Hanna Hopko, the former deputy head of Ukraine, shared a photo via Twitter of a mother holding her newborn daughter. The daughter had been born in a metro station.
"Mia was born in shelter this night in stressful environment—bombing of Kyiv. Her mom is happy after this challenging birth giving," Hopko wrote. "When Putin kills Ukrainians we call mothers of Russia and Belarus to protest against Russia war in Ukraine. We defend lives and humanity!"
That same day, Ukrainian Health Minister Viktor Liashko posted two photos on Facebook of two infants born in a bomb shelter in Kherson, Ukraine, Today.com reported.
"The third day of the war, which was launched by the Russian occupants, under shelling and explosions, is also erupting lives and the cries of newborn Ukrainians," Liashko wrote. "Two new lives that in their genetic code already have War. We and they will never forget, and we will never forgive!"
He wrote that the Ukrainian health ministry has tried to provide hospitals with medical supplies despite the ongoing attack.