Bears in Ukraine Aren't Hibernating Because It's Too Warm, Have Started Suffering From 'Insomnia'
Abnormally warm weather is affecting the hibernation activity of Ukraine's brown bears, conservationists have said.
In a Facebook post, Synevyr National Nature Park in southwest Ukraine said winter is a period when all bears should be dormant. However, in its rehabilitation center, just three are currently hibernating.
This "bearish insomnia" is affecting 29 of the 32 bears housed in the center. These animals have spent their entire lives in the park, so their instincts to hibernate poor—however, conservationists say most of the bears fell asleep last year.
They say the air temperature is not low enough for the bears to hibernate.
Temperatures in Synevyr National Nature Park are currently hovering around 4 degrees Celsius, which is above the December average of minus 2.3 degrees Celsius and closer to the April average (6.9 degrees Celsius)⁠—which is around the time they traditionally emerge from hibernation.
The park statement said the region has only experienced one cold week, which is when the three bears managed to enter a state of hibernation. The rest, they say, are "waiting for the frost."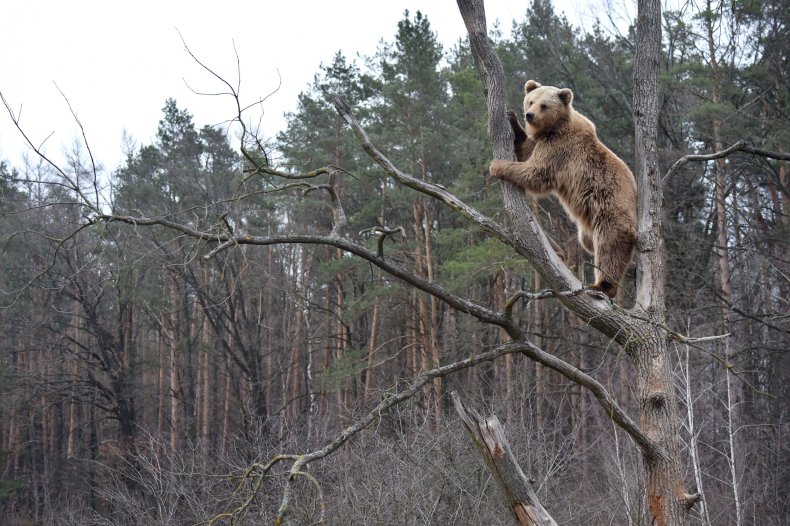 The outside temperature can be an important indicator for bears when it comes to determining when—and for how long—they hibernate.
In the weeks leading up to hibernation, studies have shown the bear's heart rate and body temperature will start to drop and physical activity will decline. As temperatures approach zero and snow arrives, animals find themselves a den to hunker down for the winter. This begins a period of hibernation during the winter months.
According to the National Park Service, the length of time a bear will hibernate varies according to species—ranging from a few days or weeks (black bears in Mexico) to six months plus (brown bears in Alaska.) The process allows them to survive food shortages and snow cover during the winter months, as well as the season's cooler temperatures.
Climate change appears to be altering the behavior of animals like the black bear, which hibernate for shorter periods of time and exit the den earlier when weather is warmer.
For every degree Celsius of winter warming, black bear hibernation decreases by six days—this means "by 2050, the average length of bear hibernation in [Colorado] could decline by 15 to 39 days," scientists wrote in the Journal of Applied Ecology in 2017. They believe similar assumptions can be made about other hibernating animals elsewhere.