A Ukrainian lawmaker has apologized after he was caught on his phone in parliament using dating apps and contacting a prostitute.
Bohdan Yaremenko, 48, who heads the foreign relations committee, was photographed in the Rada, discussing prices and sex services on a website.
During one voting session on Wednesday, he was pictured reading the profile of a 32-year-old woman and then another woman who names an hourly rate.
Yaremenko, who is married with two children, was then pictured looking at profiles on the Tinder dating app. When the story emerged, he initially justified his actions on Facebook, saying that they were part of a "deliberate provocation" to shame prying journalists.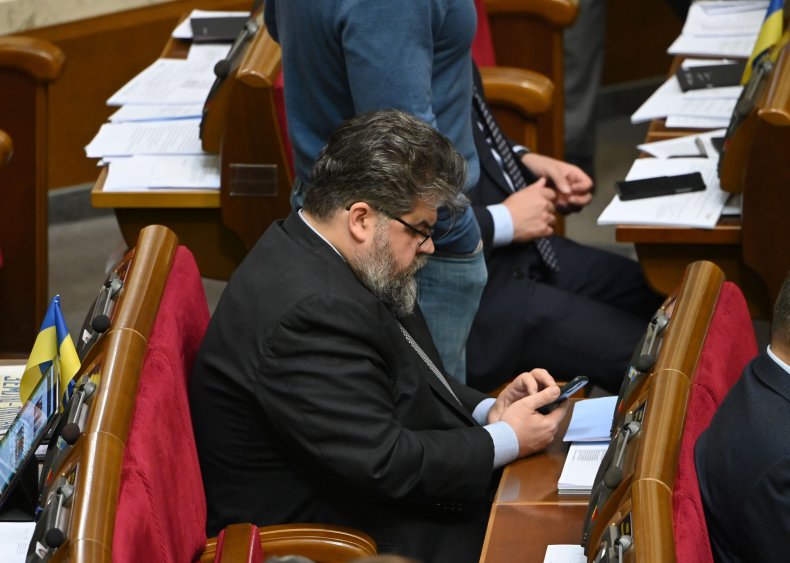 He then apologized, saying: "not all decisions are equally successful," according to Radio Free Europe, adding, "I want to apologize to all whom I've caused problems with my ill-advised actions—from my wife to the [parliamentary] faction and the president," referring to Volodymyr Zelensky, whom U.S. Democrats say was asked by President Donald Trump to dig dirt on Democratic presidential candidate Joe Biden and his son Hunter.
Many poked fun at Yaremenko, such as author Andriy Kokotyukha who said according to the BBC that his actions "are much safer" than his initiatives "to coordinate with Russia," referring to his support of Kyiv's attempts at a peace deal with Russia, which has angered many in Ukraine.
Meanwhile journalist Viktor Trehubov wondered why the arrangement of the tryst was done in Russian and not Ukrainian, which under law is required to be used by officials and public sector officials.
"I have two questions for Yaremenko. One— why not in the state language? You are at work, after all," Trehubov said, according to the BBC.
Meanwhile the blogger Serg Marco wrote on Facebook, according to the BBC: "I see nothing wrong here, but I would love to hear the MP's views on the legalization of prostitution.
"I think this is the best time to ask Mr Yaremenko what he thinks of legalization of sex workers, taxation and social guarantees to sex workers," he added.
Yaremenko's Servant of the People party, which was elected on a platform of combating corruption and graft, will decide what measures to take, with the faction's head David Arakhamia suggesting there were three options, either he resigns from the foreign affairs committee, quits the faction, or leaves parliament.
"We can't pretend nothing happened," he said, according to the Kyiv Post.
In September, another Servant of the People lawmaker, Olena Krivoruchkina was pictured by journalists sexting with her partner, the Kyiv Post reported.