Ukraine Can Hold Out Against Russians for Years, Former Ukrainian Soldier Says
As Victor Kovalenko, a former Ukrainian soldier and journalist, has watched the war in his home country unfold he says the daily reports he receives from his former comrades gives him hope Ukraine can fend off Russian aggression for years.
From his home in Michigan, Kovalenko told Newsweek that he's in regular contact with friends, family and former fellow soldiers who provide him with videos and other first-hand information about the conflict. While he receives images of the Russian bombardment of Ukrainian cities and the accompanying rubble, Kovalenko said other messages from back home leave him heartened about his country's resolve.
"We can beat Russia. We stopped them in 2014 and 2015, it was a success," he said. "Everyone watches Ukraine and everyone realizes that Ukraine is actually stopping Russia, and for the last two or three days the Russian army had no major advances. They just stopped."
Kovalenko said he's made a routine of staying up all night verifying and translating videos and other information from Russian or Ukraine and posting them to his Twitter feed. He said he's in daily contact with people he served with in the military.
Kovalenko's Twitter includes videos of a Russian military truck tailgating a car that narrowly escapes; an oil storage that's caught fire after being attacked by a Russian jet; and Russian soldiers rummaging through someone's backyard and killing chickens, possibly in search of a meal. Another video shows Russian soldiers leaving a home after being angrily confronted by an elderly couple.
A handful of Kovalenko's videos have been widely shared and picked up by media outlets. Another video, featured on the Daily Mail, shows a Ukrainian motorist mockingly offering to tow Russian troops back to their country after their tank broke down.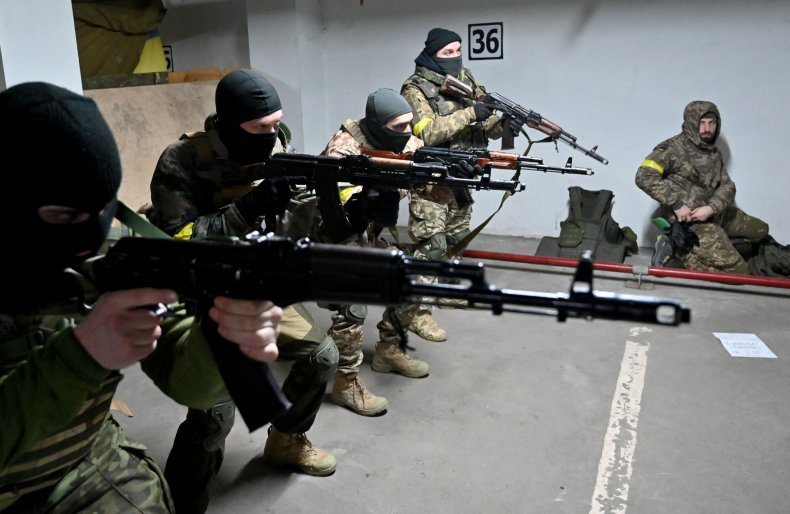 Earlier this week, Kovalenko shared a video from the Ukrainian Navy showing a Russian patrol boat sinking in the Black Sea.
"Nobody is more resourceful or adaptive than Ukrainian armed forces," Ben Hodges, former U.S. Army commanding general, said in a tweet sharing the video. "I have watched them over the last eight years. Impressive. I imagine that the Commander of the Russian Black Sea Fleet is feeling very uncomfortable in his illegal base of Sevastopol."
Kovalenko, 50, said he was born in the central Ukrainian city of Kryvyi Rih. After attending school, he pursued a career in television journalism in Kyiv. In 2014, he enlisted in the armed services after the Ukrainian government began drafting officers in response to Russia's invasion of Crimea and support for separatists along Ukraine's eastern border.
While going through training, Kovalenko said during the first weeks of his enlistment he and other recruits were given tiny, Soviet-era helmets that offered little protection and no armor as they prepared to fight Europe's largest army.
"And I was scared," said Kovalenko. "Everyone is scared when he goes to the fight. But I was raised as a patriotic and a person who will go to fight if your country needs."
He said he was sent to Debaltseve, a city in the Donetsk region along Russia's border, where he said the Russian military—Russia has denied sending troops to the region—did not live up to its bravado. Kovalenko, a lieutenant, recalled watching a 10-kilometer defense line with empty space between them making it easy to spot any movement.
"And we saw how crazy and stupid they tried to attack us," said Kovalenko. "They were walking on the frozen field, and they were approaching us and it was not modern way of doing the war. It was like they were sent for death because they were easy targets."
The Ukrainian military was able to hold Russian-backed forces in the regions, which were recently recognized as independent by President Vladimir Putin. Kovalenko said the Russian military is "unprofessional" despite its projection as a powerful military, describing it as "just regular guys without proper training."
Similar scenarios are playing out right now in Ukraine with young Russian conscripts being sent out as cannon fodder by their commanders, he said. Meanwhile, he said Ukrainian soldiers have better morale defending their homeland.
The Pentagon said this week that a Russian resupply convoy headed toward the capital city of Kyiv remains stalled after being attacked by Ukrainian forces. After the conflict has entered its second week, Russian still has not taken Ukraine's capital.
"Most of my friends, they are optimistic and they stay strong and they keep morale up and high," said Kovalenko, who is married to an American woman emigrated to the U.S. in 2016.
Since Russia annexed Crimea from Ukraine in 2014, he said most Ukrainians have been expecting the invasion and have managed it calmly. In parts of the country that aren't under attack, people are normally going about their lives going to work and the bank, he said.
Even in war-torn areas, he said Ukrainians can go without heat, proper food or clothing for extended periods of times after having endured the lean Soviet years and those after. Following the collapse of the Soviet Union, he said historical documents were made public showing Russian crimes against Ukraine.
"A lot of generations, younger generations especially, they realized that Russia committed so many crimes against other nations Ukrainians in particular," he said.
Kovalenko said Ukraine could hold off Russia for possibly years. But he said a big problem is Russia's superior air power that's allowed it to bombard Ukraine with cruise missiles. However, he recognizes that the U.S. and its NATO allies are reluctant to provide jet fighters or other supports to Ukraine that could provoke a direct confrontation with Russia.
"They just need tools, right?" said Kovalenko.