Ukraine Shares Message From 'Captain HIMARS' Directed at Putin's Soldiers
The Ukrainian Ministry of Defense sent a warning on Wednesday to Russian President Vladimir Putin and his entire military in the form of a now-viral tweet.
A video tweeted by the Ministry features a masked Ukrainian soldier wearing fatigues while cloaked in darkness, issuing a warning to Russian combatants on the battlefield.
The message comes as Ukrainian officials report staggering casualty statistics. In November, Ukraine's armed forces claimed to have "liquidated" 17,060 Russian troops, as well as another 17,080 in December—an average of about 560 Russian service members each day throughout both months.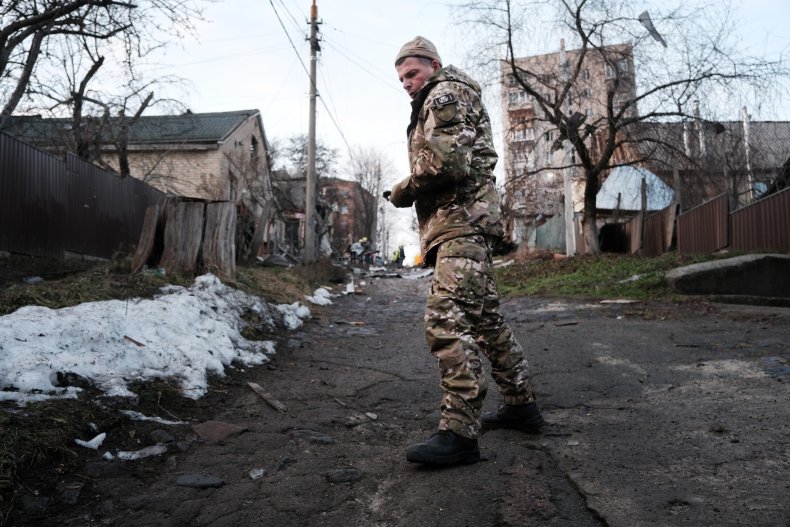 The reported deaths occurred as Russian Defense Minister Sergei Shoigu admitted that his military wasn't ready when Putin announced the mobilization of 300,000 reservists in September.
"Russian soldier! My name is Captain HIMARS," the masked soldier said. "I am your chance to come home alive. Give me the coordinates of the places where the armored vehicles are concentrated and headquarters and ammunition are located and I will not hit your quarters."
"I will destroy only tanks, artillery, shells and fuel," he adds, prior to a missile being shot into the air. "Then no one will send you on the attack to the slaughter. This is how you save your life and the lives of your friends."
On Wednesday, speculation ramped up about the potential conscription of Belarusians after Russian text sprawled at a bus terminal stated that "all male citizens from 18 to 60 years old must come to an enlistment office or village executive committee to clarify their data."
Sanho Tree, a fellow at the Institute for Policy Studies and a World War II historian, tweeted that "Ukrainian psychological warfare efforts have been unparalleled in modern conflict," adding that their methods will be "studied for decades."
Tree told Newsweek that "psychological warfare works best when you have the facts on your side," as the Ukrainians do in his purview.
He said it is far more sophisticated when done properly and it becomes an extension of diplomacy for every individual soldier on the battlefield; trying to retain military and political objectives with minimal force and loss of life, and not necessarily about "killing enemies."
Regarding Russia and its inability to combat Ukraine on social media and to sway public opinion, Tree called it "really quite stunning to see how hollow the Russian Armed Forces turned out to be" considering its former history under the banner of the Soviet Union.
"[The Russians'] propaganda has been really clumsy," he said. "There's not a lot of competence on the Russian side."
Ukraine has used audio and video "exquisitely," Tree added, in addition to drone footage and even posting photos and videos of HIMARS covered in Christmas lights.
On the Russian side, he said communication security has been "comically bad, one of the truly, truly shocking" aspects of the 10-month war. It has allowed Ukrainians to intercept calls and strategies, and then use that information to post content able to be viewed by mobilized Russians "who were never told why they're fighting."
"Ultimately, I think it's the Russians who will have to end the war themselves," Tree said. "Not Putin, but the Russians. The will to fight, it's harder to maintain once you see divisions rising."
Yotam Ophir, assistant professor of communication at the University at Buffalo, told Newsweek it is "extremely complicated and hard" to gauge the impact of the Ukrainian online campaign in real time.
He compared the ongoing efforts to do so with how long it took, and how many studies were composed, to understand how Russia impacted the 2016 and 2020 U.S. elections.
"All studies had to eventually admit that their data and analyses could only evaluate the conditions under which the campaign could have been successful," Ophir said. "Understanding media effects 'in the wild,' in the real world, is very hard. The real world is not like a lab where a scientist could control everything and manipulate people's exposure to messages in a [rigorous] fashion.
"While many people, in Russia and Ukraine, and around the world, may have been exposed to propaganda from the two countries, it is very hard, almost impossible really, to determine whether or not it changed their minds."
It's important to remember that propaganda can have multiple goals and audiences, he added. While the "Captain HIMARS" video seems to target Russian soldiers, he says it also encourages Ukrainian ones and is messaged for the entire global community.
"When messages have so many goals that are different to different audiences, it becomes even harder to fully evaluate their effects," he said.
Due to the history of U.S.-Russian relations dating back for numerous decades, he said Western skepticism may be indicative of how many times Russia has "burned" other nations with its disinformation and propaganda.
"We should ask not why the Ukrainian campaign did better (since we don't really know that it did) but rather why it seems to us that it did," Ophir added. "My educated guess will be that it has to do with our own expectations, ideology, and prior knowledge and beliefs."
"Simply put, many Westerners believe that Ukraine is the obvious victim in this conflict and thus side with Ukraine," he added. "For them, they might be motivated to feel more positively about the Ukrainian videos, compared to Russian ones."
Newsweek reached out to the Ukrainian and Russian defense ministries for comment.
Update 01/04/23, 4:48 p.m. ET: This story was updated with comments from Dr. Yotam Ophir.