In Ukraine, Cautious Hopes for Calm as China's Olympics Promise Peace
Amid fears of a potential attack by an increasingly large buildup of Russian forces along the restive eastern border, a cautious calm has emerged in Ukraine in hopes that China's Winter Olympic Games will ensure peace, even if temporary, in line with Moscow and Beijing's strategic partnership.
The global sporting event is set to be initiated in Beijing on Thursday with significant fanfare, despite the festivities surrounding the Olympics having been scaled back due to China's strict COVID-19 policies.
As the games begin, another important symbolic development will take place as Russian President Vladimir Putin arrives for a scheduled meeting with his Chinese counterpart Xi Jinping.
"A wide range of issues related to practical cooperation in the areas of trade, the economy, energy, finance, investment, science and culture will be discussed," the Kremlin said in a statement Wednesday. "The two leaders will also review topical international and regional matters. Following the visit, they are expected to adopt a joint statement that sets out Russia and China's shared approaches to addressing key global issues."
The encounter will mark the first non-virtual sit-down meeting of the two world leaders since the onset of the pandemic two years ago. And though observers draw a parallel to today's tensions in Eastern Europe to the 2008 dispute between Russia and Georgia that ultimately erupted into war on the eve of the Beijing's Summer Olympic Games that August, Kyiv insiders with experience dealing with Moscow under Ukrainian President Volodymyr Zelenskyy's administration feel times have changed.
Oleksandr Danylyuk, who served as secretary of the Ukrainian National Security and Defense Council, said he felt the Olympics will enter into Putin's calculations, "because spoiling the show for Xi Jinping a second time, that would be too much."
He recalled the polarizing coverage that surrounded Beijing's last experience hosting the Olympics and, while he could not rule out a surprise escalation, felt a repeat would be a step too far.
"You remember the opening ceremony in 2008. The opening ceremony was on half of the screens, and the other half of the screens were about the soldiers and tanks [in Georgia]," Danylyuk, who today serves as co-founder of Ukraine's Center for National Resilience and Development think tank, told Newsweek. "I think that would be too much, but you never know."
Alexander Khara, who served in a number of positions, including most recently as an adviser to the defense minister in 2020 and as deputy director-general for foreign affairs at the National Security and Defense Council from 2008 through 2011, said China's calls for peace would take priority.
"I don't think that Putin is going to disappoint his senior partner Xi Jinping with spoiling this 'festival of sport and peace,' or however the Chinese are representing these Olympic Games," Khara, now working at Ukraine's Centre for Defence Strategies think tank, told Newsweek.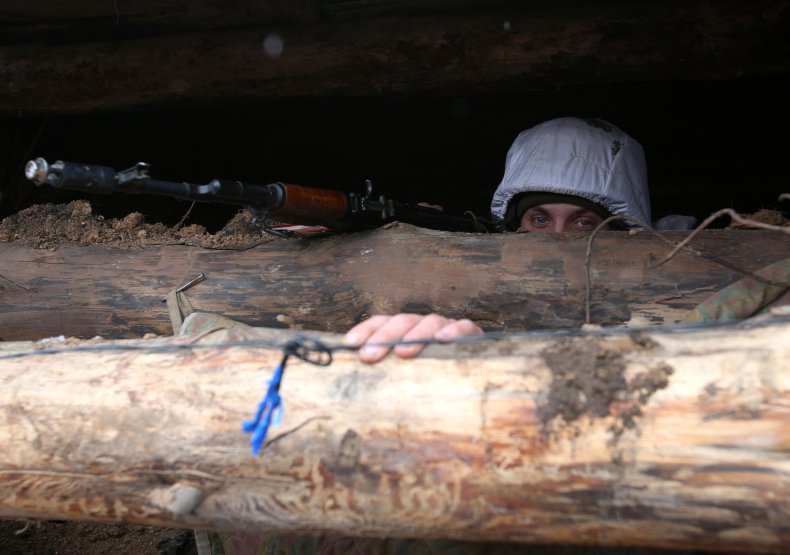 Chinese officials have repeatedly emphasized a focus on peace for this year's Winter Olympic Games, as has the United Nations. And while the International Olympic Committee (IOC) remains officially neutral in nearly all global affairs, it has also endorsed the ancient tradition of an "Olympic Truce."
A spokesperson for the IOC shared with Newsweek a brief history of this historic concept.
"The tradition of the 'Olympic Truce', or 'Ekecheiria', was established in Ancient Greece in the ninth century BC through the signing of a treaty between three kings — Iphitos of Elis, Cleosthenes of Pisa and Lycurgus of Sparta — to allow safe participation in the ancient Olympic Games for all athletes and spectators from these Greek city-states, which were otherwise almost constantly engaged in conflict with each other," the IOC spokesperson said.
"Taking into account the new political reality in which sport and the Olympic Games exist," the spokesperson explained, "the IOC decided to revive the concept of the Olympic Truce for the Olympic Games, with a view to protecting, as far as possible, the interests of the athletes and sport in general, and to harness the power of sport to promote peace, dialogue and reconciliation more broadly."
The concept was first revived by the IOC two decades ago and then adopted by the U.N. General Assembly for the first time in 1993. Since then, a resolution entitled "Building a peaceful and better world through sport and the Olympic ideal" has been passed every two years in the lead-up to the Summer Olympic Games and Winter Olympic Games. The latest was adopted in December with some 173 co-sponsors.
The IOC spokesperson said that the resolution "came into force from 28 January, seven days before the start of the Olympic Winter Games Beijing 2022, and will remain in effect until 20 March 2022, seven days after the end of the Paralympic Games."
"It demonstrates the recognition by the UN's international community of the power of sport and the relevance of the Olympic Games to bring the world together in peaceful competition, providing hope for a better future," the IOC spokesperson said.
The Olympic Truce has also been promoted by U.N. Secretary-General Antonio Guterres, who said last week that such an ideal would represent "a chance to overcome differences and find paths towards lasting peace."
The remarks were received warmly the following day in Beijing by Chinese Foreign Ministry spokesperson Zhao Lijian, who said the U.N. resolution "demonstrates international confidence in a successful Winter Games to be hosted by China and embodies the strength of all people aspiring for solidarity, cooperation and world peace."
"China stays committed to upholding peace and practicing true multilateralism. We deeply participate in and support the cause of the U.N," he said. "China actively participates in summer and winter Olympics and supports all previous Olympic Truce resolutions."
"By doing so, we have injected China's strength into efforts to safeguard world peace, promote development of countries and enhance friendship among the people through sports," he added. "China also calls on countries to take the opportunity presented by the Beijing Winter Games to resolve differences through dialogue, replace confrontation with cooperation, enhance mutual understanding and promote world peace and development."
China's permanent representative to the U.N. Zhang Jun also said last week that it was his "strong wish that all countries, parties to existing conflicts will abide by the Olympic truce resolution."
And he added that Moscow has provided direct assurances as well.
"Concerning the situation in Ukraine, we have heard from Russia that it is not their intention to launch any war," Zhang said at the time. "What we should do at this moment is to call on all parties to come to the negotiation table and to find the solution through dialogue."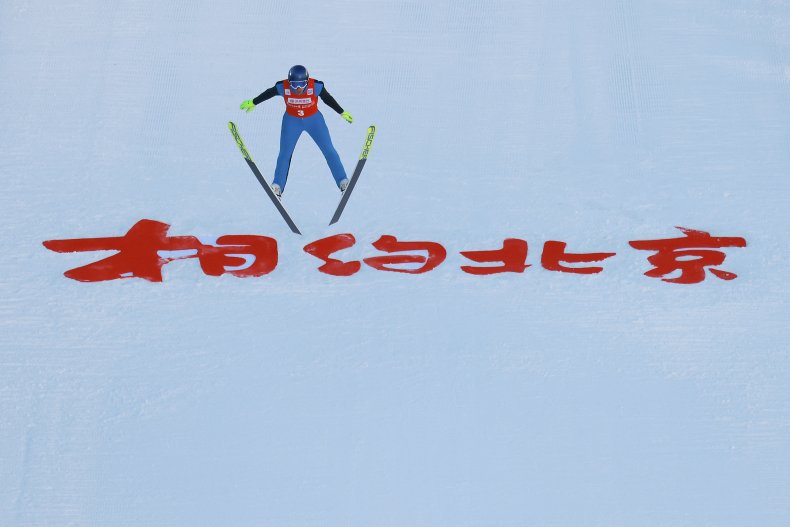 Russian officials have repeatedly denied they were on the verge of launching any military action against Ukraine, even as the United States continued to warn against such an act. The division was on full display during Monday's U.N. Security Council meeting, where U.S. ambassador Linda Thomas-Greenfield warned "the consequences will be horrific" of a Russian attack, and Moscow's envoy Vassily Nebenzia accused Washington of "escalating the hysteria to a level that creates rather real economic consequences for our Ukrainian neighbors."
And in Ukraine, Zelenskyy has also sought to downplay the threat of an imminent attack, even accusing his U.S. partners of inciting "panic."
But his officials in Washington expressed a lingering uncertainty as to the intentions of Russia as the Olympics approached, drawing parallels to another crisis involving Moscow that coincided with past international sporting events.
"We cannot be confident about anything that Russia is doing or promising, because for this country principles of international law simply do not exist," the Ukrainian embassy in Washington told Newsweek. "We learned that lesson eight years ago when Crimea was occupied."
Just as the 2014 Winter Olympic Games were being held in the southern Russian city of Sochi, months of protests in Ukraine devolved into an uprising that culminated in the rise of a new government seeking closer ties with the West, as well as membership in the NATO military alliance. Pro-Moscow separatists soon took up arms in the eastern Donbas region and Russia annexed the Crimean Peninsula in a referendum considered illegitimate by Kyiv and the international partners now sending more weapons and aid than ever to Ukraine.
"So we cannot wait now," the Ukrainian embassy said. Together with our international partners we should do everything possible in order to prevent and detour Russia from the further military attacks in the heart of Europe."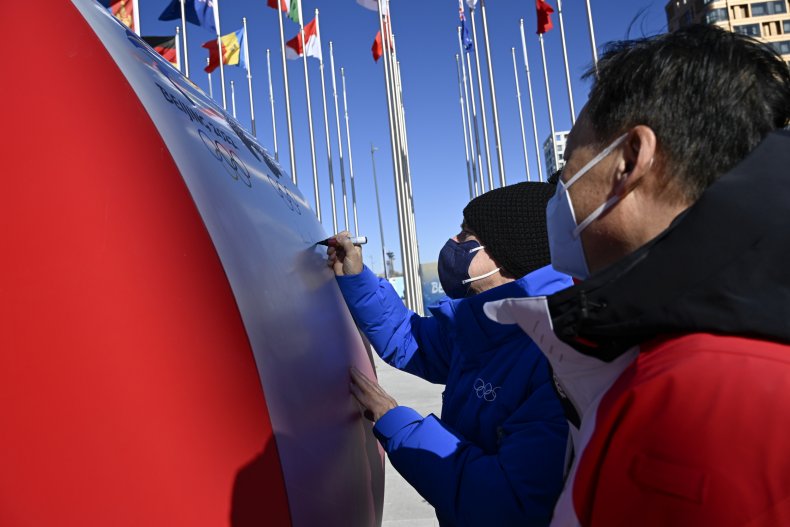 Updated 02/03/22 4:10 a.m. ET: This article has been updated to clarify Alexander Khara's former position at the Defense Ministry.