Ukrainian Citizens of Putin's Annexed Territory Given Month to Choose Sides
The Russian government has issued an ultimatum to Ukrainians that have fled the regions of the country that were recently annexed.
In an official statement released Tuesday, the Russian foreign ministry announced that residents of the newly annexed regions who are currently abroad have one month to either accept or reject Russian citizenship. Deputy Foreign Minister Yevgeny Ivanov, who broke the news to the state-run RIA Novosti news outlet, did not specify in the statement what might happen to residents who return but choose to decline a Russian passport.
Russian President Vladimir Putin on Friday said that four regions in eastern and southeastern Ukraine had been officially annexed into Russia. This included the Luhansk and Donetsk regions that collectively make up the Donbas area, which has been a focal point of Russia's invasion. The other two annexed regions were the Zaporizhzhia and Kherson regions, which played host to intense conflict and occupation during the war.
Ivanov further explained that the "passportization" of the annexed regions will be based on the same process that was carried out for Crimea when it was annexed in 2014, The Moscow Times reported. Residents of the peninsula had also been given a month to make their decision about citizenship.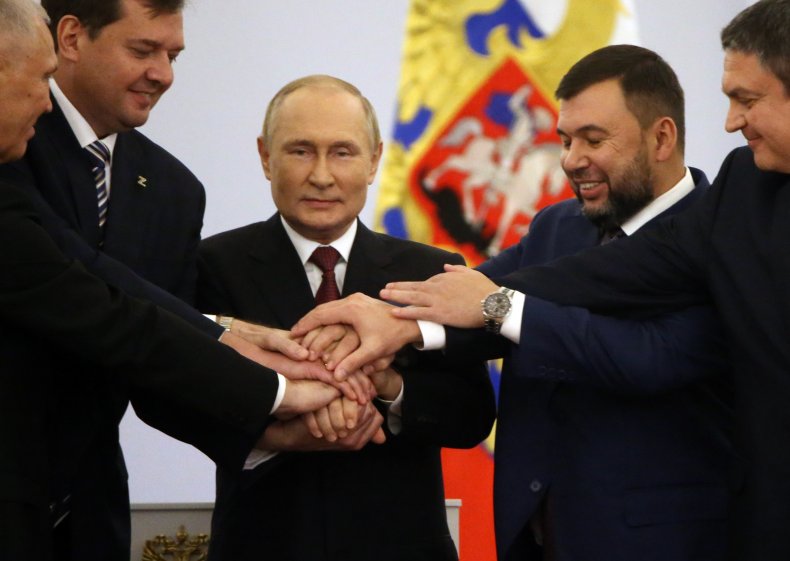 While it is currently unclear what the repercussions might be for Ukrainians who decline citizenship, the Times noted that, in 2020, Putin passed a law barring foreigners in Crimea from owning land. A similar move could happen for the four new regions in the future.
Ivanov claimed to RIA Novosti that "many" residents of Luhansk, Donetsk, Zaporizhzhia and Kherson already have Russian citizenship, but he did not offer a concrete number of how many. Furthermore, he said that the Kremlin will be working to speed up the process of "passportization" for the remaining Ukrainian citizens in the regions.
Newsweek reached out to the Ukrainian government for comment.
Putin's claims of annexation have been received poorly on the world stage. President Joe Biden released a statement condemning Russia for the move, calling the annexations illegitimate.
"Make no mistake: These actions have no legitimacy," Biden said. "I urge all members of the international community to reject Russia's illegal attempts at annexation and to stand with the people of Ukraine for as long as it takes."
Soon after the announcement, Turkey also released a statement condemning Putin's actions. Turkey has notably been less severe in its reaction to Russia's invasion and has opposed the sanctions placed on the country by the West.
"This decision, which constitutes a grave violation of the established principles of international law, cannot be accepted," the Turkish foreign ministry said in a statement on Saturday. "We reiterate our support to the resolution of this war, the severity of which keeps growing, based on a just peace that will be reached through negotiations."