Ukraine Claims Drone Video Proves Russians Dug Trenches Near Chernobyl
The Ukrainian military has shared drone footage appearing to reveal trenches dug by Russian troops in the Red Forest, the most contaminated section of the Chernobyl Exclusion Zone, which experienced the worst nuclear disaster in history.
"Video proof," claimed the caption of the video posted to Twitter by the Ukrainian army on Wednesday. "Russian command did order its soldiers to dig fortifications near the Chernobyl nuclear power plant in the radioactive Red Forest in March, 2022. Complete neglect of human life, even of one's own subordinates, is what a killer-state looks like."
The drone video appeared to show trenches dug in the land. The camera also panned to what looked like the New Safe Confinement structure covering the Chernobyl plant's sarcophagus, which was designed to limit radioactive contamination following the 1986 nuclear disaster.
Newsweek could not confirm the date or origin of the footage.
Russian troops withdrew from the nuclear power plant last week, the International Atomic Energy Agency (IAEA) confirmed, over a month after taking control of the area on February 24—the first day of Russia's invasion of Ukraine.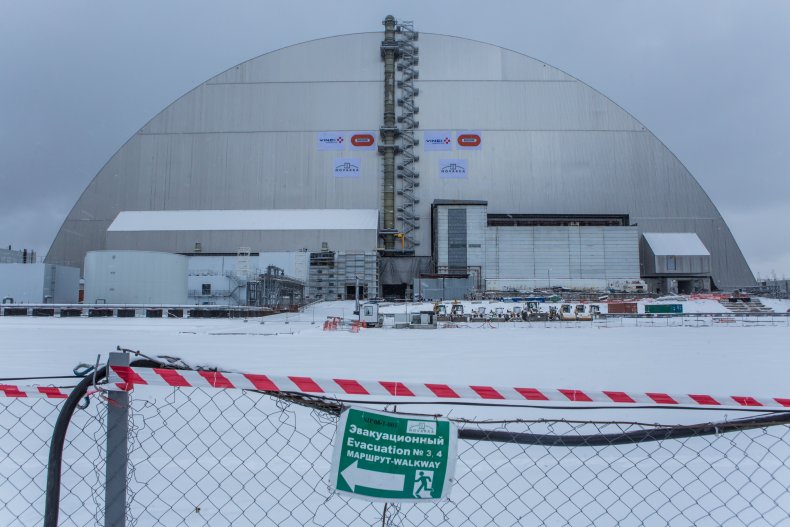 An earlier tweet from the Ukrainian military said that Russian forces left the site for two reasons: military losses and radiation exposure.
In a statement on Telegram, Ukraine's state power company Energoatom also claimed the occupying forces fell ill from high doses of radiation after digging trenches in the Red Forest, named for the color of trees killed by radiation from the Chernobyl disaster. Panic broke out among the troops at the first signs of radiation sickness, Energoatom said.
Yaroslav Yemelianenko, a council member of the State Agency of Ukraine for Exclusion Zone Management, also said on Facebook that Russian "terrorists" digging in the Red Forest were brought to the Belarusian Radiation Medicine Center for radiation sickness on March 30. "There are rules for dealing with this territory," he wrote.
The Red Forest was bulldozed and highly radioactive wood was buried after the Chernobyl disaster, but the soil continues to emit significant radiation. The area is so highly contaminated that even nuclear plant workers who enter other parts of Chernobyl are not permitted to go there.
The IAEA said on March 31 that it could not confirm reports of Russian forces being exposed to high doses of radiation in the zone. "The IAEA is seeking further information in order to provide an independent assessment of the situation," the group said.
Newsweek reached out to the Russian embassy for comment.