Ukraine Claims Putin Has Ordered Terrorist Attack on Chernobyl Nuclear Site
Ukrainian officials accused Russian President Vladimir Putin of planning a "terrorist attack" on the Chernobyl nuclear power plant and blaming it on Ukrainian forces.
Officials on Friday said Putin had "ordered the preparation of a terrorist attack" on the plant amid already rising fear of "nuclear discharge," after the electric supply was cut off from the plant on Wednesday.
Russian forces took hold of the damaged Chernobyl nuclear site shortly after the invasion of Ukraine began. The chemical explosion at the site in 1986 caused one of the worst nuclear disasters in history. Officials were concerned there could be radiation leaks caused by Russian troops.
Defense Intelligence of Ukraine (DIU) posted on social media the accusation that the Russian president is planning a "man-made catastrophe," and will "try to shift responsibility to Ukraine." The Russian occupiers will allegedly try to create "fake evidence" to confirm their version of the story, according to the DIU.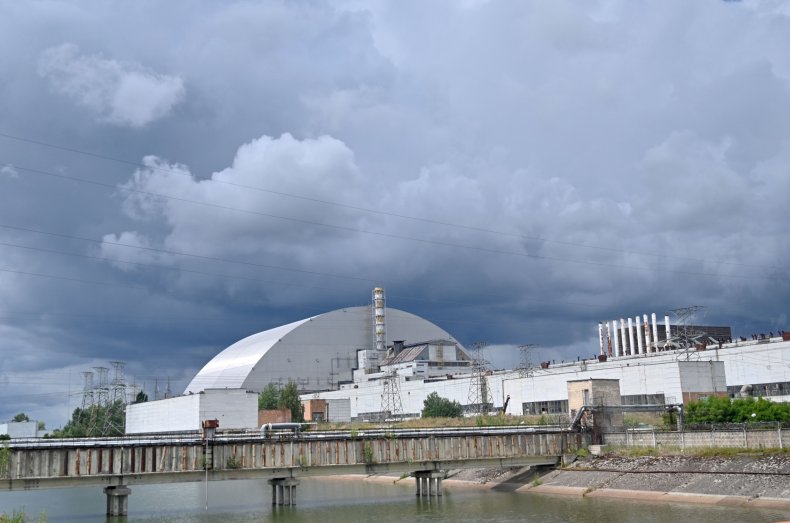 The agency said on Facebook that "car refrigerators" were in the area of Antonov airport in Gostomel collecting the bodies of dead Ukrainian soldiers who could be planted at Chernobyl. Ukraine's government did not provide any evidence to support its claim.
Chernobyl is currently disconnected from the monitoring stations at the International Atomic Energy Agency (IAEA). The Russians had refused to grant access to Ukrainian workers to fix the problem but instead "Belarusian specialists" came in along with "Russian dissidents to organize a terrorist attack," Defense Intelligence of Ukraine alleged in its Facebook post.
Since the takeover of the plant, Ukraine's nuclear regulator has only been able to communicate with staff through email. The IAEA says they have since lost total communication.
The graphic below, provided by Statista, shows the status of Ukraine's nuclear power plants.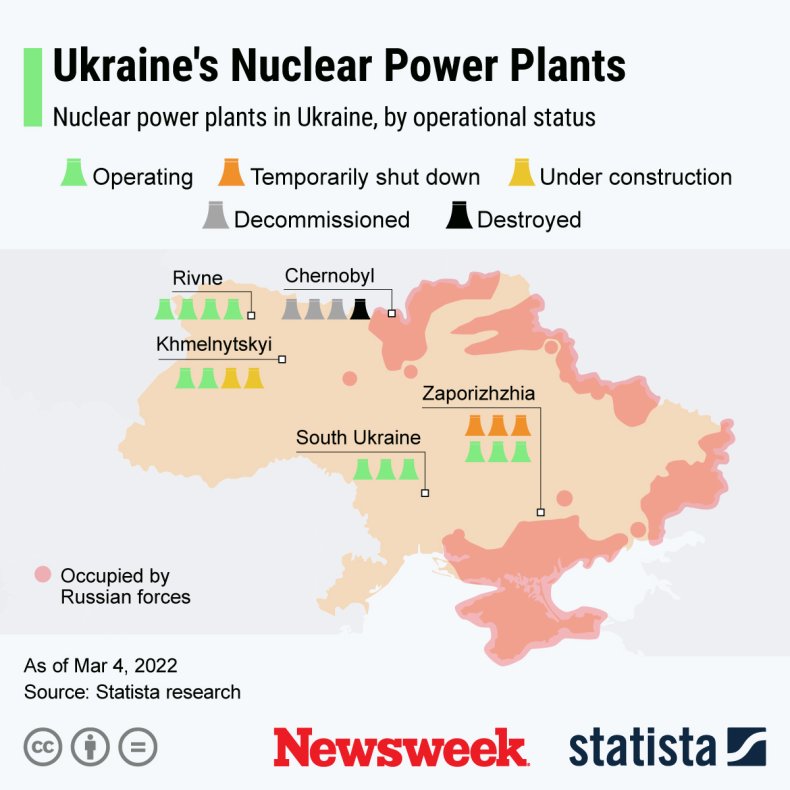 Russian troops also captured the Zaporizhzhia nuclear power plant, the largest power plant in Europe, on March 4 after a fire had broken out from shelling targeting the plant. Zaporizhzhia is among the top 10 largest nuclear plants in the world. If the plant blew up it would be "10 times larger" than the explosion at the Chernobyl plant, Ukrainian foreign minister Dmytro Kuleba previously warned.
DIU said since Russia isn't getting their desired outcome from the ground military or negotiations, "Putin is ready to commit to the nuclear blackmail of the world community for the sake of actions to support Ukraine."
The agency added in its Facebook post that Putin's actions will have "catastrophic consequences for the whole world" which is what "the Russian dictator is counting on."
Newsweek reached out to the Russian Foreign Ministry for comment.
Update 03/11/22, 3:38 p.m. ET: This article was updated with additional information.
Update 03/11/22, 1:50 p.m. ET: This article was updated with additional information and background.
Update 03/11/22, 1:08 p.m. ET: This article was updated with additional information.