Ukraine Claims Russia Deployed Phosphorus Bombs in Sumy Region
A regional official in northeastern Ukraine says Russian forces launched an attack with phosphorus bombs, a devastating munition that burns flesh and leaves victims with severe injuries.
Dmytro Zhyvytskyi, head of Ukraine's Sumy Regional Military Administration, made the accusation in a Telegram post Thursday, saying the attack left a child hospitalized. Other Ukrainian officials and human rights groups earlier accused Russia of using banned or legally ambiguous weapons. Zhyvytskyi's charge comes as Russian forces have shifted their focus to Ukraine's northeast and eastern regions.
Russian forces Thursday afternoon used a BM-21 "Grad" rocket launcher to fire on Yunakivka, a town in Ukraine's Sumy administrative district near the border with Russia, according to Zhyvytskyi. While Zhyvytskyi did not report any casualties, he said Russian forces used "phosphorus shells" that injured one child.
According to an explainer by Human Rights Watch (HRW), white phosphorous weapons occupy a gray area in international law but are "notorious for the severity of the injuries it causes."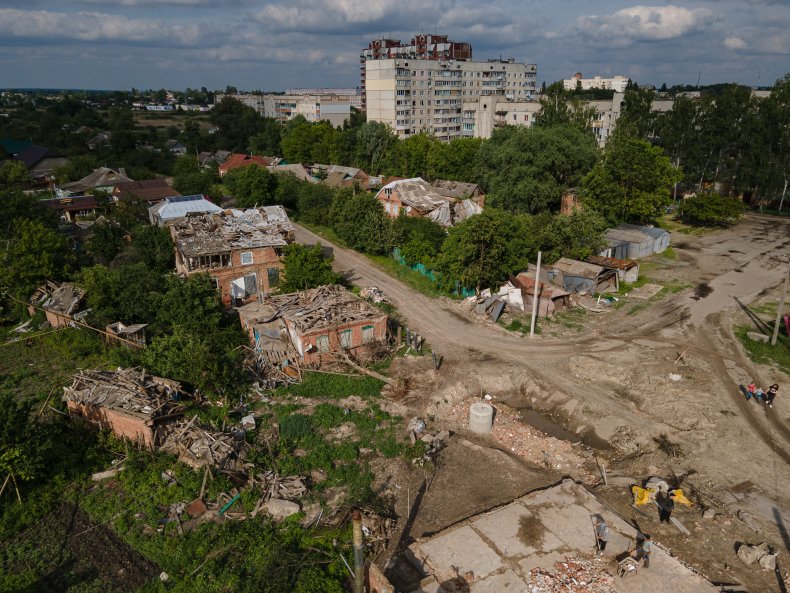 "White phosphorus is highly soluble in fat and therefore deeply burns human flesh," HRW said in the explainer. "If fragments of white phosphorus enter the bloodstream, they can lead to multiple organ failure. Already-dressed wounds can reignite when dressings are removed, and they are re-exposed to oxygen."
International standards do not classify white phosphorus as an incendiary weapon, according to HRW, because they are "primarily designed" for generating smokescreens to conceal military operations.
However, HRW says white phosphorous functions like incendiary munitions such as napalm that are used to create intense fires that ravage buildings and can leave victims with long-term effects from excruciating burns or cause painful deaths.
Other countries, including the U.S., have faced scrutiny over the use of white phosphorous. The munition is regulated under international conventions and it is illegal to use it near civilians.
Zhyvytskyi said in his Telegram post that Russian forces also opened mortar fire on Seredino-Bud, a town on the border with Russia. He said information on casualties and damage was forthcoming.
Roman Starovoyt, a Russian regional governor in an area bordering Sumy, said last week that Ukrainian forces had fired mortars on a nearby town, according to the Russian state-owned TASS news agency. Starovoyt reported no casualties.
Ukraine and Western powers allege Russian forces have deliberately targeted civilians during the four-month conflict, a charge the Kremlin denies.
Early in the invasion, Moscow was accused by Ukrainian officials of using white phosphorous munitions in the eastern city of Kramatorsk.
Yuriy Bova, mayor of the Ukrainian city Trostianets, also said officials found traces of chemical nerve agents, including Sarin, after Russian troops withdrew from the Sumy region.
Newsweek reached out to the Russian government for comment.