Ukraine Commander Reveals Sole Reason Troops Would Withdraw From Bakhmut
A local Ukrainian commander said Monday that if his country's forces were to withdraw from the long-embattled city of Bakhmut, it would be done only to save the lives of Ukraine's troops.
Russia has tried for months to seize Bakhmut, which is in the eastern Donetsk region, but Ukraine has so far prevented Russian troops from gaining control over the city. The long and grinding fighting has reportedly resulted in heavy casualties on both sides. In December, Ukrainian President Volodymyr Zelensky said the Russians had "actually destroyed" Bakhmut in the fighting.
Russia's focus on Bakhmut has puzzled some experts who've assessed that it does not have much to offer strategically. Other experts believe that Russia's seizure of the city could be an important political victory for President Vladimir Putin's regime since it could signal that Russia is now able to take Ukrainian territory after a series of high-profile setbacks.
Regardless, the ongoing fight for Bakhmut has become one of the most widely watched in this current stage of the war, which is approaching its one-year anniversary next month.
Denys Yaroslavskyi, who commands a unit in Bakhmut, said on national television Monday that if Ukraine's military leadership does decide to withdraw from the city, "that would be with the only purpose of saving lives of our servicemen," according to CNN.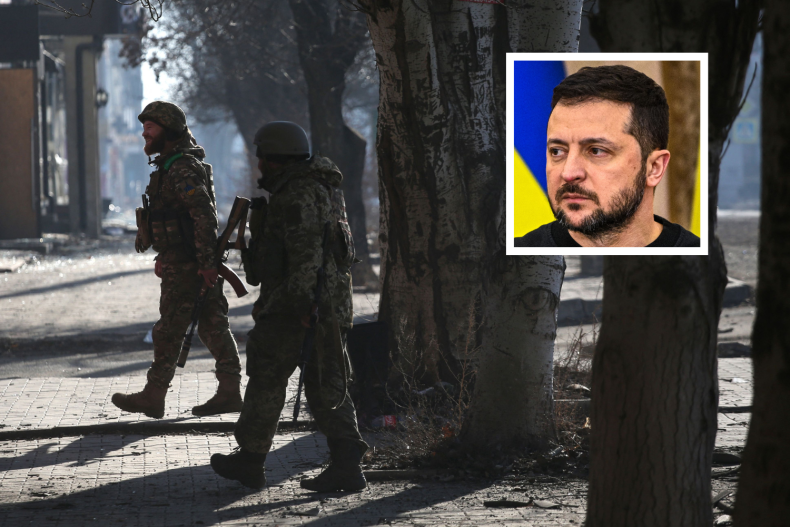 Other Ukrainian commanders have made similar comments about what could motivate a withdrawal from Bakhmut. Yuriy Skala, the commander of an intelligence battalion involved in the Bakhmut fighting, was quoted in a Washington Post report earlier this month as saying: "I will support the commander in chief's decision to maneuver tactically and create a new line of defense if it becomes clear that casualties are too high,"
"We are not Russians. We are Ukrainians, and human life is the highest value for us," he said.
The Post story also quoted another Ukrainian commander, this one unnamed, who said that "many friends" had been lost in defending Bakhmut and that the armed forces don't want to lose the city now.
"But maybe a temporary withdrawal would save some of our people," the commander added.
Yaroslavskyi warned that "super-qualified" Russian troops were aiding the Russian mercenary Wagner Group forces, which have been playing a key role in the Bakhmut fighting, in fights against the towns surrounding the city.
"They are just coming forward, they do not take cover, they are coming all out," Yaroslavskyi said.
A January 28 campaign assessment from the Institute for the Study of War, a U.S. think tank, drew a similar conclusion. The ISW wrote that conventional Russian forces were now participating in the fighting around Bakhmut to "reinvigorate the offensive there" after Wagner Group forces failed to make "significant gains" following their capture of the nearby town of Soledar in mid-January.
Russia claimed earlier this month to have captured Soledar, which is several miles from Bakhmut. It wasn't until last week that Ukraine acknowledged its withdrawal from the town.
Newsweek reached out to Ukraine's Defense Ministry for comment.