Kyiv said it has made small advances during its counteroffensive, as experts suggest it is too early to assess the effectiveness of Ukraine's week-old push to recapture Russian-occupied territory.
Ukrainian Deputy Defense Minister, Hanna Maliar, said on Wednesday that Kyiv's forces were continuing counteroffensive operations in at least three directions.
Last week, Ukraine launched its long-expected counteroffensive. Using the considerable amount of equipment donated by the West, Kyiv upped the stakes to make gains in the push, which is taking place in the direction of Donetsk and Zaporizhzhia Oblasts, as well as other areas.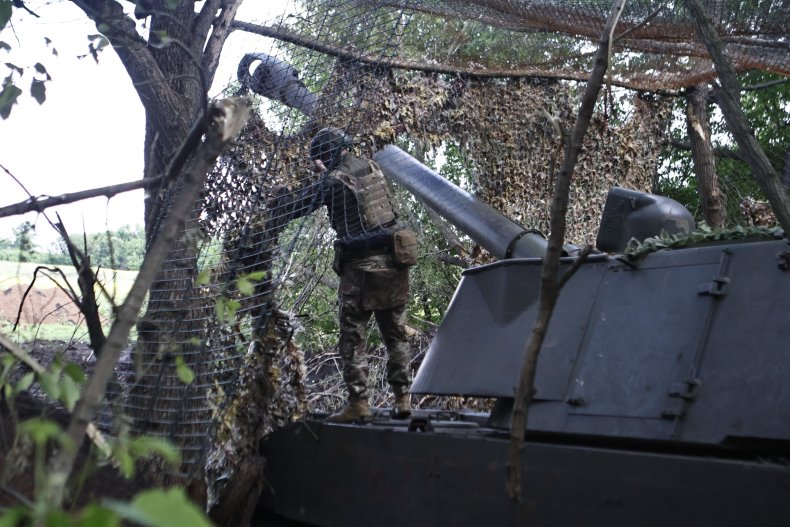 Maliar wrote on Telegram that Ukraine had made gains of between 650 and 1,600 feet in sectors of the Bakhmut front in the Donetsk Oblast, and between 980 and 1,150 feet in parts of the Zaporizhzhia direction.
The Ukrainian Tavrisk Group of Forces said troops pushing in the Zaporizhzhia direction were prioritizing hitting Russian electronic warfare systems, which the Institute for the Study of War (ISW) assessed "have been critical in complicating Ukrainian attacks on this sector of the front."
The ISW also noted that Kyiv's forces are continuing counterattacks on the northwestern, northeastern, and southwestern outskirts of Bakhmut.
Newsweek has contacted the Russian Defense Ministry for comment.
Ukrainian and Russian sources have reported that fighting is ongoing in western Donetsk, particularly around Makarivka and in western Zaporizhzhia. Maliar said that heavy rain and poor weather were not impacting Ukraine's push, as had been reported by Russian milbloggers.
Analysts believe it is premature to assess the effectiveness of the counteroffensive, which started last week.
Andrew Latham said Ukraine might achieve some modest advances, but there are likely to be failed attacks as well. Latham is a professor of international relations at Macalester College in Saint Paul, Minnesota.
"I really don't see this conflict being resolved through some major battlefield breakthrough. It's already devolved into a 'mutually hurting stalemate,'" he told Newsweek, which could drive both sides to the negotiating table.
"Given Russian preparations and the state of Ukraine's military, I find the faith many have in a decisive battlefield victory for Kyiv to be misplaced at best and delusional at worst," he added.
In analysis published on Wednesday, Jack Watling, senior research fellow for land warfare at Royal United Services Institute in London, U.K., wrote that Ukraine's forces are seeking to destroy Russian command-and-control equipment and munitions stockpiles.
He said that Kyiv is also trying to force Russia to commit reserves and move troops from its third defense line. Watling added that Ukraine's forces are aiming to put pressure across the front to make as wide an advance as possible through the first line of defenses.
When Kyiv commits their main assault units, "the offensive will enter its decisive phase," Watling wrote.
"When these units are committed, the offensive will either achieve a breakthrough or fail," he said, "success is binary."
Michael Kofman, director of the Russia Studies Program at the Center for Naval Analyses in Virginia, said in the War on the Rocks podcast released on Wednesday "we have not seen dramatic breakthroughs" from Ukraine.
"I think the offensive will play out over course of several weeks, maybe even two months," Kofman said, adding that Ukraine's early gains, "are not insignificant and it's not that easy to judge yet the impact they have had on the Russian military."
This week, Kyiv's forces released images of troops flying Ukrainian flags in several settlements they said had been recaptured.