A Ukraine Coup? War Hero Politician Nadiya Savchenko Arrested for Plotting to Overthrow Government Using Grenades and Automatic Weapons
Nadiya Savchenko, the former military helicopter pilot turned parliamentarian who rose to fame after she was captured by pro-Russian rebels, was arrested in Ukraine Thursday for allegedly planning to overthrow the government.
Kiev's secret service detained the high-profile politician for allegedly plotting a military-style coup using grenades and automatic weapons. The arms were allegedly taken from pro-Russian separatists who operate in the eastern part of Ukraine known as the Donbass. Savchenko was arrested after lawmakers voted to remove her parliamentary immunity on Thursday.
Savchenko has not denied the accusations against her. Instead, she said undercover agents had encouraged her to plan a coup in order to discredit her, and that she had pretended to go along with the scheme to raise public awareness about it. Videos recorded undercover show her attempting to convince members of the military to stage a coup. Some analysts argue that Savchenko's behavior and rhetoric have been suspicious.
"She is extremely unusual in that she seems to be moving freely between occupied areas [in the Donbass] and the rest of Ukraine. Her face is one of the five or 10 most visible in Ukraine, and so the fact that she can move around so freely raises questions about whether there was some cooperation [with pro-Russian separatists]," Adrian Karatnycky, a nonresident senior fellow at the Atlantic Council who focuses on Ukraine and Eastern Europe, told Newsweek.
"She has a radical position and used some of the tropes the Kremlin is using…. And she has said military coups are the most humane way of dealing with an illegitimate government," Karatnycky noted, adding that Savchenko has spoken positively about the late Chilean dictator Augusto Pinochet, who staged a coup in Chile in 1973.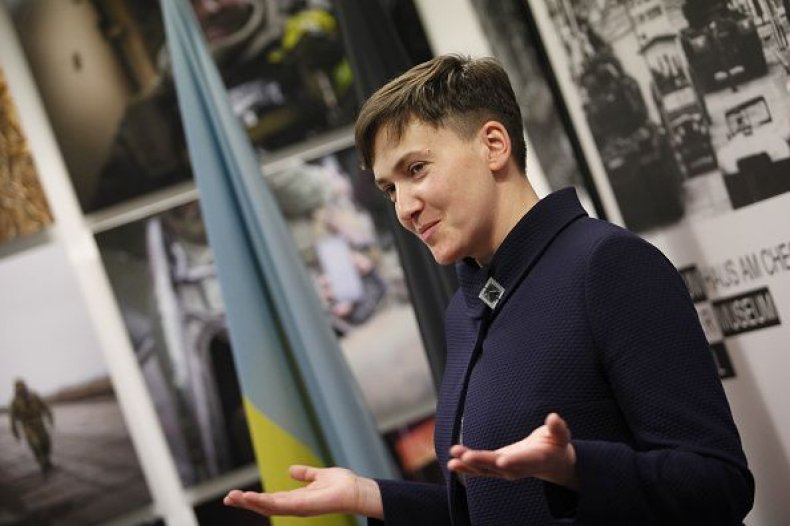 A former military pilot, Savchenko was kidnaped by pro-Russian rebels fighting to separate from Ukraine in 2014 and was smuggled into Russia illegally. Once there, she was found guilty in court of directing artillery fire that killed two Russian journalists. Ukraine and its Western allies called the case a show trial.
The high-profile trial, along with her defiant attitude, transformed Savchenko into a hero in Ukraine, where she was dubbed the Ukrainian Joan of Arc. During her time in Russia, she participated in a hunger strike and showed a judge the middle finger on live television.
She was eventually returned to Ukraine in a prisoner swap in 2016, and Savchenko immediately became involved in politics.
"This is a very sad situation. She is a genuine hero of Ukraine, what she did during the war was incredible, the way she withstood deprivation and torture for years," John Herbst, who served as the U.S. ambassador for Ukraine from 2003 to 2006, told Newsweek.
"She's quirky and not sophisticated, and she has strong opinions that make sense to her but which are not the most sophisticated or useful," Herbst noted, adding that he has met Savchenko personally. "I don't think she has a real political future in Ukraine because she isn't a good politician. But she was and in a sense still is a hero of Ukraine, even if that doesn't justify calls for revolution."