Ukraine Attacks Crimea as U.S. Warns of Crossing Red Line
Ukrainian drones were downed over Sevastopol, according to the governor of the city in Crimea. It comes following a report that the United States considers the peninsula Moscow annexed in 2014 a red line for Vladimir Putin.
Mikhail Razvozhayev, the internationally non-recognized governor of the port city, posted on his Telegram channel that two Unmanned Aerial Vehicles (UAVs) were "shot down over the sea" and that "our defense forces continue to repel the attack."
There were also social media reports of road closures and a pause in ferry services from the city following the incident. "Several more UAVs were shot down in the airspace, above Crimea" and that "everything is calm in the city," said Razvozhayev's post on Thursday morning which added, "trust only official information."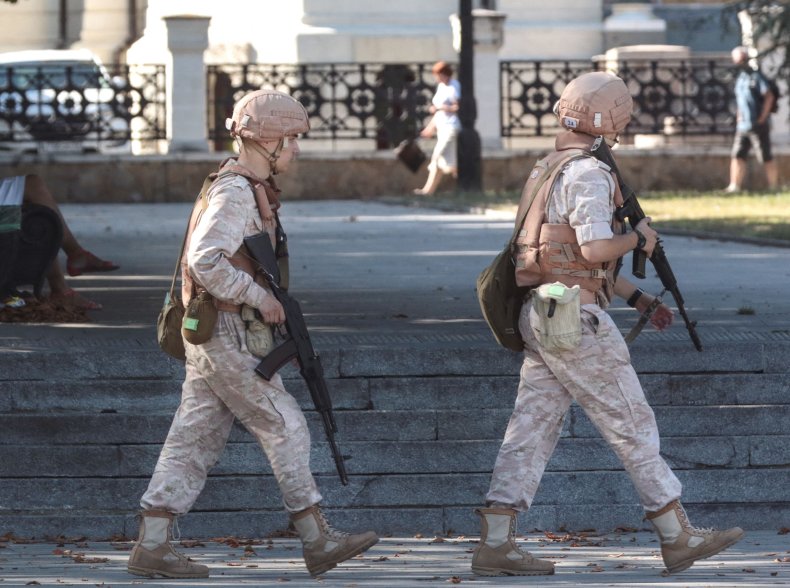 Sevastopol is the largest city in Crimea, and as a major port which is a base for Russia's Black Sea Fleet, is a location of strategic significance.
In January, Ukrainian President Volodymyr Zelensky reiterated his pledge to regain the Russian-controlled peninsula, telling the World Economic Forum in Davos it was "our land, our territory."
While the U.S. is the world's biggest donor of military equipment to Ukraine, Secretary of State Antony Blinken has reportedly expressed reluctance at Kyiv trying to retake the peninsula.
In a Zoom call with experts, Blinken said that such an attempt could risk a wider response from Moscow, Politico reported in an article on Wednesday headlined, "Crimea a 'red line' for Putin." Concerns over whether Putin might resort to nuclear weapons have partly centered around what might happen regarding Crimea.
Without citing Blinken's response verbatim, Politico reported that he had conveyed in the call that he did not consider a move to retake the peninsula to "be wise at this time."
Last summer, Russian military bases in Crimea were hit in repeated strikes not directly claimed by Ukraine, but which showed Kyiv's intent in the peninsula. Kyiv got a major morale boost with the attack on the Kerch Bridge, which links Crimea with mainland Russia and is a symbol of occupation.
But senior Pentagon officials told the House Armed Services Committee earlier this month that Ukraine would be unable to recapture the peninsula imminently.
This view was echoed by Gen. Mark Milley, the Joint Chiefs chair, who said it would be "very, very difficult" to militarily eject Russian forces from all of Moscow-occupied Ukraine, which includes Crimea.
Blinken will discuss future American security assistance for Ukraine with foreign dignitaries, including Ukrainian officials, at the Munich Security Conference this week.
However, ahead of the expected announcement of another tranche of military assistance, a senior unnamed U.S. administration official told The Washington Post "we can't do anything and everything forever."
Newsweek has contacted the Ukrainian foreign ministry and the U.S. State Department for comment.