Ukraine Keeping Bakhmut Supply Lines Open Despite Russian Gains—MoD
Ukraine is defending the embattled Donetsk city of Bakhmut and maintaining supply routes to the settlement, according to a new assessment.
The last two days have seen "heavy fighting" in the area of the Donbas city where Ukrainian fighters "are keeping resupply routes open to the west," the British ministry of defense (MoD) said on Thursday.
The routes remain open despite "Russia's creeping encirclement" of Bakhmut, the ministry added.
In its daily operational update on Thursday, the Ukrainian General Staff of the Armed Forces listed Bakhmut as an "attacked settlement" over the last day. The General Staff added Russia had launched around 90 attacks in five directions.
On Wednesday, Ukraine's state border guard said its fighters had repelled two attacks near Bakhmut and killed 20 Russian servicepeople.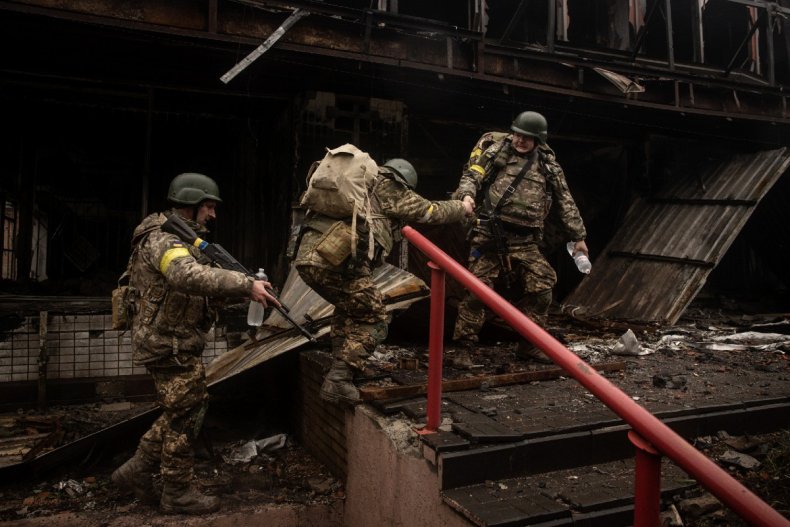 Bakhmut has been devastated by heavy shelling and fierce clashes between Ukrainian fighters and Russia's forces, including Wagner Group mercenaries.
The British defense ministry has argued since early December that Russia likely planned to encircle Bakhmut from the north and south with tactical advances.
Yet on Tuesday, the Washington-based Institute for the Study of War (ISW) think tank suggested Russia may have abandoned this plan.
Influential Russian "milbloggers" had focused on Russian efforts to the north of the city, giving little attention to Russian positions to the west of Bakhmut, the think tank said. This may indicate efforts are being concentrated in the north.
"This effort is likely to be exceedingly costly and slow, given the dense urban environment and Ukrainian fortification systems within Bakhmut," the think tank wrote.
On Wednesday, the ISW said Russian forces had "continued to make marginal advances" near the city, reiterating its belief that Russian forces are trying to enter Bakhmut from the north, rather than encircling the city.
In an interview with Forbes Ukraine, published on Wednesday, the head of Ukraine's military intelligence Kyrylo Budanov said there was a "transition to another tactic" happening in Bakhmut.
"In Bakhmut, in general, the infantry just goes wave after wave," he said.
Ukraine President Volodymyr Zelensky described Bakhmut as a "fortress" earlier this month, pledging that "nobody will give away Bakhmut."
But on Monday, Zelensky told the Italian daily newspaper Corriere della Sera that it was "important for us to defend it, but not at any price and not for everyone to die."
"From a military point of view," Budanov said on Wednesday, "holding Bakhmut gives us the ability to contain the Russians in that area and inflict catastrophic losses on them."
Earlier this week, a former U.S. Marine said that the life expectancy for a Ukrainian fighter on Bakhmut's front lines was just four hours.
Troy Offenbecker, who signed up to fight with the International Legion alongside Ukraine's armed forces, told ABC News that the "chaotic" battlefield was resulting in very high casualties.