Ukraine Detains Hundreds of Alleged Russia Collaborators—'Cleaned the City'
About 400 alleged Russian collaborators were detained during a long curfew in the Black Sea port of Mykolaiv over the weekend, authorities said.
The city, which has been shelled since Russia's invasion of Ukraine began in late February, was under curfew between 11 p.m. on Friday and 5 a.m. on Monday.
Vitaliy Kim, the governor of the Mykoliav region, said the city was being shut out in an effort to crack down on those collaborating with Russia.
That effort was successful, according to Dmytro Marchenko, major general of the armed forces of Ukraine.
"About 400 people were detained with confirmation of their actions, that they passed information to the other side," he told a local television station.
"I can't talk about it yet, but the operation was very successful. They cleaned the city perfectly."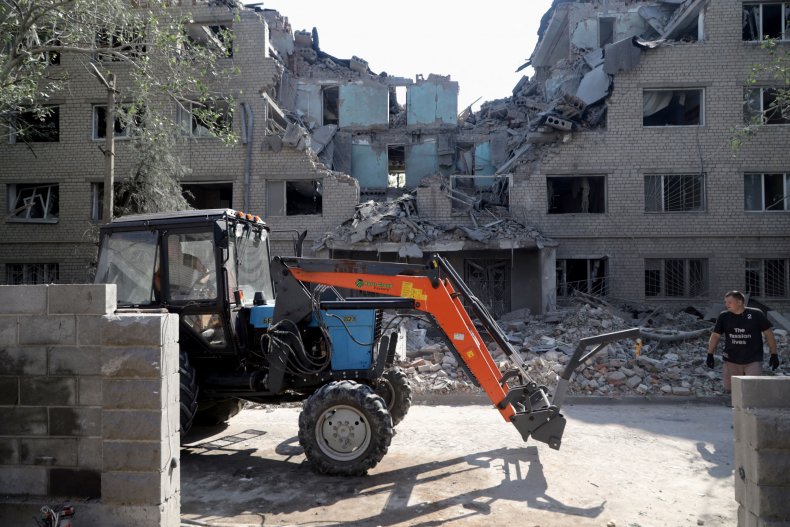 Marchenko said other offenders were also found. "In addition to the collaborators, many other crimes were also found. The weekend did not pass just like that," he said.
He said the hunt for collaborators would continue in Mykolaiv and other parts of the region.
In a post on the Telegram messaging platform on Monday, Kim apologized for inconvenience residents experienced during the extended curfew.
"Sorry for the inconvenience over the weekend, but it was worth it," he wrote in a post.
He said about 20 criminal proceedings had begun and that five people who were wanted had been detained.
Authorities also found equipment that was being used to create fake social media accounts, Kim said.
"We have dealt with one group, which will not interfere with us now," he said.
He also noted that the curfew had passed without attacks on the city.
"As you can see, no one has been shot. No one has attacked Bashtanka and Mykolaiv."
Kim previously announced on July 20 that the city would be closed "for a day or two" in an effort to root out "collaborators and traitors."
He said 18 letters had arrived alleging people were collaborating with Russian forces.
"We are currently processing them and verifying the information," he said on Telegram at the time.
"Regarding the closure of the city of Mykolaiv. This is planned in a week or two. The harvest will just end and we will process all the data as much as possible.
"We will close the city for a day or two. Together with the military, we will announce this in advance so that people can buy food and water and plan their actions."
Officials in Mykolaiv have been contacted for additional comment.