Ukraine 'Ready to Face' Putin's Nuclear Threat, Minister Tells Colbert
Ukraine's foreign affairs minister hit back at Vladimir Putin after Russia's president recently said he wasn't bluffing about using nuclear weapons "to protect" his country and its people.
The minister, Dmytro Kuleba, spoke about Putin's threat while speaking to Stephen Colbert on his Wednesday night show. The exchange came after the Kremlin released a prerecorded speech from Putin on Wednesday morning. In it, the president called for a partial mobilization of reservists and ex-military personnel to join the fighting in Ukraine and also issued new warnings to the West and Ukraine. He reiterated a threat to consider using nuclear weapons, adding that he was not bluffing.
On his show, Colbert asked Kuleba whether he or Ukrainian President Volodymyr Zelensky was worried about what Putin said. The minister admitted that it was normal to feel afraid after such a threat but pointed out that Ukraine was fighting Russia for its freedom and questioned Putin's bluffing denial.
"I think that when somebody says, 'I'm not bluffing,' in most of the cases he actually is," Kuleba said. "If you are so confident in yourself, why should you be repeating all of this?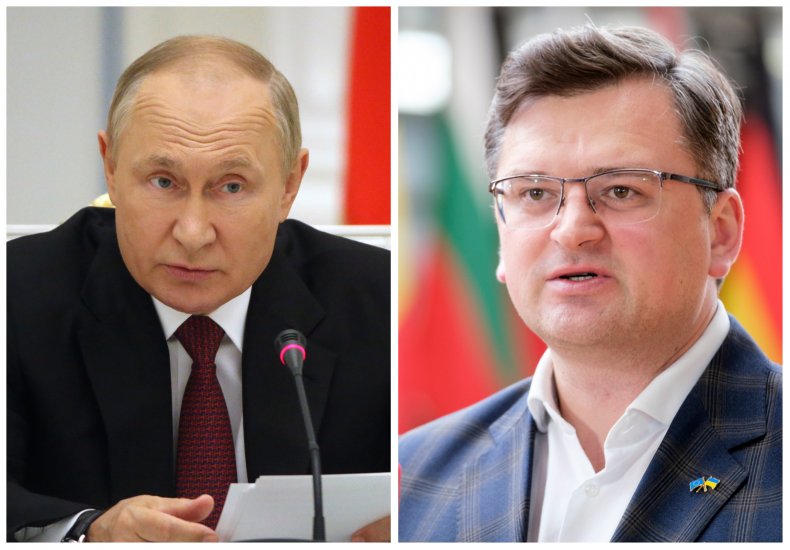 The minister continued: "But this doesn't mean we shouldn't take him seriously, and I want to say two things. Firstly, we as a nation are ready to face any challenge that we have to in order to prevail. We understand we are fighting for our freedom and our right to be ourselves. If we have to go through the most devastating difficult things, we will take up, we will face this challenge with dignity.
"This is how our president, President Zelensky, positioned himself from the very beginning of the war. From Day One, he said, 'This was is not our choice, it was imposed on us, but if you decide to fight with us we will stand up to the challenge.'"
Kuleba also spoke about actions Zelensky took in the early days of the war to inspire Ukrainians in their resistance to the Russians. "Millions of Ukrainians, they abandoned fear. This is really the only way for you to win. You have to be reasonable, but you have to abandon fear," he said.
He went on: "When my president said, 'I'm not leaving Kyiv, I am staying here, I will stay with the nation, with the soldiers,' that was the moment when we as a nation put fear aside and said we are going to fight."
The crowd then gave Kuleba a round of applause, which he dedicated to those fighting for Ukraine.
Newsweek has contacted Russia's and Ukraine's Ministry of Foreign Affairs for comment.