'Not Afraid to Play': Ukraine Fighters Ask to Perform at Ed Sheeran Concert
As the war rages on in Ukraine, people around the world are doing what they can to help those in need on the ground.
Celebrities like Mila Kunis and Ashton Kutcher have used their platform to raise over $30 million to help Kunis' home country. David Beckham recently handed his Instagram account over to a Ukrainian doctor so she could speak directly to the soccer star's over 71 million followers, CNN reported.
This week, Ukrainian pop-rock band Antytila took to TikTok asking to participate in an upcoming benefit concert remotely as they are on the ground in Ukraine fighting for their country.
On March 29, a group of artists will come together in Birmingham, England at Resorts World Arena to perform in a concert to raise funds for humanitarian efforts.
"Concert for Ukraine" will feature many artists including Camila Cabello, Snow Patrol, Emeli Sandé and Ed Sheeran.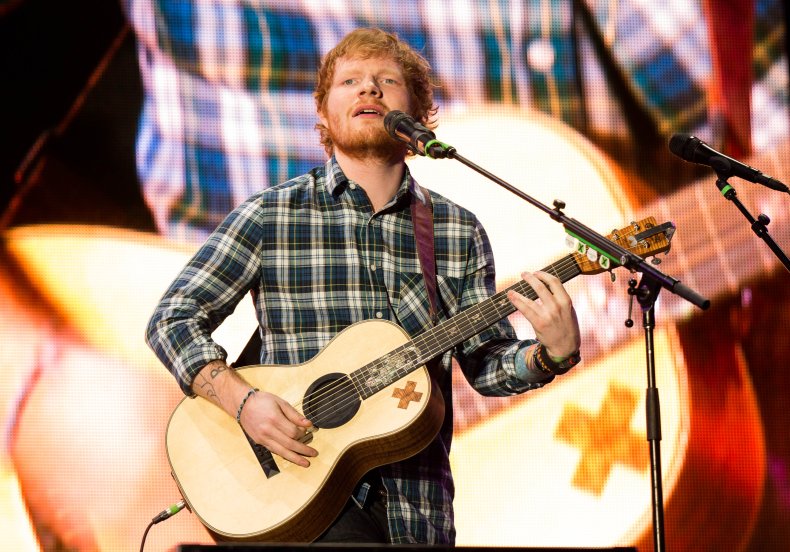 According to Al Jazeera, there are reportedly tens of thousands of people who have joined the Territorial Defense Forces—volunteer military units of the armed forces—to fight Russian forces. On Thursday, the Associated Press reported that as of Wednesday NATO has estimated that 7,000 to 15,000 Russian soldiers have been killed in four weeks of war in Ukraine.
As the video begins, three men, all dressed in military attire, are seen with the words "Hello, Ed Sheeran" written across the top.
The one man, who appears to be band frontman Taras Topolya, does all the talking in the video now viewed over 3 million times.
"The war has changed our lives," the man said in the video. "And now we are fighting with weapons against the Russian occupiers."
The man thanks Sheeran and "all of the British people" for their support during this time.
He said he just learned about the upcoming charity concert and wanted to be involved.
"We offer to make a live broadcast between Kyiv and Birmingham with Antytila [temporarily] joining the gig remotely," he said.
"Our band will play our music in Kyiv, a city that has not surrendered and will never surrender to the Russian occupiers. You will play in Birmingham. We are not afraid to play under the bombs. Through music we want to show the world that Ukraine is strong...we will fight and sing in front of the whole world that support us."
"On March 29, we ready," he said with a smile as the video ends.
According to the band's PR representative, Anna Dolynska, Topolya told Newsweek that he and his bandmates knew they would join the fight as soon as the war broke out. He said he packed up his wife and children and had his father drive them to Western Ukraine—away from Kyiv.
"My friends and I did not have doubts even for a moment that we have to protect our homeland and our country when it is in danger," he said. "It is or duty! Our wives were aware of this decision, supported it, and took on the responsibility of raising and caring for our children."
Topolia said he and his band have toured around the world in front of thousands of people and had a stadium tour planned for this spring before the war disrupted those plans.
He said the band had plans to release their latest album on February 25—the day after fighting began. As it was too late to cancel the release, the band ended up releasing the album from the "trenches."
A few days after the band posted their public video asking to be a part of the March 29 concert, Topolia said they received a video response from Sheeran where the singer expressed his desire to hear the band's music and his support for Ukraine.
"However, at that time the organizers of the concert wrote to us and refused to participate. Due to the fact that the concert is humanitarian in nature, and they do not want musicians who wear helmets and hold weapons in their hands were related to the lineup of this event," Topolia said.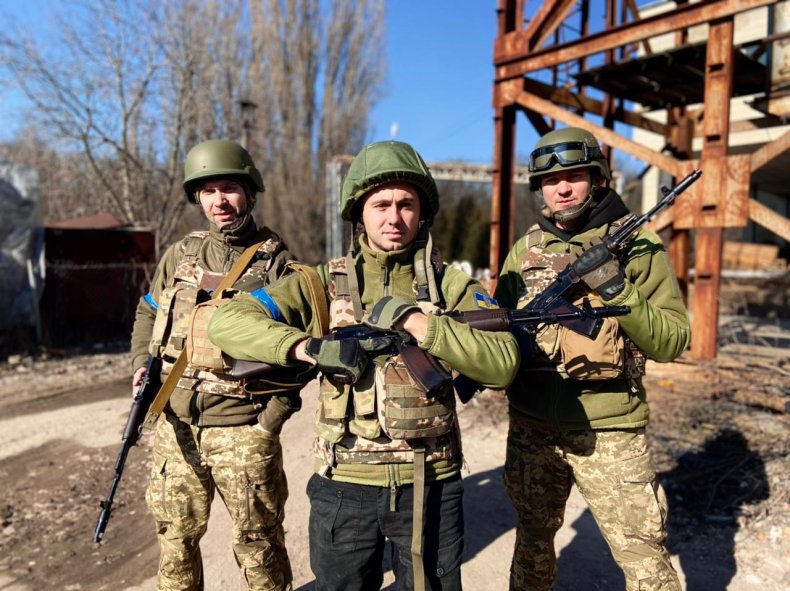 "We were told that our participation exposes the organizers to certain reputational [sic] and image risks, and the fact that we are in the military, even if temporarily, is not consistent with the humanitarian concept of this event," he said.
He said while they do not understand the decision they have accepted it.
"However, we still thanked the people of Great Britain for their support of Ukraine," he said. "This is important and valuable for us in such difficult times for the country."
In a statement from a spokesperson from the Concert for Ukraine provided to Newsweek, they wrote that the concert will raise funds for the Ukraine Humanitarian Appeal that is being run in the U.K. by the Disasters Emergency Committee which supports 13 international charities and local partners that are operating in and around Ukraine.
"In order to do their life-saving work safely and operate anywhere without fear, the DEC and their charities must avoid association with any kind of military," the statement continued.
"The fact that members of Antytila—as well as being brilliant musicians—are now also in military service, has been very well publicised [sic] here in the U.K. and in interviews, they have given to news outlets. On a personal level, we do of course completely understand why they are bravely fighting for their country, but for this specific concert, it would not be possible for us to feature them, as we are only able to focus on the humanitarian situation, not the politics or the military conflict," organizers said.
Antytila has 124,916 listeners on Spotify, according to the streaming service and 111,000 followers on Instagram. At the start of the video, the man said his band is one of the most popular in Ukraine.
Newsweek reached out to representatives for Antytila and Ed Sheeran for comment.
Updated 03/28/2022, 4:20 p.m. ET: This story has been updated with comments from Taras Topolya and a spokesperson for the Concert for Ukraine as well as an image provided by the band.