Ukraine Envoy Testimony 'Devastating' for Trump, Giuliani Case, Fox News' Chris Wallace Says
Fox News host Chris Wallace has warned that testimony from former U.S. special representative to Ukraine Kurt Volker is highly damaging to President Donald Trump and his attorney Rudy Giuliani.
Volker—who resigned from his role abruptly last week—testified to Congress this week about his involvement in Trump's efforts to solicit Ukrainian interference in the 2020 election.
Volker provided an 11-page written opening statement setting out his role and his reaction to efforts by Trump and Giuliani to pressure the Ukrainian government—led by new President Volodymyr Zelensky—to investigate allegations of corruption against 2020 rival Joe Biden and his son Hunter.
Wallace said Friday that the statement was "quite devastating to the president and Rudy Giuliani's case," Mediaite reported.
"It basically says that Volker, who all sides agree was an honest broker in this whole thing, was very disturbed by the information, he thought disinformation, that various Ukrainian officials were sending to Rudy Giuliani, the president's private lawyer," he explained.
Volker said Giuliani was "then spreading that information in Washington and that might be a reason why the president was so reluctant to meet with Zelensky and also to—of course—push Zelensky to investigate in that July 25th phone call, both potential involvement in the 2016 election by the Ukrainians and also Joe Biden in his role."
Wallace noted that Volker "repeatedly says that he does not believe that Joe Biden did anything wrong or that he was in any way affected by his son's finances."
"You can bet that that went over well with House Republicans," he added sarcastically. "He was apparently saying this to Giuliani and people inside the administration at the time. So I suspect they didn't like that very much either."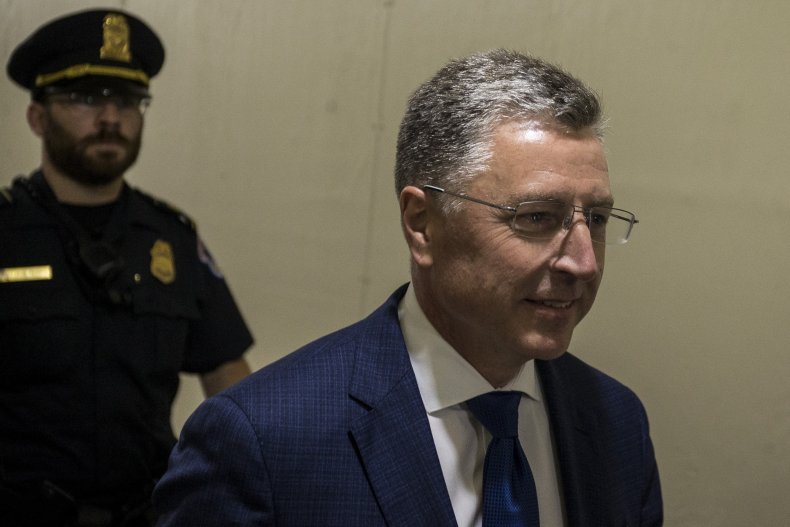 Volker's testimony was not public, but his written statement was obtained by numerous news organizations. According to CNN, the document paints a picture of Volker trying to win the president over to supporting the new, reformist government in Kiev, while Giuliani undermined his efforts.
Volker recalled that Trump "said that Ukraine was a corrupt country, full of 'terrible people.'" He added that the president said Ukraine "tried to take me down"—a reference to unproven allegations that Ukraine meddled in the 2016 election.
"It was clear to me that despite the positive news and recommendations being conveyed by this official delegation about the new president, President Trump had a deeply rooted negative view on Ukraine rooted in the past," Volker's statement explained.
"He was clearly receiving other information from other sources, including Mayor Giuliani, that was more negative, causing him to retain this negative view."