Ukraine To Expand Army by 100K Troops as Poland Set To Deliver Kyiv New Weapons
Ukraine will seek to bolster its army's ranks by 100,000 soldiers over the next three years, President Volodymyr Zelenskyy announced on Tuesday, as countries rallied behind Kyiv in the face of the threat posed by Russian forces.
Announcing the policy on Tuesday, Zelenskyy said the decree he signed was "not because war is coming soon," but rather so there "will be peace in Ukraine."
"We must protect those who protect us," he told parliament's lower house, Rada, according to a translation by Ukrainian news outlet Espreso TV.
Zelenskyy also said that he had spoken with representatives of 80 countries and international organizations, who unilaterally backed Ukraine in the standoff with Russia.
The decree is a statement of intent by Kyiv which has considerably bolstered its military since 2014, when Russia seized Crimea sparking conflict in the eastern Donbass region.
Since that invasion, Ukraine has increased the number of its combat-ready troops from 6,000 to 150,000.
A statement on the Ukrainian president's website said the decree would create an additional 20 brigades, provide better housing for personnel, and ensure troops are paid at least three times the country's minimum wage.
Meanwhile, Zelenskyy sought to assure lawmakers that Kyiv was playing a central role in diplomatic efforts to stave off war.
He said on Tuesday that "nobody is deciding Ukraine's destiny behind our backs," Radio Free Europe reported, and that he expected the Normandy Format group aimed at resolving the tensions involving France, Germany, Ukraine and Russia would meet soon.
International Response
Also Tuesday, Polish Prime Minister Mateusz Morawiecki said Warsaw would provide Ukraine with the anti-aircraft missile systems "Thunder," as well as unmanned aerial vehicles and ammunition, gas and arms supplies, surveillance drones, humanitarian and economic aid.
As a fellow neighbor to Russia, Morawiecki said, "we have the feeling of living at the foot of a volcano," Reuters reported.
Dutch Prime Minister Mark Rutte and Turkish President Recep Tayyip Erdogan are due to visit Ukraine this week.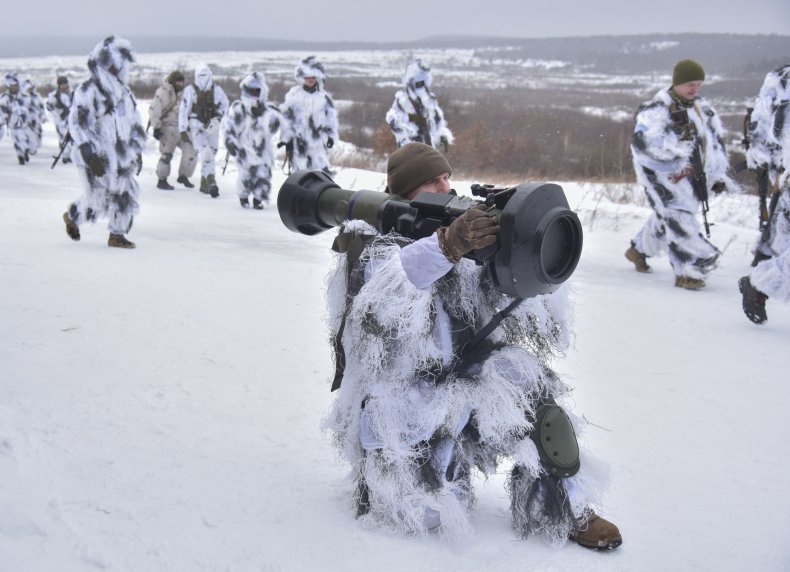 British Prime Minister Boris Johnson visited Kyiv on Tuesday and is expected to speak by phone about the crisis with Russian President Vladimir Putin, who has the support of at least one European leader.
Viktor Orban, the prime minister of NATO member Hungary, pledged co-operation with Russia during a meeting with Putin on Tuesday in the Kremlin in a trip criticized by Hungary's EU allies.
"I would like to assure you that no EU leader wants war or conflict. We are ready for a rational agreement," Orban said, according to agencies.
The Pentagon has announced that 8,500 U.S. personnel are on heightened alert to support NATO, although has said American troops will not be deployed to Ukraine and will not be in combat with Russian forces.