Ukraine Fears Western Capitulation on Russia as Cracks Emerge
Russia is claiming two significant victories in its ongoing sanctions war with the West, after Canada agreed to waive restrictions on a key gas pipeline component and the European Union clarified its position on the standoff over the Kaliningrad exclave.
EU and NATO leaders have stressed that both decisions are limited in scope and will not undermine Western backing for Ukraine as it fights off President Vladimir Putin's latest bloody invasion of the country.
But Kyiv's simmering concerns over "sanctions fatigue" among partners has been piqued by Russia's apparent success. Ukraine, and some of those partners—particularly in the Baltic states—worry the Kremlin will exact more concessions as Europe approaches a winter characterized by cost of living crises and soaring energy costs.
"The truth is that some European politicians might be more interested in Russian gas rather than in Ukraine's victory," Oleksandr Merezhko, a member of Ukraine's parliament and the chair of the body's foreign affairs committee, told Newsweek.
Putin's energy weapon
Last weekend brought the Canadian-German decision—supported by the U.S. in a statement issued on Monday—to waive sanctions and release a turbine needed for the Nord Stream 1 gas pipeline. The two-year waiver was described by President Volodymyr Zelensky as "weakness" and "absolutely unacceptable."
A source close to Zelensky's government, who spoke with Newsweek on the condition of anonymity, described the rationale for the Canadian decision as "bizarre and non-sensible," and the decision itself as "morally bankrupt."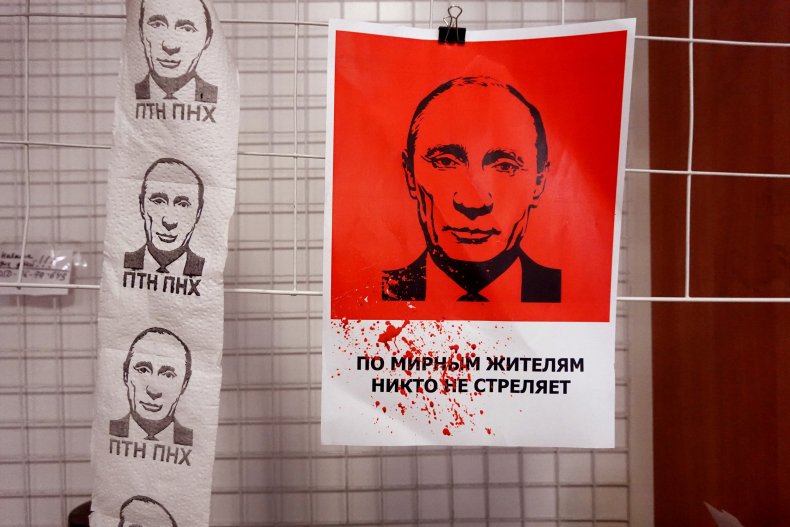 The turbine had been held in Canada after the country imposed sanctions on Russia's state owned energy giant Gazprom, which owns the Nord Stream 1 natural gas pipeline to Germany.
Germany remains heavily dependent on Russian gas imports, though since Putin's invasion began on February 24 has been working to transition to alternatives. Still, the German appetite for Russian energy gives the Kremlin a potent lever against all of NATO and the EU.
Last month, Gazprom cut Nord Stream 1's output by 40 percent, blaming the missing turbine. The pipeline is currently switched off to undergo repairs, though Berlin is reportedly concerned that Moscow will not turn it back on.
Russian Foreign Ministry spokesperson Maria Zakharova said Thursday that future Nord Stream operation will depend on European demand. Newsweek has contacted the Russian Foreign Ministry to request comment.
Ottawa said the permit is "time-limited and revocable," and State Department spokesperson Ned Price said the turbine "will allow Germany and other European countries to replenish their gas reserves, increasing their energy security and resiliency and countering Russia's efforts to weaponize energy."
The Canadian government is facing domestic backlash at home. Ukrainian Canadian Congress CEO Ihor Michalchyshyn told Newsweek: "We've capitulated to it based on German pressure, based on the Russian gamesmanship, and it's going to embolden Russia to go after further targets within the EU, within the global community."
UCC senior policy analyst Orest Zakydalsky told Newsweek: "The Russians created this box, but Canada and Germany stepped into it...When Russia cuts the gas off in the winter, which they inevitably will do, that may show them that their policy was mistaken."
Asked to comment, a spokesperson at Canada's Department of Natural Resources directed Newsweek to comments by Minister Jonathan Wilkinson, who told CBC he acknowledged Ukrainian frustration but said "the point of sanctions is not to hurt our allies, it is not to crater the German economy."
Wilkinson added that Canada was under pressure from Berlin and Brussels to make the decision, but not Washington, D.C.
German Chancellor Olaf Scholz said the controversial decision "insures our supply with much needed natural gas, keeping Germany and Europe in the position to support Ukraine with humanitarian, financial and military aid."
Newsweek has contacted the German foreign ministry to request comment.
For those wary of waning international attention, the turbine waiver is a troubling development. One Estonian diplomatic official, who spoke with Newsweek on the condition of anonymity, said the decision has caused significant tensions within the Western alliance.
"Canada surrendered to pressure and can be seen as a subject of further manipulation from Russia," the official said.
Merezhko—a member of Zelensky's Servant of the People party—shared a similar view from Kyiv. "To us it's a dangerous political precedent," he explained. "I'm also concerned that with autumn and winter coming some European countries might display more interest in finding a compromise with Russia regarding supply of Russian gas and oil."
"These countries might be even tempted to put political pressure on Ukraine to reach a 'compromise' with Russia, or they might deliberately delay the supply of heavy weaponry we need."
Some Russian sympathizers in Europe have long been skeptical of sanctions. This week, Hungarian Prime Minister Viktor Orban said the EU had "shot itself in the lungs" via its measures on Moscow.
Other leaders might feel emboldened to voice similar criticisms as the economic situation worsens across the continent.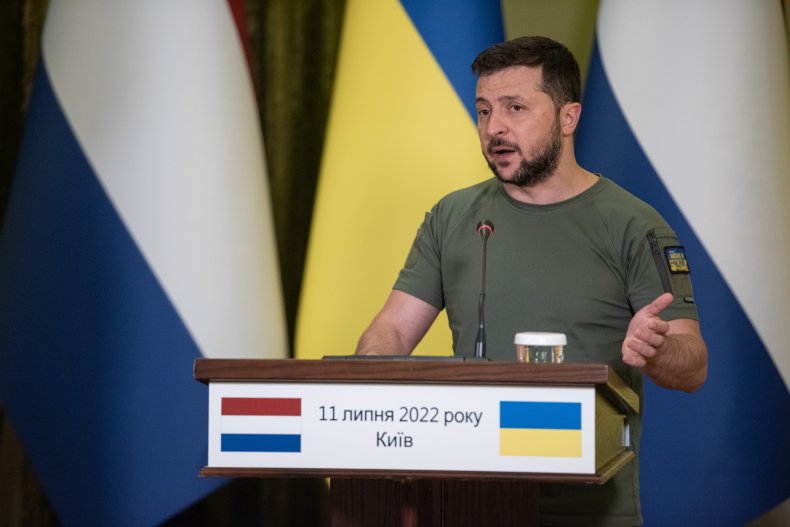 Trouble in Kaliningrad
Moscow is also claiming a win this week over Kaliningrad—Russia's European exclave wedged between Lithuania and the Baltic Sea. Lithuania recently restricted the road and rail transit of certain goods from Belarus and Russia to Kaliningrad in line with EU sanctions.
But following Russian threats and cyber attacks, the European Commission clarified this week that sanctioned Russian goods—excluding military, dual-use, and technology products—should not be stopped from traveling by rail. The Commission was reportedly under pressure from Germany to deliver this de-escalatory interpretation of EU sanctions.
Vilnius—long one of Europe's more hawkish nations on Russia—says it will respect the Commission's recommendation.
Asked to comment, the Foreign Ministry referred Newsweek to a statement which warned against a "false impression that the transatlantic community is mitigating its position and sanctions policy towards Russia. Lithuania continues to advocate for the stricter and broadest possible modalities of the application of the EU sanctions."
Like the Canadian decision, the Commission recommendation has irked many in Ukraine. "Putin counts on the fatigue of Western countries and economic difficulties in these countries," Merezhko said. "Russia might take this as a sign of Western fatigue. That's why we need to intensify sanctions."
But Western nations are juggling the need to stand up to Russia with the necessity of keeping Europe united.
"Lithuania, as a committed member of the international community, must see the broader geopolitical context, and our goal is a united community of democracies that provides full support to Ukraine," Laima Liucija Andrikienė, a member of Lithuania's parliament and the chair of its foreign affairs committee, told Newsweek.
Margarita Šešelgytė, the Director of the Institute of International Relations and Political Science at Vilnius University in the Lithuanian capital, told Newsweek that Lithuania faced a "very complex situation."
"I think that the idea is to give a very clear message that this is the matter for the EU, this is the competence of the Union, and we are not playing alone, we're playing together with the EU," she explained.
"The challenge is not to overreact to what Russia is saying," Šešelgytė said. "Russia would make a propaganda case in any situation. If there was no clarification of the initial document, they would have been blaming Lithuania for taking unilateral action."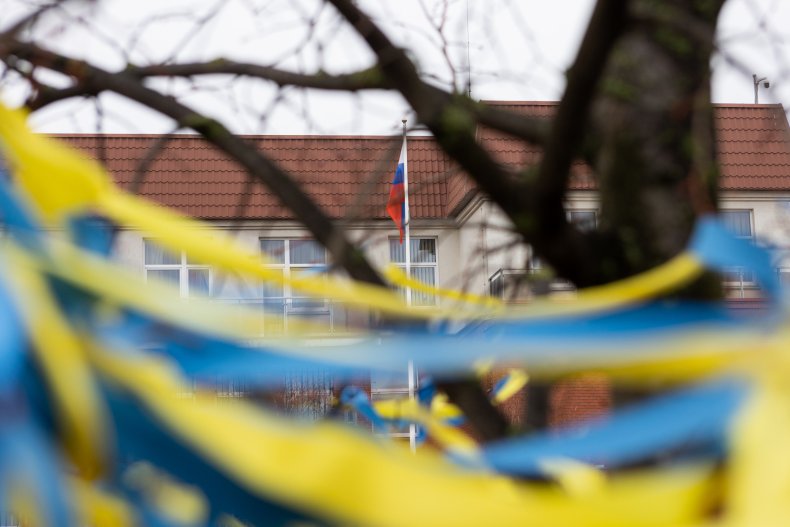 Radvilė Morkūnaitė-Mikulėnienė, a member of Lithuania's parliament and the chair of its European affairs committee, also cautioned Europeans and their partners not to overreact to the decision, and allow Moscow to "spin this to their own needs."
"We have to be very cautious, and we have to take a lot of things into consideration," she told Newsweek. "It's not black and white."
"We will always be on the side which asks for more severe sanctions on the Russian Federation, and we've always been very vocal about that," Morkūnaitė-Mikulėnienė added. "We haven't changed our attitude, but out of respect for unity, for our Euro-Atlantic partners, we follow this decision."
The Kremlin will see this week's success as illustrative of the West's limited appetite for continued and costly sanctions. The apparent communication failure within the bloc will also be welcome in Moscow.
A Latvian diplomatic official, who spoke with Newsweek on the condition of anonymity, said the EU decision was helpful in settling the debate, though admitted that the need for such a clarification might be evidence of "too fast work on the EU side."
"The timing was wrong. From that perspective I agree there is an opportunity for the Russians to spin this and say: 'Europe is giving in,'" the official said.
Šešelgytė noted the Russian tactics were predictable. "If you know this situation might occur, you would start acting preventively. Nothing has been done and there's also a discussion as to why nothing happened."
As fall and winter approach, European public sentiment may turn against sanctions as cost of living crises deepen and energy costs soar.
"Fall is not far away, and no doubt we will face new challenges," Andrikienė said, stressing the need for the EU to soon pass its seventh sanctions package.
"We see the possibility that people in European societies will get tired, and when the winter comes we will all have to pay our price," Morkūnaitė-Mikulėnienė added.
That may be especially true in the continent's west. "Our public is afraid that if the Ukrainians lose the war, then we would be next," the Latvian diplomat said.
"How will this look in countries like France, Germany, Italy, or Greece?" the official asked. "The Russians are hoping that public opinion in these countries will swing away from supporting government policies."