Ukraine Fires Rockets at Russian Military Bases in Crimea: Ukraine Official
A pair of Ukrainian officials are acknowledging Ukraine was behind a missile strike on Russian airbases in the occupied Crimean peninsula.
The claim of responsibility came in the form of a lengthy essay written by a top Ukrainian military leader and lawmaker that was published Wednesday on state-run Ukrinform. The acknowledgement of the August attack on Crimea, a geostrategic lynchpin and summer holiday destination, marks a reversal after Ukrainian officials previously sidestepped questions about their involvement and comes amid renewed calls from Ukrainian capital Kyiv to retake the Crimean peninsula.
The essay was written by Valery Zaluzhnyi, commander-in-chief of the Armed Forces of Ukraine, along with Mykhailo Zabrodskyi, a retired military officer who now sits on a defense committee in Ukraine's parliament.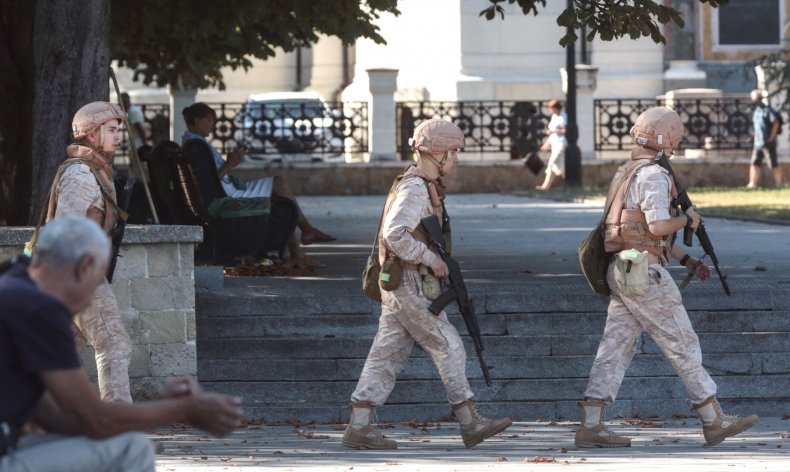 Ukrainian forces could see a "turning point" in 2023 against Russia's military by affecting its "center of gravity," the two wrote in the essay. Specifically, the two said that Ukraine's strike on a Crimean airfield brings the conflict closer to Russians, many of whom vacation on the Black Sea peninsula. The strikes on Crimea sent Russian vacationers into a panic as they attempted to flee.
"A convincing example of the correctness of this approach in the current year is the successful efforts of the Armed Forces of Ukraine to physically transfer hostilities to the temporarily occupied territory of the Autonomous Republic of Crimea," the two wrote in the essay. "We are talking about a series of successful missile strikes on the enemy's Crimean air bases, first of all, on the Saka airfield."
Ukraine's Ministry of Defense reported in August that the Russian military had pulled its airplanes and helicopters from an airbase in Crimea in response to explosions. While the explosions raised concerns of conflict escalation, Ukrainian officials at the time avoided claiming responsibility.
Ukrainian Defense Minister Oleksiy Reznikov told a Danish television station that the explosion might have been caused by Russian soldiers carelessly tossing cigarette butts, Ukrainska Pravda reported.
Crimea was annexed by Russia in 2014 during a period of political instability in Ukraine. Control over the peninsula has given Russia an advantage in launching attacks on nearby southern Ukraine. The annexation has been roundly condemned internationally and Ukraine's government has vowed to restore its borders.
Ukrainian President Volodymyr Zelensky renewed that vow in late August as his country prepared for a counteroffensive in the Russian-occupied south.
"We will bring freedom to Ukrainian citizens in Crimea, and we will restore justice to all those who suffered from the repressions and abuses of the Russian occupiers," Zelensky said during a meeting with international leaders.
Ukraine is currently in the midst of a campaign to reclaim the Russian-occupied city of Kherson as well as surrounding towns and cities, with reports of early successes.
Newsweek reached out to the Ukrainian Ministry of Defense for comment.