Ukraine Might Have Just Carried Out First Covert Attack on Russian Soil
A Russian railway has been damaged near the border with Ukraine, according to the local governor.
Belgorod Governor Vyacheslav Gladkov said on Telegram that there had been "damage to the railway tracks" in the Shebekinsky urban district, which borders Ukraine, had left the line out of use. There were no injuries, he said.
"Only the railway track is destroyed ... I will inform you about the reasons later," he said.
The region has since raised its terrorist threat level, warning local people against visiting crowded places, Russian news agency Tass reported.
Pictures posted on social media showed tracks bent possible by an explosion.
Dmitri Alperovitch, founder of The Alperovitch Institute for Cybersecurity Studies at Johns Hopkins University in Maryland, shared photographs on Twitter, showing warped tracks, broken sleepers, and twisted metal running alongside the line.
Economist correspondent Oliver Carroll, in Kyiv, tweeted one of the photos, showing a rupture in the line, with the caption: "Belgorod railway damage (explosion) appears to be the work of Ukrainian SF groups — creating doubts for Russia at a time that it wants to commit everything it has for a renewed offensive in eastern Ukraine."
Ukraine has not said if it is behind any attack on the railway bridge.
Damage to the railway line, which lies to the north of Kharkiv in eastern Ukraine, could potentially disrupt Moscow's military preparations as Russian forces prepare for a new offensive in Ukraine's Donbas region.
Local Russian outlet, BFM, said the damage was caused on a site "used for the rail bus" passenger service on the Belgorod-Nezhegol route.
It added: "According to the governor, the passengers of the train were transferred to a regular bus and taken to their destination. Also, [he added] 'a free bus service has been organized, which will operate until the restoration of the railway lines."
Gladkov also accused Ukraine of attacking an oil depot overnight on April 1. Video widely shared online showed a huge fire in Belgorod.
Ukraine's Security Council Secretary Oleksiy Danilov denied Ukrainian forces were responsible for that attack. "For some reason, they are saying we are behind it. This does not correspond to reality," he said in response to the claims.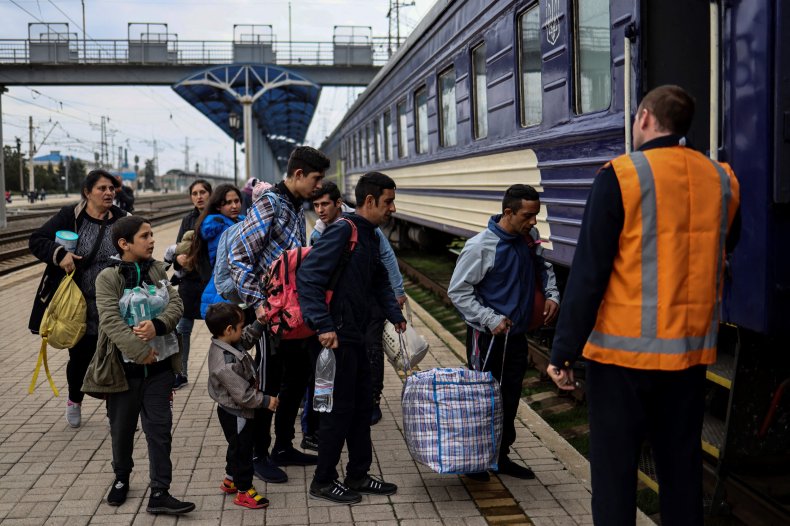 Update: 4/13/22, 1:16 p.m. ET: This article has been updated throughout.