Ukrainian investigators have formally named former Defense Secretary Mykhailo Yezhel as a treason suspect, officials have announced.
Ukraine's State Bureau of Investigation (SBI) said the 2010 Kharkiv Agreements treaty signed by Yezhel "facilitated" the Russian occupation of Crimea in 2014.
The treaty between Kyiv and Moscow—also known as the Kharkiv Pact—was effectively a continuation of the lease provisions Ukraine had given the Russian Black Sea fleet on its naval bases in Crimea back in 1997, extending the lease until 2042.
Less than four years later, Russia annexed Crimea and unilaterally terminated the pact.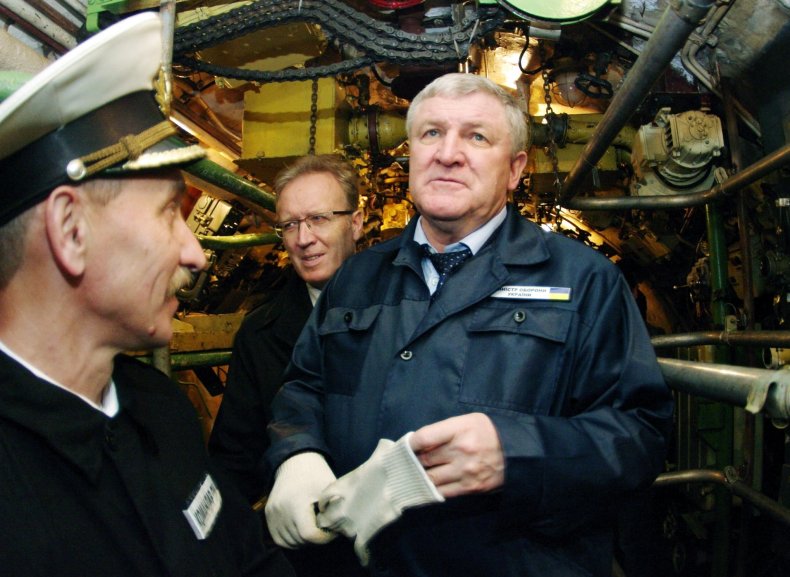 The SBI said in a statement on Monday that Yezhel "understood all the risks of the continued presence of the Russian fleet on the territory of Ukraine," before approving the treaty.
Yezhel was commander-in-chief of Ukraine's naval forces from August 2001 until April 2003, and served as minister of defense from March 2010 until February 2012.
He is now officially suspected of committing treason against his country "based on a prior conspiracy by a group of persons," the SBI's statement said.
The 2010 deal with Russia was formally signed by Ukraine's then-president Viktor Yanukovych, who had also served as the governor of the Donetsk Oblast between 1997 and 2002.
According to the Ukrainian agency, the Kharkiv Agreement created the conditions for Russia to increase its military equipment and personnel on Ukraine's territory, as well as modernizing the same weapons that were used during the annexation of Crimea in 2014.
In February of the same year, Yanukovych was removed from his post on the ground that he was unable to fulfill his duties. He has since lived in exile in Russia.
According to Ukrayinska Pravda, an independent online publication in Ukraine, Ukrainian intelligence had information saying that Russia's President Vladimir Putin had planned to place Yanukovych back in power to replace Volodymyr Zelensky.
Last year, the former president was named as a treason suspect, together with former prime minister Mykola Azarov. In July this year, two former ministers in Yanukovych's cabinet were also named as treason suspects for the drafting, agreement, signing, ratification and implementation of the Kharkiv Agreements.
An investigation is still ongoing and Newsweek has reached out to the SBI for information on the state of the investigations.
Update, 8/9/2022 9:20 a.m. ET: This article has been updated to provide more context on the story.