Ukraine: Fretting About the Old Country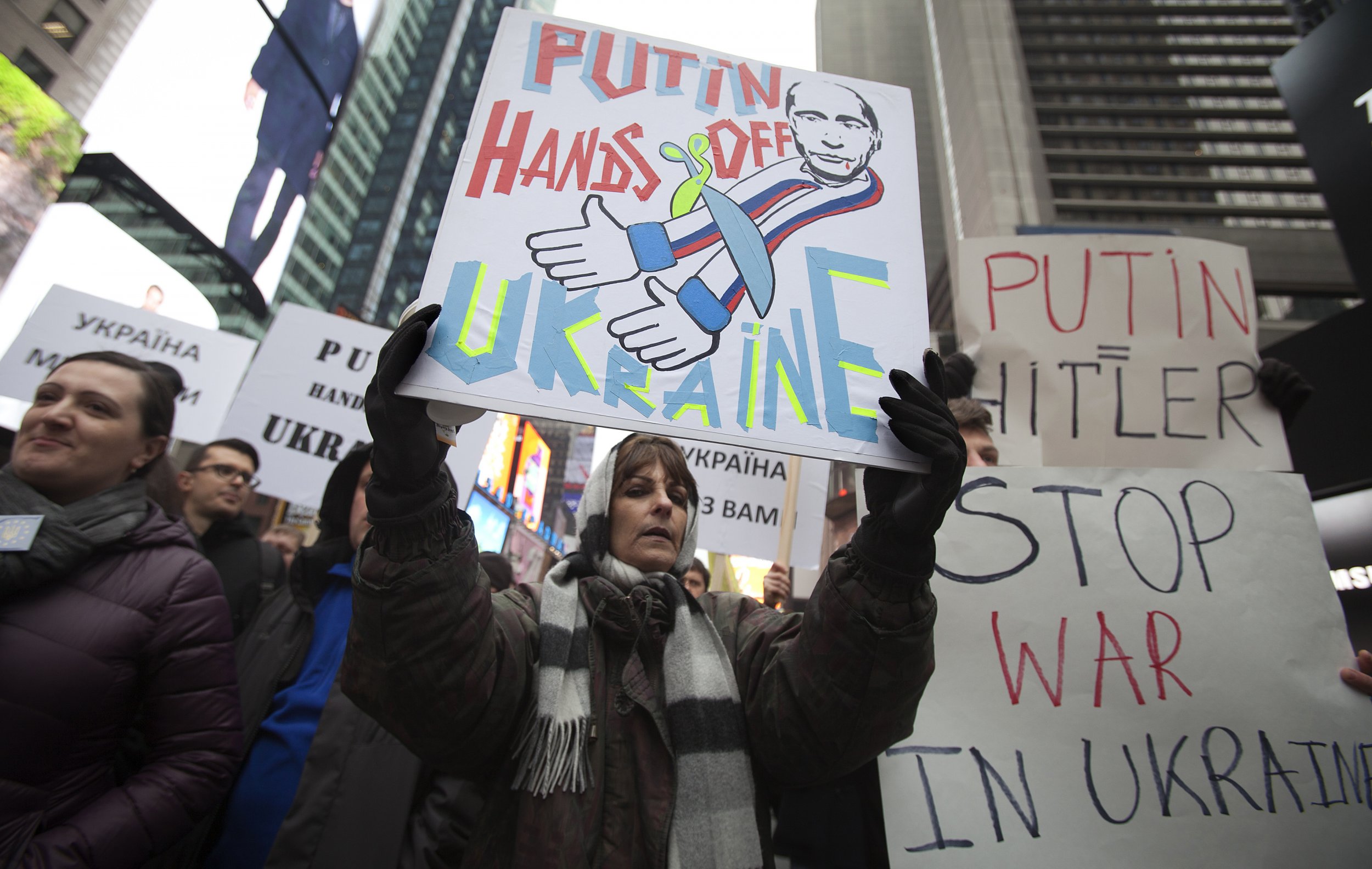 In Kalinka, a small gift shop in Brighton Beach, Brooklyn, sometimes known as Little Odessa, Irina, of Moscow, discusses the latest news with Larisa, of Kiev.
"I just want peace!" Larisa says. She is concerned about her family. Her son, a doctor in Kiev, lives with his wife, a native of Russia, who brought flowers to the protesters in Maidan who eventually forced out the Ukrainian president that sparked the Russian occupation of Crimea.
Larisa has been in living in Brooklyn for about 10 years, but stays plugged in to the news back home. "We're all worried," she says.
Irina's friends and customers, both Russians and Ukrainians, are unanimous: "Russia has done something very, very wrong." Because the Russian-language news is untrustworthy, her Ukrainian friends follow events obsessively on Facebook and Russian-language social networking sites, where every other post is a denunciation of Putin.
That's true across the country. Sergey Povzner, a Kiev native living in the San Francisco area, has only been sleeping four hours a night because he has been checking his electronic devices so often for news from back home. "The only way I slept a full night was when my wife put everything in the car, locked it and hid the key," he says.
The American Ukrainian population, nearly one million strong, are riveted by events unfolding half a world away. Interest that started when protests against the pro-Russian government began in November accelerated when the government fled last month.
Now, with Russian intervention and the partition of Ukraine a possibility, many are worried what will come next. American Ukrainians are taking action, protesting, pressuring their representatives to intervene back home and organizing support for their friends and relations in the homeland.
"This has mobilized people from all walks of life unlike anything over the last few years," says Alexander Motyl, a Ukrainian-American professor. "What's striking is that the people involved in the various campaigns or demonstrations are Ukrainians from all backgrounds – Ukrainian speakers, Russian speakers, Crimean Tatars, first generation, people who came here in the third and fourth waves of immigration, people who were born in this country, Ukrainian Jews, even Russians."
American Ukrainians have held demonstrations across the country. They are gathered directly across from the White House, calling on President Obama to take a stronger stand against Russia's President Vladimir Putin. Russian consulates – in Washington, New York and San Francisco -- have been targeted, too. Activists held vigils commemorating the massacre of more than 100 last month by snipers on the orders of the pro-Russian government -- leading the government to fall. Holding protests here helps people feel like they are taking part in events back in Kiev.
"What are we supposed to do now, go back and take up arms?" says Roma Hadzewycz, the editor-in-chief of Ukrainian Weekly, a newspaper for North American Ukrainians. "We're calling our senators and congressmen and the White House and telling them that we need action now. We need to get serious with Putin." Congressmen have been responsive and sympathetic, Hadzewycz says, even if U.S. government action hasn't been as swift or severe as she might have liked.
Some efforts have been more organized. Razom, which means "together" in Ukrainian, began last November as a Facebook group to unite Ukrainians in diaspora then grew within months into a registered non-profit. They have collected nearly $150,000 in donations, according to Mariya Soroka, a founding member. During the height of the protests the group bought clothes and food for protesters. Now it will be donated to the families of those killed in clashes with security forces in January.
The group has big plans for the future, too, including connecting business people and investors in the diaspora with people in Ukraine and funding Ukrainian journalists in Crimea to combat the Russian version of events.
"Maidan was important. It was the center of things and we had to support them," says Soroka. "Now we are trying to support Ukraine as a whole, not just that square in Kiev."
Not all Ukrainians in America agree with those concerned about the crisis in the old country and suggest the divisions in Ukraine are misunderstood. "When people are Russian-speaking they are not necessarily pro-Russian. Look at me," says Povzner, who supports the new government and opposes Russian intervention, adding that he knows others who don't fall neatly within the East-West narrative that suggests all Russian speakers all back Putin's aggression.
Back in Brighton Beach, some of the same divisions that exist in Ukraine are on display. "Crimea belongs to Russia. Khruschev was drinking and he gave it away. Now it's going back," said Leo Gindel, owner of the Black Sea Bookstore and a native of Gorky, Russia. "Putin is doing what he's supposed to do."