Angela Merkel Vows to Keep Sanctions on Russia Until it Returns Crimea As She Meets With Ukraine's New President
German Chancellor Angela Merkel met with Ukraine's newly elected President Volodymyr Zelenskiy on Tuesday and expressed her support for continuing to sanction Russia for its interference in Ukraine.
Zelenskiy is meeting with key European leaders this week in an attempt to gin up support for Ukraine's struggle against Russian aggression and interference.
Speaking at a joint press conference with Zelenskiy on Tuesday, Merkel noted that Russia continues to occupy the Crimean peninsula, which Moscow illegally annexed from Ukraine in 2014, and supports pro-Russian separatists in the eastern part of the country known as the Donbas.
"As long as there is no progress on this front, the sanctions cannot be lifted, and the sanctions related to Crimea can only be lifted if Crimea returns to Ukraine," Merkel said.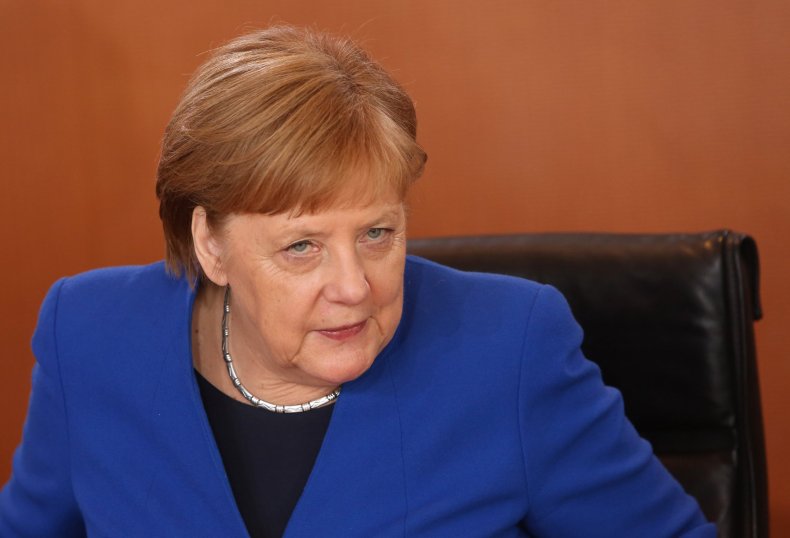 Germany plays a key role in determining the European Union's foreign policy, and Merkel's statements are likely to be taken seriously.
The EU first began sanctioning Russia for its interference in Ukraine in 2014, the year a pro-Western movement ousted the corrupt President Viktor Yanukovych, who subsequently fled to Russia. In March, the EU sanctioned eight additional individuals in response to Russia's seizure of three Ukrainian ships in the Kerch Strait near the Sea of Azov.
"The officials sanctioned include the head and deputy head of the border directorate of Russian federal security service for the Republic of Crimea and City of Sevastopol, three commanding officers of Russian border patrol boats and an anti-submarine ship which actively participated in actions that prevented Ukrainian vessels from accessing their coastline on the Sea of Azov, two heads of service of Russian control points, and a Russian armed forces commander responsible for military forces in the region, including the illegally annexed Crimea and Sevastopol," the European Union said in a statement at the time.
Twenty-four of the Ukrainian sailors on the seized trip are still in Russian custody. In late May, the International Tribunal for the Law of the Sea determined that Russia must release the sailors, but Moscow has not yet complied with the order. During a meeting with French President Emmanuel Macron on Monday, Zelenskiy thanked the French President for his support advocating for the release of the sailors.
"We will continue to cooperate with France and other NATO partners to ensure the security of navigation in the Black Sea and the Sea of Azov, as well as an unimpeded passage for the vessels in the Kerch Strait," Zelenskiy said.