Ukraine HIMARS Strike Russian Bases During Major Counter-Attack
Ukrainian forces struck a number of targets around the occupied city of Kherson, in southern Ukraine, on the night of August 2-3.
According to local media, several Russian bases and arms warehouses were attacked in the Kherson Oblast using U.S.-provided HIMARS advanced multiple-rocket launchers.
Ukrainian news site Obozrevatel reports a Russian base was hit in Chornobaivka, on the outskirts of occupied Kherson.
This was confirmed on Facebook by the Ukrainian military's official "Operation Command South" page, which said the target was struck with "rocket and artillery" fire.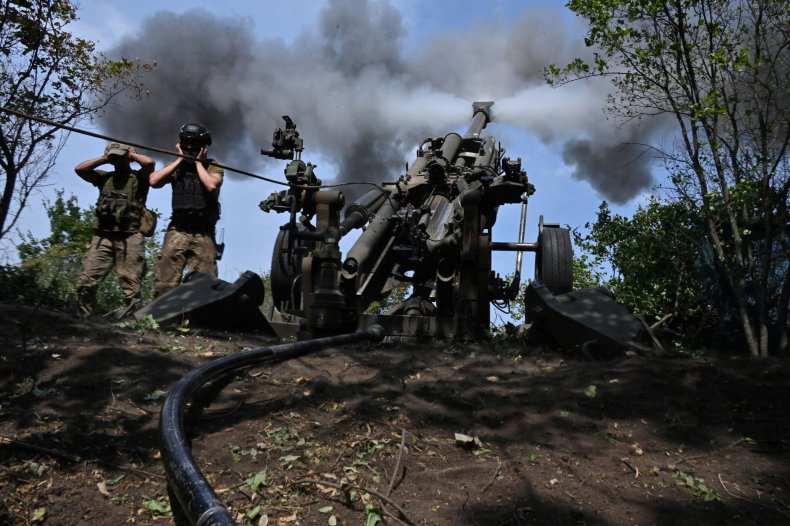 Video posted on Telegram, which has not been independently verified by Newsweek, reportedly shows Russia's Chornobaivka base coming under fire.
In a separate incident, Ukrainian forces said they hit an ammunition warehouse in Berislav, further up the Dnipro river from Kherson.
According to Obozrevatel the target was successfully destroyed, with multiple secondary explosions as stored ammunition detonated.
The Ukrainians also reported three strikes on Russian "strongholds" in the Berislavsky and Bashtansky districts, along with another on an ammunition dump in the same area.
Ukrainian forces are laying the groundwork for an operation to liberate Kherson, occupied by Russian troops in the first few days of the war, with President Volodymyr Zelensky saying they are making "step by step" progress.
The recapture of Kherson would help secure Odesa, Ukraine's most important Black Sea port and an obvious Russian target.
If the entire Kherson Oblast can be recaptured it will break the land bridge between Crimea, which Russia seized in 2014, and both Russian occupied parts of eastern Ukraine and Russia itself.
On Monday U.S. National Security Council Coordinator John Kirby announced Washington will provide Ukraine with more rockets for its HIMARS, as part of a new $550 million assistance package.
Ukraine has been using its U.S. provided HIMARS to strike Russian targets far behind the front line, such as ammunition dumps and command centers.
According to retired U.S. Army General Mark Hertling this has been a "game changer" in its fight against the Russian invasion, leaving the Kremlin's forces "in dire shape."
Ukrainian forces have hit three bridges over the Dnipro using HIMARS, making it harder for the Russians to reinforce their troops in Kherson.
These include the critically important Antonovsky bridge which has been left "likely unusable."
Russian forces in occupied parts of the Kherson Oblast are also facing an insurgency from Ukrainian partisan fighters, with sabotage and assassination attempts against a number of local collaborators.
Speaking to the BBC, one partisan explained how his team tracks Russian troop movements, then passes the details on to the Ukrainian army for artillery strikes.
One official in the Russian-installed local administration was killed in a car bombing, whilst a number of others have been injured.
Valery Kuleshov, a pro-Russian blogger, was shot and killed in Kherson during April in a suspected partisan attack.
Newsweek has contacted the Ukrainian Ministry of Defense and Russian Foreign Ministry for comment.