Ukraine 'Humiliating' Putin as Russians Flee in Retreat: Former Ambassador
Former U.S. ambassador to Russia, Michael McFaul, said that Ukraine's military is "humiliating" Russian President Vladimir Putin as Ukrainian officials said Sunday that they had advanced within 30 miles of the Russian border in the Kharkiv region.
In a post on Telegram on Sunday, the commander of Ukraine's military, General Valeriy Zaluzhnyi, said that his troops had regained 3,000 square kilometers of territory from the Russians since the beginning of the month, and that in the Kharkiv region, they had pushed to within 50 kilometers—or roughly 30 miles—of the nation's border with Moscow.
"Ukrainian warriors are humiliating Putin and his generals," McFaul tweeted on Sunday.
As Ukrainian forces push to regain territory in the Kharkiv and Kherson regions, Ukrainian officials have said that Russian troops are deserting.
Anton Gerashchenko, an adviser at the Ukrainian Ministry of Internal Affairs, said Sunday that some Russian soldiers have "fled so fast they left half of their equipment." Ukraine's military also said last week that Russia was using helicopters in the Kherson region to locate soldiers deserting their positions.
In an interview on CNN on Saturday, retired U.S. Air Force Colonel Cedric Leighton said "Soviet doctrine" within the Russian military is "demoralizing" its troops.
"If you don't get the orders from the top you don't do anything. And that's very demoralizing for the troops in the trenches. And the fact also that they don't really know, Pamela, that they're fighting for a certain ideal or something that is greater than themselves, that makes a real difference in this particular case," he added.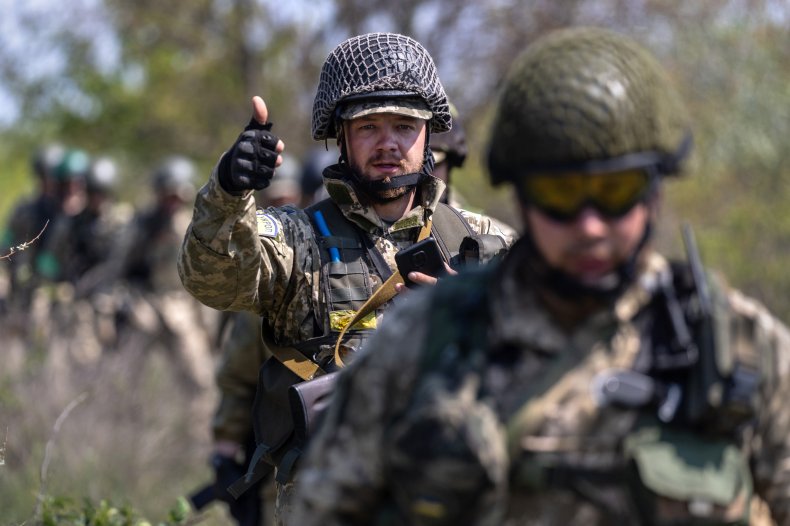 Ukrainian intelligence officials released audio Tuesday of what they said was an intercepted call of a Russian soldier telling his wife about the losses Russia has sustained in the Kherson region.
"We already have 300's [wounded] here. They f***ed us up. Next to us were boys from Belogorsk, from the 165th Brigade," the soldier allegedly said. "Shrapnel hit the hit time, f**k...they laid under the tank, it hit the tank. Boys didn't have trenches or anything."
A U.S. veteran, who is currently based in Ukraine and working to train Ukrainian forces, recently told Newsweek that he believes Ukraine's push to retake cities that Russia has occupied will be "very bloody."
"Urban combat is very bloody," the veteran, who gave his first name, Erik, said. "There's a lot of casualties, it doesn't matter how well trained you are."
Newsweek has reached out to the Russian Foreign Ministry for comment.