Ukraine Invasion Would Destroy U.S.-Russia Relationship for Decades: Graham
Senator Lindsey Graham, a Republican from South Carolina, said Sunday that if Russia invades Ukraine, it will have a long-lasting impact on U.S.-Russia relations.
"This is not the last president America will have," Graham said on ABC's This Week. "If Russia invades the Ukraine, you will destroy the U.S.-Russia relationship for decades, and every president in the near-term will be put in a box when it comes to dealing with Russia. So I hope Putin understands that."
Graham's comments come after U.S. officials have said that Russia could invade Ukraine within days. On Saturday, President Joe Biden spoke with Russian President Vladimir Putin, warning that "if Russia undertakes a further invasion of Ukraine," the U.S. and its allies "will respond decisively and impose swift and severe costs on Russia."
"President Biden reiterated that a further Russian invasion of Ukraine would produce widespread human suffering and diminish Russia's standing," the White House said in a statement on Saturday.
During Sunday's interview, the senator was asked about the White House's handling of a potential Russian invasion, and argued that the U.S. should be doing more to punish Putin immediately.
"I don't want to ring an alarm bell as much as take action. They're telling us the invasion is imminent, but they're not telling Putin with clarity what happens if you invade. He should be punished now," he said.
The Republican noted Russia's invasion of Crimea in 2014 and that Putin has amassed 100,000 troops on the Ukraine border "and he's paying no price at all."
"I'd like to hit him now for the provocation, and have sanctions spelled out very clearly: what happens to the ruble and his oil and gas economy. I think that's what's missing. We're talking way too much and we're doing too little," Graham stated.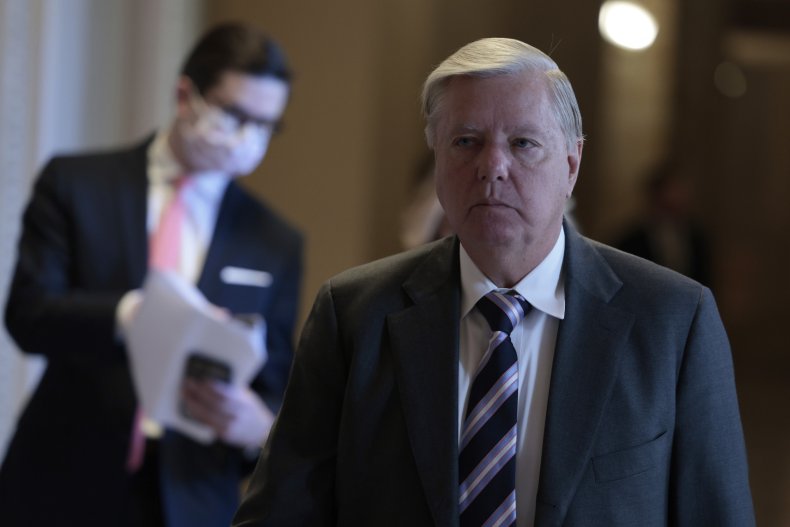 Graham also said that Congress has been working to come up with "pre-invasion" and "post-invasion" sanctions against Russia, but that the White House "keeps pushing back."
Senate Minority Leader Mitch McConnell on Tuesday expressed skepticism about the Senate passing legislation related to the Russia-Ukraine crisis, but urged the Biden administration to take action to deter Putin before an invasion.
McConnell said Biden "has all the authority to do this already, to use every tool in his toolbox before the invasion."
"I'm skeptical, appreciate the effort of bipartisan senators to come back together behind some kind of legislation. I don't think Putin will be deterred by any piece of legislation in the United States Senate," McConnell told reporters.
Pentagon Press Secretary John Kirby said Sunday that the U.S. is not considering "preemptive" sanctions against Russia. He told Fox News that reserving the sanctions for an actual invasion gives them a "deterrent effect."
"If it's a deterrent and you use it before the aggression is made or the transgression is made, then you lose your deterrent effect," Kirby said.
"If you punish somebody for something that they haven't done yet, then they might as well just go ahead and do it. So we believe there's a deterrent effect by keeping them in reserve and we have been very clear with the international community and with Mr. Putin about the severity of the economic consequences that he could face," he added.
Reached Sunday, a spokesperson for National Security Council referred Newsweek to the White House's readout of the president's call with Putin on Saturday, as well as comments made Friday by White House National Security Advisor Jake Sullivan.
"We are also ready to respond decisively, alongside those allies and partners, should Russia choose to take military action. Our response would include severe economic sanctions, with similar packages imposed by the European Union, the United Kingdom, Canada, and other countries," Sullivan said. "It would also include changes to NATO and American force posture along the eastern flank of NATO. And it would include continued support to Ukraine."