Russia-Installed Kherson Leader Has Fled to Russia, Video Analysis Suggests
A Ukrainian activist claimed on Tuesday that a Kremlin-installed leader of occupied Kherson fled to Russia as Kyiv kickstarted a counteroffensive in the region.
Serhii Sternenko, who describes himself as an activist, vlogger, and volunteer, published a series of tweets that he says proves that Stremousov, deputy head of the Russian-backed Kherson Military-Civilian Administration, is no longer in Kherson.
According to Sternenko, Stremousov is now more than 550 miles away in the southwestern Russian city of Voronezh.
The Kherson region has been almost entirely under the control of Russian forces since the beginning of the war in March when it became the first major city to be seized by Russian President Vladimir Putin's troops.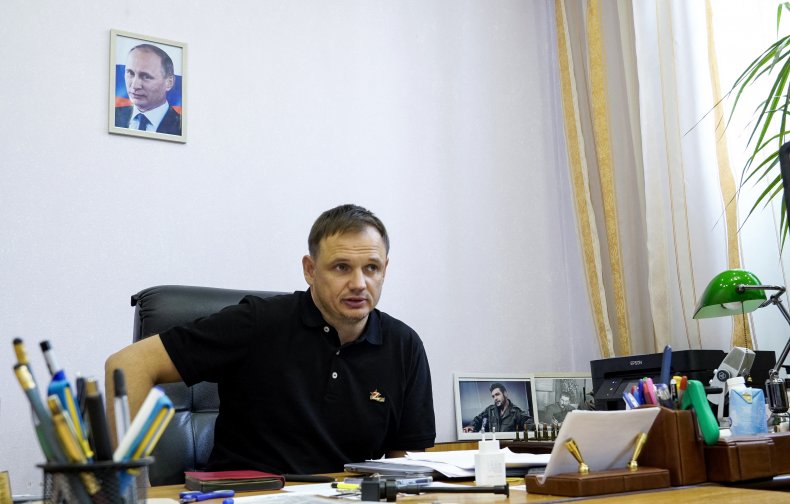 Stremousov was appointed by Russian forces as the region's leader shortly afterward, and since then, he announced plans like phasing out Ukraine's currency, the hryvnia, for the Russian ruble, and holding a referendum as part of a process that may pave the way for the region to join Russia.
The official has given regular updates from Kherson to state-run Russian news outlets such as TASS and RIA Novosti amid the war. But this week, Sternenko claimed that Stremousov is no longer in the city.
"Traitor to Ukraine and collaborator Stremousov escaped from Kherson and says that Kherson will forever remain Russian... from Voronezh to Russia," he wrote on Twitter. "Thanks to many concerned citizens, it was possible to establish that yesterday and today Streymousov recorded his video messages from the Marriott Hotel in Voronezh on Revolyutsii Avenue, 38."
Sternenko shared a number of images, saying that the Annunciation Cathedral in Voronezh, Russia, is visible in the official's recent video addresses.
"In the background, you can see the Annunciation Cathedral of Voronezh, and the same yellow-light four-story building on the street...the Voronezh Reservoir is also behind," he wrote.
Shortly later, Sternenko said he found additional "proof" that Stremousov is staying in Voronezh's Marriott hotel.
"The interior, in which he has been recording a video for 2 days about the fact that 'Kherson will forever remain Russian' completely coincides with the interior of the Voronezh hotel. He wrote the last video message on one of the upper floors in the great hall," Sternenko said.
Newsweek has not independently verified Sternenko's video analysis.
It comes amid Ukraine's counteroffensive to retake the Kherson region from Russian troops. Serhiy Khlan, deputy of the Kherson Regional Council, said in a statement on Facebook Monday that Ukraine successfully breached the "first line of defense of the Russians on the Kherson front."
Kherson news outlet Most reported that intense gunfire was heard on the streets of the area's Pivnichnyi and Tavriiskyi neighborhoods.
Ukraine's UNIAN news agency also reported that shots could be heard outside a prison colony in the southern region of Kherson.
Stremousov told TASS on Tuesday that Russian forces killed Ukrainian spies and saboteurs near Kherson's Tavriiskyi neighborhood.
"Everything is under control. They were all killed," he said.
Newsweek reached out to Russia's foreign ministry for comment.