Ukraine's Forces Had 'Successes' in Kherson Counteroffensive: Official
Ukraine's forces have had "successes" in Kherson, a local official has said amid a reported counteroffensive in the Russian-occupied region.
The comments by Yuriy Sobolevskyi, the deputy head of Kherson's regional council, come as a former general told Newsweek that so far, it is unclear what the aims of Ukraine's counteroffensive are.
"Now is the time to support our armed forces," Sobolevskyi said, according to Reuters, "now is not the time to talk about the specific successes of our lads" — as he described Ukraine's efforts in the Kherson, Beryslav and Kakhovka districts.
Sobolevskyi also urged Ukrainians to support their armed forces with "everything they could," as he referred to drones and ammunition.
The Ukrainian military has insisted on an information blackout about the offensive in the south of the country, which reportedly started on Monday.
But on Tuesday, Ukraine's presidential office reported "powerful explosions" and "tough battles" in the region. It said that Ukrainian forces had destroyed ammunition depots and all large bridges across the Dnieper River needed to bring supplies to Russian troops.
Meanwhile, Ukrainian President Volodymyr Zelensky said in his nightly address on Tuesday that "active military engagement is now happening along the whole front line: in the south, in the Kharkiv region, in Donbas."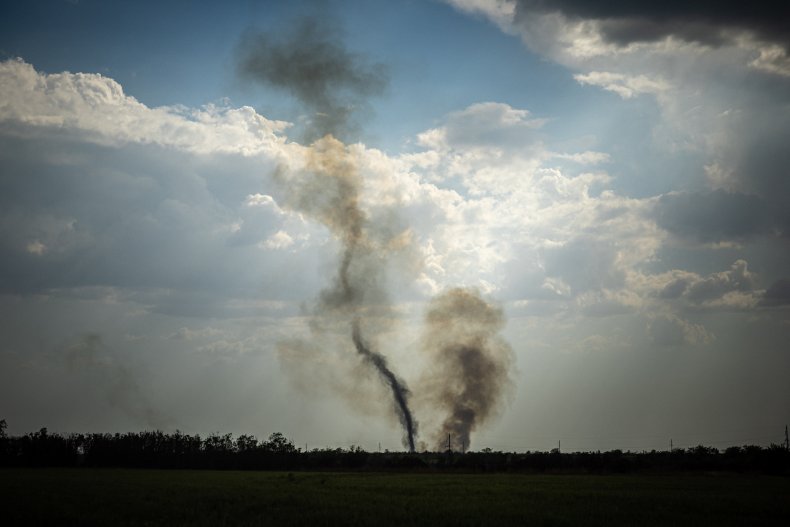 A spokesperson for Ukraine's southern command, Natalia Humeniuk, said the country's forces had damaged bridges that join Kherson across the Dnieper River, rendering them "impassable for heavy machinery."
In their daily assessment, British defense officials said on Wednesday that Ukraine's counteroffensive in Kherson is wrecking Russia's "thinly held" defenses in the region.
Kherson fell to Russian forces on March 3, only days after Putin launched his full-scale invasion of Ukraine. The port city's location at the mouth of the Dnieper River's exit into the Black Sea makes it a key prize for both sides.
Mick Ryan, a retired Australian general, said it was unclear if the counteroffensive in the south was part of Ukraine's main effort or a supporting effort for operations to be conducted later.
He told Newsweek that "at a minimum," Ukraine would aim to take back territory to the west of the Dnieper.
"Not only would this be their first substantial offensive, it would be a demonstration to the West that they should continue supporting Ukraine to fully push the Russians out of their territory," he said.
Such a success would provide Zelensky with a political as much as a military boost and be a "significant blow" to Putin, following his failure to take the capital Kyiv and the second city Kharkiv.
But Ryan said there was still uncertainty over whether Ukrainian forces were focused on securing territory or destroying a large body of Russian troops, which are very different objectives.
It was also not yet known whether Ukraine's objectives were to land to the west of the river, retake all of the south, or "something in between."
"The Russians can make things very difficult for Ukraine by engaging in a street-by-street fight for Kherson, which the Ukrainians would be keen to avoid," said Ryan, author of War Transformed: The Future of Twenty-First-Century Great Power Competition and Conflict.
"The Ukrainian operational security for this has been very good, although the Russians have moved in additional forces over the last couple of weeks.
"That said, this will be a tough fight for the Ukrainians—offensive operations are hard to coordinate and support, compared to defensive operations."
Newsweek reached out to Russia's Foreign Ministry for comment.