Ukraine Kills 87 Russian Troops Saturday in Combative East Region: Official
Fighting persists in the contentious East region of Ukraine, and the death toll continues to rise. The Ukraine Operational and Tactical Group (UTG) "East" stated Saturday they had killed nearly 90 Russian occupiers in one day in that area of the country, in addition to destroying lots of Russian equipment.
UTG said in a Facebook post that 87 Russian troops were killed on Saturday, and these Russian items were also knocked out of commission: 52 artillery tractors, five mortars, two ammunition depots, one tank, one unmanned aerial vehicle and one special equipment unit.
The estimated death toll of Russians since the war began is slightly more than 33,000, according to Pravda.com. Furthermore, there are another 1,000 Russian troops being held prisoner.
The number of Russian equipment—including aircraft, tanks and missile systems—is also quite staggering.
Here are the numbers of Russian assets destroyed or captured by Ukrainian fighters during the war.
1,465 — Russian tanks destroyed
216 — Russian aircraft downed
3,573 — Armored fighting vehicles destroyed
180 — Russian helicopters downed
216 — Russian aircraft shot down
14 — Ships and boats destroyed
233 — Multiple rocket launchers destroyed
739 — Artillery lost
98 — Air defense systems downed
2,513 — Automotive equipment and tankers lost
594 — Tactical drones (unmanned aircraft) lost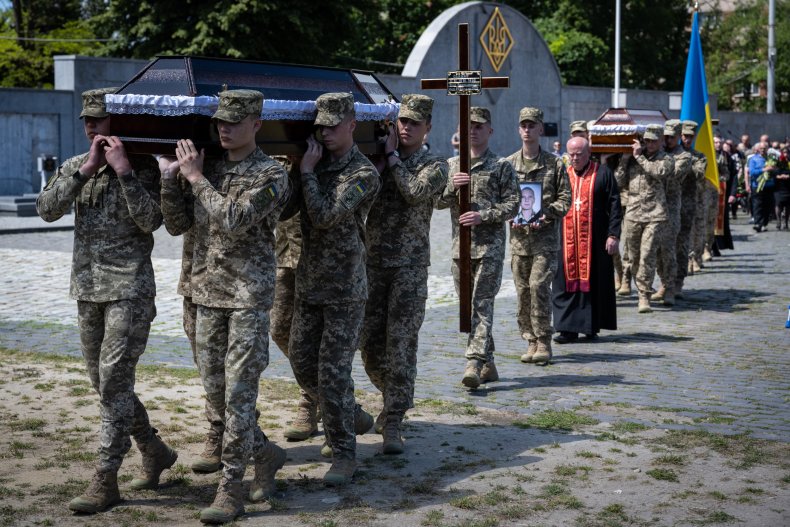 Russia began its attack into Ukraine on February 24 this year after weeks of stationing troops along the border and positioning ships in the Black Sea. Russia's attempted occupation of Kyiv and Kharkiv was thwarted by Ukrainian fighters, pushing the Russian troops back toward the border.
The heaviest fighting in the last months have come in the eastern oblasts in Ukraine, particularly in Luhansk, Donetsk and Mariupol. The most recent deadly standoffs have been in Severodonetsk, where a group of civilians have refused to evacuate the Azot chemical plant, which is one of the last strongholds for Ukraine.
Among the 568 civilians taking shelter at Azot, 38 of them are children, according to Serhii Haidai, head of the Luhansk Oblast Military Administration.
"We are constantly communicating with them. We have offered to evacuate them on many occasions, but they don't want to do it," Haidai said. "Just in case, we asked our guards to record a video call with these civilians, their refusal to evacuate. We have a lot of footage in which people are being offered evacuation, but they don't want to do it."
Haidai said this instance of shelter is different from refugees at the Azovstal steel plant in Mariupol, where civilians hid in underground bunkers while Ukraine fighters battled Russian aggressors.
"People are hiding in shelters, of which there are several. This shouldn't be compared to Azovstal," Haidai said. "This is not an underground bunker, but several separate shelters not connected to one another. There is a different number of people in each of these shelters."