Ukraine Map Reveals Just How Far Russian Forces Have Retreated in One Week
A new map of the ongoing conflict between Ukraine and Russia has shown the significant ground Ukraine's counteroffensive has taken in recent days.
The latest map, produced by the Institute for the Study of War (ISW) think tank and the Critical Threats project, has since gone viral on Twitter with more than 140,000 views.
The graphic shows land being taken back by Ukrainian forces in the city of Lyman from September 29 to October 2.
"Today's map updates from @Criticalthreats and @TheStudyofWar show that Ukraine has pushed Russian forces out of Lyman, Donetsk Oblast, and back to Kreminna, Luhansk Oblast," Brady Africk of the American Enterprise Institute (AEI) wrote as a caption.
According to the graphic map, Russia's assessed advance was pushed back significantly out of the city of Lyman. In addition to this, the line of Russia's assessed control is pushed back slightly as a result of Ukraine's counteroffensive.
Critical Threats and ISW also released other maps to highlight the ongoing conflict on October 2.
One map highlighted that Russia's Defense Ministry announced that Russian forces had withdrawn from Lyman on October 1.
The defense ministry said Russian forces retreated "to more advantageous heights" to avoid "the threat of being surrounded" by Ukrainian forces, according to a Financial Times report.
Speaking to Newsweek, the Institute for the Study of War explained the details of Ukraine's victories in the region.
"Ukrainian forces continued to liberate settlements east and northeast of Lyman on October 2 and have liberated Torske in Donetsk Oblast. Russian sources claimed that Russian forces withdrew from their positions northeast of Lyman, likely to positions around Kreminna and along the R66 Svatove-Kreminna highway," the think tank said.
The think tank continued: "Russian sources are voicing concern that Ukrainian forces are targeting and preparing to cut the critical Svatove-Lyman ground line of communication that was supplying the Russian grouping in Lyman.
"Russian sources are concerned that the collapse of the Lyman pocket and control over the Svatove-Lyman Road will allow Ukrainian forces to essentially wedge into Luhansk Oblast and threaten RU positions along the Kharkiv-Luhansk border, especially near the critical settlements of Severodonetsk and Lysychansk.
"The Russian information space—composed of Kremlin propagandists, pundits, and milbloggers—registered the defeat as the result of the Russian military command's failure to send reinforcements in a timely manner, while openly criticizing repeated bureaucratic failures during the mobilization."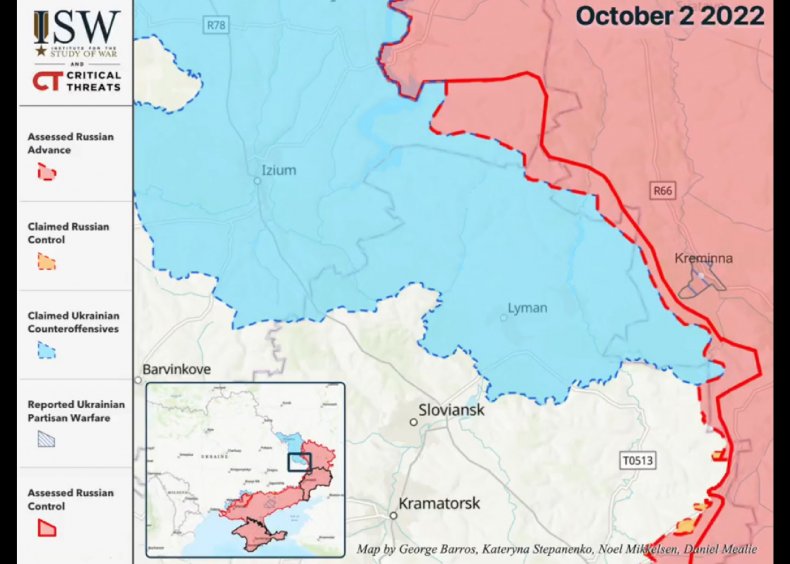 Speaking on State TV, Andrey Gurulyov, the former deputy commander of Russia's southern military district, said he was unable to give a valid reason for Russia's failings.
He did also suggest that Russia too often receives good reports about the conflict, which he said, may actually be lies passed down from the top to the bottom.
"From a military standpoint, I can't explain it. Perhaps this is a landmark milestone, not in the military sense, but also politically," he said while speaking to host Sergey Mardan over the weekend.
"I honestly can't understand why after all this time, they couldn't accurately appraise the situation. Why they didn't make a decision to reinforce the group that was defending Lyman.
"No matter how heroically they fought, there's an elementary calculation of military capabilities which shows whether Lyman could be held, or not."
Newsweek has contacted the Russian and Ukrainian Ministry of Foreign Affairs for comment.