Ukraine: Merkel and Putin Go Nose to Nose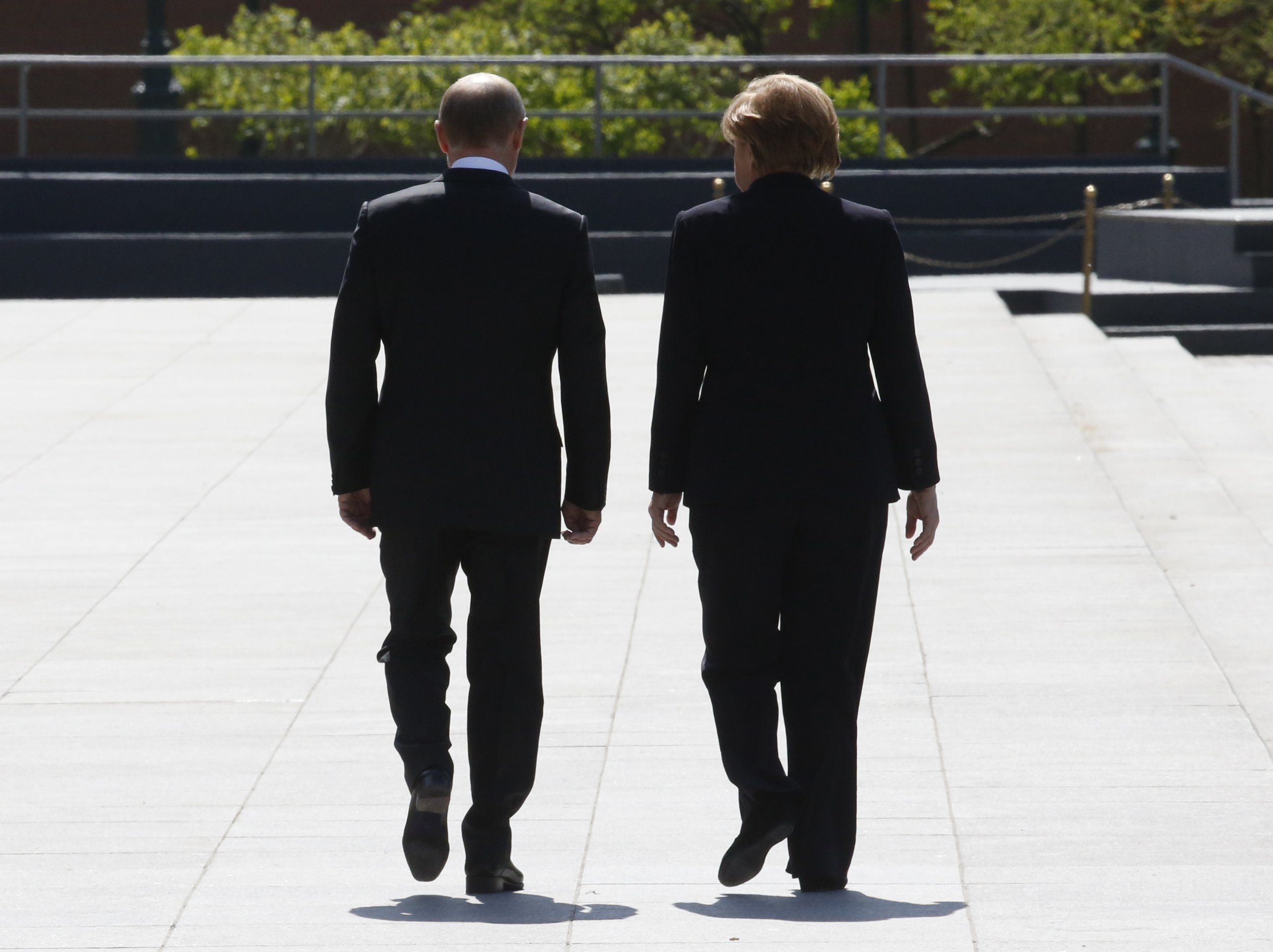 For most of the 20th century, Ukraine was the victim of two equally malevolent empires—Germany and Russia. Germany's contribution to Ukraine's devastation was the two World Wars; Russia's was the imposition of Soviet rule and the concomitant destruction of Ukraine's peasantry and elites.
Unsurprisingly, one of the most constant images in 20th-century Ukrainian commentary is that of their country being caught between a hammer and an anvil.
The 21st century may be witnessing a fundamental break with Ukraine's tragic geopolitical position. While Russia is acting according to its historical script, post-Holocaust, post-unification Germany appears to be emerging as Europe's benevolent hegemon.
As such, Germany has no choice but to exercise its clout and take a lead in Europe. But given its awful past and the continued importance of that past in shaping German foreign policy behavior, Germany also has no choice but to eschew the kind of crude realpolitik that produced two World Wars and took the lives of millions.
Ukraine's 20th-century encounter with Germany and Russia was devastating. According to a 2008 study by the Moscow-based Institute of Demography, Ukraine suffered close to 15 million "excess deaths" between 1914 and 1948. About half of the deaths were attributable to Soviet Russian policies and half to the two World Wars with Germany.
As a result of the destruction, approximately three million Ukrainians emigrated in this time period, and another six million failed to be born. Overall, Ukraine's population in 1948 (30 million in 1900) was about 23 million less than it would have been if Germany and Russia had stayed out.
And that's just population losses. The two World Wars also produced trillions of dollars of economic damage: cities, towns and villages were destroyed, as were infrastructure and industrial and agricultural assets.
In sum, Germany and Russia set back Ukraine's political, social and economic development by decades, if not centuries.
In 1945, the geopolitical Germany that had produced two world conflagrations was destroyed. In 1991, the Soviet empire collapsed. New democracies emerged on the ruins of both criminal dictatorships.
In Germany, perhaps as a result of the extended U.S. influence on the country's internal affairs, democracy took root and was consolidated. In Russia, democracy was blamed for the imperial collapse and subsequent economic hardships and, in 1999, effectively abandoned. By the late-2000s, Vladimir Putin had replaced Russia's democratic facade with a fascist regime.
Ironically, neither country has accepted its responsibility for the devastation it brought to Ukraine. Russia glorifies Stalinism, while Germany has still to fully appreciate that a people called Ukrainians in a country called Ukraine exist as more than an appendage of Russland.
Heinrich Böll's 1949 novel The Train Was On Time still captures the regnant mood among most Germans, if not among most German intellectuals. The novel's hero, a young soldier on furlough, is returning to his base in southern Ukraine. Remarkably, while repeatedly referring to Russians, Poles and Jews—and peasants—he fails to mention the word Ukrainian or Ukrainians even once.
Now, as then, Ukrainians don't exist in most Germans' mental maps of Eastern Europe. Instead, most Germans insist that they fought a war against Russia and Russians, even though, as historian Timothy Snyder has shown in Bloodlands: Europe Between Hitler and Stalin, Russian losses were less than those of Ukrainians, Belarusians and Poles. And for a simple reason: Most of World War II was fought in Ukraine, Belarus and Poland, and not Russia.
On the other hand, Germany and Russia have adopted diametrically opposed foreign policies toward Ukraine. Despite the continued prominence of "Russland-Versteher" insisting that the West provoked Putin to invade Ukraine, much of Germany's political and intellectual class has come to understand that Putin's unilateral revision of state borders is an unacceptable violation of the post-war security architecture that gave Europe more than seven decades of unprecedented peace and that Ukraine, as the victim of unprovoked Russian aggression, needs to be defended.
Inasmuch as this stance is motivated largely by Russia's imperialism and not by any sense of moral responsibility toward Ukraine, it may be open to revision should German Chancellor Angela Merkel's government be replaced by the left, which is more prone to emphasize that Russia needs to be understood.
Putin's Russia, in contrast, has reverted to 20th-century Soviet Russian behavior, both insisting on its manifest destiny in the former Soviet space and refusing to countenance any degree of responsibility for its criminal acts vis-à-vis Ukraine and the other non-Russian states.
The ongoing war in Ukraine is thus a test for Germany and a test run for Russia. Germany has to decide whether its role as a benevolent hegemon rests on both ethics and interests. Russia has to decide whether its invasion of Crimea and the Donbas can serve as a model for its behavior with Estonia, Latvia, Belarus and Kazakhstan.
If Germany fails the test, Russia may well decide that its test run is positive.
Alexander J. Motyl is a professor of political science at Rutgers University-Newark. This article first appeared on The Atlantic Council site.