Ukraine Needs Ammunition. Here's What's Slowing the U.S. Down | Opinion
The decisions by the United States and European allies to send Ukraine some of the most advanced main battle tanks currently in production is welcome news for the beleaguered nation. This latest heavy armor assistance package comes on the heels of other armor deliveries from the west to Ukraine, including American M2 Bradley fighting vehicles as well as a host of others from depots across the globe. And while certainly a welcome development for Kyiv, one under-appreciated factor is that this military aid isn't coming right away—not even close.
One major factor is the amount of time it takes for the U.S. Department of Defense to award contracts to private industry for materiel like ammunition. Without munitions, platforms like the M1 Abrams main battle tank, the Bradley, and the assortment of artillery pieces that Ukraine has in service are useless.
The U.S. Congress recognizes the utility of the weapons systems developed since the Cold War that give America a qualitative edge over its adversaries. Or, in this case. the edge these systems give Ukraine over the Russian war machine.
While Congress is hopelessly divided on many issues, legislators came together not only to approve the Biden administration's defense budget request but to supplement the request with an additional $48 billion.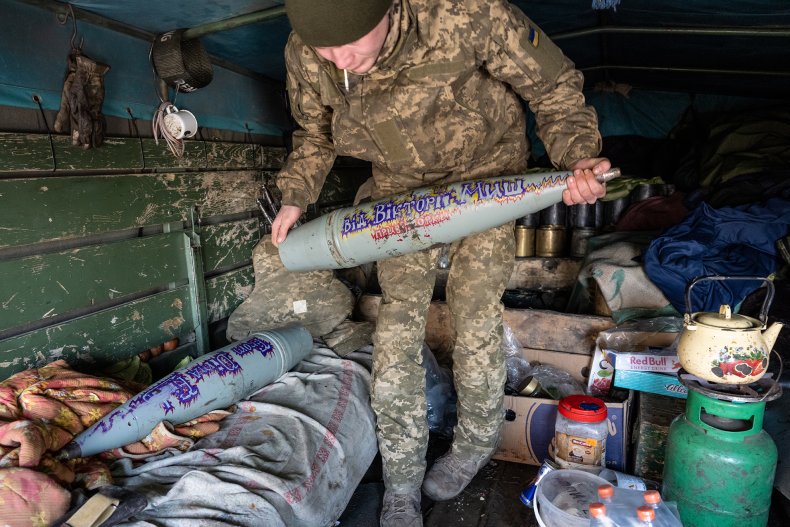 And, in a decision that reflects significant foresight, Congress gave the go-ahead for DOD to shift from single-year procurement contracts with defense companies to multi-year deals, a move that hastens procurement by giving arms manufacturers a greater degree of certainty when placing orders within their supply chains.
But this alone is not enough. The task now is to accelerate defense contract awards and strengthen the health of the defense industrial base. Without a renewed partnership between DOD and industry—and a recognition that arcane contracting rules are suffocating industry's desire to work the Defense Department—national security will suffer. The Pentagon recently reported a whopping 40 percent decline in small business participation in defense contracts. Now is the time to deal with this issue.
Over the last 10 years, contract award time for munitions has gone from approximately 200 to more than 400 days. To put this into perspective, the war in Ukraine is less than one year old, and a hypothetical contract award reviewed on the first day of this conflict would likely not yet have been awarded, let alone would any of its munitions have arrived in theater. This is unacceptable.
The current Pentagon award timeframe is indicative of a peacetime mindset in which procurement and production levels are steady and predictable. That hardly reflects NATO allies' heightened need for American assistance nor the risk of war erupting in Asia. The consequences of slow-moving contract award timeframes are already apparent.
Take, for example, Poland's recent investment in main battle tanks. Though Poland has hundreds of American M1 Abrams tanks on order, Warsaw also opted to purchase K2 Black Panther tanks from South Korea.
Why would Poland— the bulwark of NATO's eastern border—purchase vital military equipment outside the NATO alliance?
The answer is speed: Seoul could get K2 tanks to Poland faster than Washington, Berlin, or any other European nation. But there is no reason why any NATO ally, and especially one so close to this war, should have to look outside the alliance for its security needs.
Warsaw's decision is a stark signal to Europe and the United States that war is not won by committee but by urgency.
The film Ford v Ferrari details American racing ascendency in Europe and offers a pointed illustration of the importance of urgency to victory on the track. It's an analogy that applies equally well to today's battlefields in Ukraine.
In the decisive scene, famed race driver and automobile designer Carroll Shelby meets an irate Henry Ford II to answer for the team's embarrassing loss to Ferrari at the 1965 Le Mans race. Numerous mechanical breakdowns plagued the Ford car. But despite the issues—exacerbated by the team's sluggish leadership—Shelby explains to a skeptical Ford that the team managed to put Ferrari "exactly where we want him."
The Ford car clocked a blisteringly fast last lap, one that Shelby is confident terrified Ferrari. "That's what he's thinkin' about, while he's settin' in Modena, Italy, right now," Shelby drawls. "That man is scared to death," that the Ford racing team might get their act together and leave Ferrari in the dust.
The scene culminates with Ford gazing out his high-rise office window at a squat facility in the distance. "In World War II, three out of five U.S. bombers rolled off that line," Ford says, jabbing a finger at a little building. "You think Roosevelt beat Hitler? Think again... this isn't the first time Ford Motors has gone to war in Europe."
Ford locks eyes with Shelby. "Go ahead Carroll," he scowls. "Go to war."
Freed of leadership-by-committee and impelled by a heightened sense of urgency, the Ford team quickly built a racing machine and won the next two Le Mans, toppling the Italian dynasty and ending European dominance of the sport.
Russian President Vladimir Putin is like Enzo Ferrari, sitting in the Kremlin today, worried sick that maybe—maybe—the Americans will revive the same sense of urgency that propelled the allies to victory in World War
Though the Ford-Shelby meeting may be apocryphal, it underscores the importance of decisive decision-making in this war. To again throw back an invading army in Europe, the Department of Defense must rethink and prioritize the how long it takes to get some of the most basic things done. The time is now.
Caleb Larson is a multiformat journalist and defense writer based in Berlin and spent most of 2022 reporting from Ukraine. He covers the intersection of conflict, security, and technology, with a focus on American foreign policy and European security. Follow him on Twitter @calebmlarson.
The views expressed in this article are the writer's own.