Retired United States Army Colonel Douglas Macgregor claimed during a Monday broadcast that not only is Ukraine not winning its war against Russia, but that the country's military has lost 400,000 people killed in battle.
Macgregor, a former Defense Department adviser during the Trump administration, made the claim during the most recent episode of Tucker Carlson's show on X, formerly Twitter.
Kyiv does not publicly disclose official figures for casualties sustained during the war. However, The New York Times last week cited U.S. officials as saying Ukraine has seen close to 70,000 deaths during the war and an additional 100,000 to 120,000 wounded. The outlet calculated Russia's casualties to be closer to 300,000, which included 120,000 deaths and 170,000 to 180,000 injuries.
Macgregor did not share more information regarding the 400,000 dead Ukrainian figure he said on Carlson's program.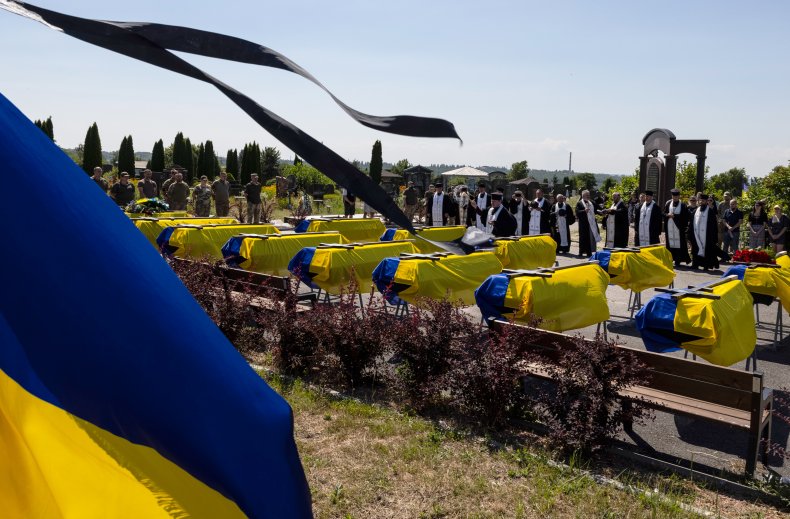 "I think all of the lies that have been told for more than a year and a half about the Ukrainians are winning—Ukrainian causes just, the Russians are evil, the Russians are incompetent—all of that is collapsing," Macgregor told Carlson. "And it's collapsing because what's happening on the battlefield is horrific.
"Ukrainians now we think have lost 400,000 men killed in battle. We were talking about 300-350,000 a few months ago. Within the last month of this supposed counteroffensive which was to sweep the battlefield, they lost at least 40,000 killed," he said.
Macgregor went on to claim that 40,000 to 50,000 Ukrainian soldiers are amputees and the "hospitals are full" in Ukraine.
Newsweek reached out to Douglas Macgregor and a spokesperson for Ukraine's armed forces, respectively, via email for comment.
Macgregor was appointed by Trump to serve as a senior adviser to the secretary of defense in November 2020 and held the post until Trump left office in January 2021. He has made frequent appearances on Carlson's former show that aired on Fox News.
Last September during an appearance on Tucker Carlson Tonight, Macgregor said that things were going "very, very badly" for Ukraine as President Volodymyr Zelensky's forces were amidst what was characterized by most analysts as a successful counteroffensive. He also predicted at that time the war could end soon.
On Monday's show, Macgregor said that Ukrainian commanders have been forced to surrender due to their units sustaining heavy injuries. He added that Russians "have always treated the Ukrainian soldiers very fairly and very gently from the very beginning."
Jason Jay Smart, a political adviser on post-Soviet and international politics, told Newsweek that Macgregor was invited onto Carlson's show "because he is one of only a handful of the hundreds of thousands of former U.S. military officers who believes that Russia is anything other than losing terribly."
"Secondly, his arguments are the quintessential example of 'cherry-picking.' He actively seeks out data points that affirm his biases, rather than analyze the data as a whole, which shows that Russia is being destroyed," Smart said.
"Sadly, Macgregor is hungry for media attention and is willing to say whatever is necessary to have some relevance. However, he remains wholly irrelevant to world affairs, except when Carlson needs someone to console him."