Ukraine Plots To Win 'War of Drones' Against Russia
As the one-year mark of the war launched by President Vladimir Putin approaches, Ukraine is appealing for hundreds of thousands of combat drones to assist in its grueling fight against Russia.
"They are the super weapon here," Anton Gerashchenko, an adviser to Ukraine's minister of internal affairs, told Newsweek on Friday.
"We will win faster and with fewer losses if we have tens of thousands, hundreds of thousands of reconnaissance and combat drones."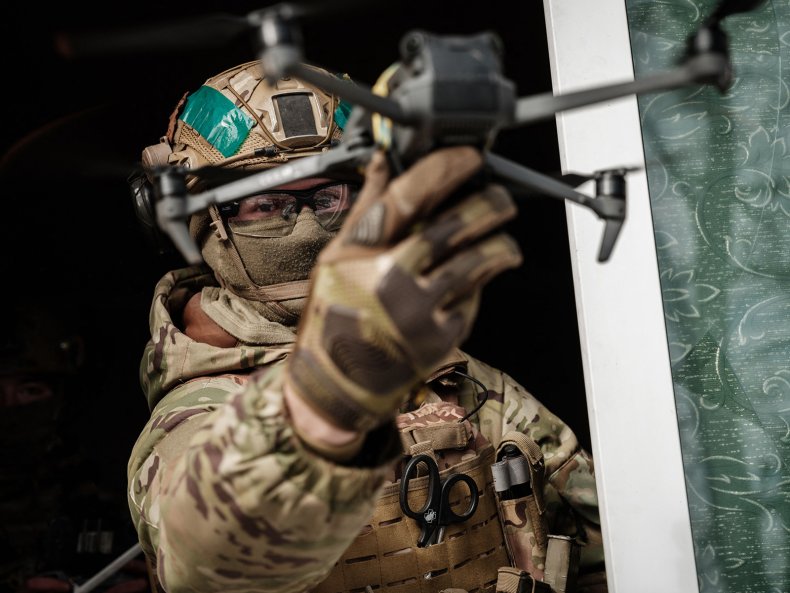 Gerashchenko's appeal comes amid an anticipated fresh onslaught by Russia this spring, and as Ukraine is set to receive dozens of advanced powerful new tanks from Western allies over the coming months, including 31 M1 Abrams tanks from the U.S., and 14 Leopard 2 tanks from Poland.
"Weapons are the only thing Russia understands. So, weapon supplies, ammunition supplies, training Ukrainian military are the base to de-occupy our territories and stopping the war," the official continued.
"We need combat aviation which has been discussed a lot recently. And also, as I say often—this war is a war of drones, they are the super weapon here."
Drones, Gerashchenko pointed out, cost "much less" than tanks and allow Ukraine to destroy Russian forces "at large distances without entering direct combat contact."
He added, "This allows to save lives of our defenders."
Ukraine has a number of drones in its arsenal, including the Turkish-produced Bayraktar TB2, which Ukrainian troops have been using to inflict devastating damage on Russian targets, including in the attack that sank the Russian warship Moskva in the Black Sea in April 2022.
Kyiv also has two types of Switchblade drones, produced by AeroVironment Inc., from the U.S.—the Switchblade 300 is meant to hit smaller targets and has a range of up to six miles, while the Switchblade 600 is intended for use against larger targets such as tanks or armored vehicles.
Ukraine also has Phoenix Ghost tactical drones, developed by the U.S. Air Force. The U.S. said drones would help Ukraine "deliver a punch" to Russia. Also at Ukraine's disposal are the DJI Mavic 3—these smaller, commercial drones are used primarily for locating attacks from Russia and lack advanced capabilities.
Ukrainian President Volodymyr Zelensky has said Russia intends to "exhaust" his country with attacks using Iranian-made Shahed-136 "kamikaze" drones. Russia was first reported to have used the drones on September 13, and has deployed them to attack Ukraine's capital Kyiv, and critical infrastructure nationwide.
The U.S. has previously rejected a request from Kyiv for four MQ-1C Gray Eagle unmanned aerial systems or drones over concerns supplying them could escalate the conflict.
Do you have a tip on a world news story that Newsweek should be covering? Do you have a question about the Russia-Ukraine war? Let us know via worldnews@newsweek.com.