Polish Parents Leave Strollers at Border for Moms Fleeing War-Torn Ukraine
A photographer captured the heartwrenching scene of strollers left by Polish families ready for the arrival of Ukrainian moms leaving their home country with their babies, in a now-viral image.
Photojournalist Francesco Malavolta has been documenting the current refugee crisis at the borders of Poland, Slovakia and Hungary over the last 12 days.
In a scene that has since spread online, Malavolta captured a heartbreaking moment of humanity on March 3, as donated strollers lined Przemysl train station. The station connects Przemysl, Poland and Lviv, Ukraine, making it the designated route for many women and children escaping the ongoing war in their homes and essentially becoming a border in its own right.
Seven strollers lined the station in the photo, but Malavolta told Newsweek that goods have continued to arrive.
"Women and associations left the strollers for Ukrainian mothers fleeing with babies. Many women had to leave theirs in Ukraine for multiple reasons including traveling faster," Malavolta told Newsweek, adding that many women took the strollers left behind for them.
"Some of them were on the move for three or four days before reaching a safe place."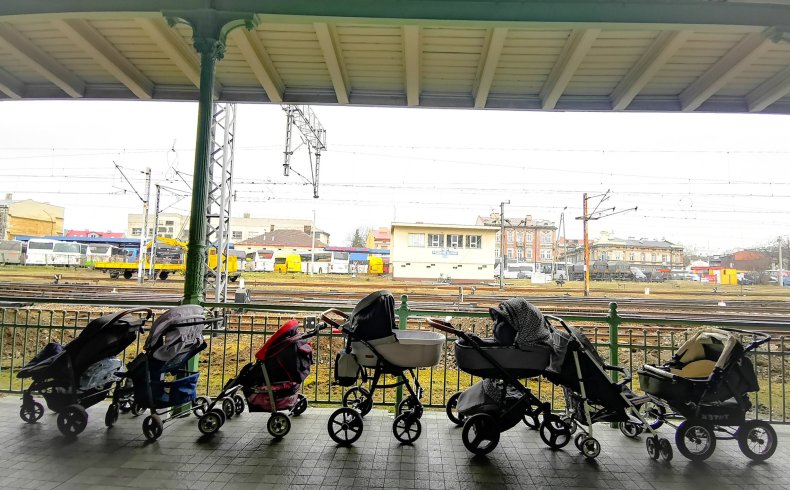 A tracker from the United Nations refugee agency estimates around 2 million Ukrainians have fled their country following Russia's invasion—over 1.2 million of them have been welcomed to Poland, and almost half are reported to be children. Men aged 18 to 60 are not permitted to leave Ukraine, as per a martial law from the government, in order to stay back and fight. This means women and children are forced to flee alone, making it all the more harder.
Malavolta's photo pulled at the heartstrings of many across the world as it highlighted the sad realities for war-stricken mothers. The photo has spread like wildfire online after Malavolta shared it to his own Twitter account. One repost of the image gained over 160,000 likes on Twitter.
But the photo hasn't just captured the minds of those across the rest of the world, but also those in the center of it all, Malavolta told Newsweek. The photographer received a direct message on Instagram on Tuesday night from a Ukrainian resident enquiring if there would be strollers for his family to have when they arrive.
"Last night after the photo went viral I received this message: 'Доброї ночі, сім'я проходить кордон в Перемишль з дитиною 11 місяців, скажіть будь ласка чи візочки є завжди для діток?'"
The message loosely translates to: "Good night, my family passes the border to Przemysl with a child of 11 months, please tell me whether there are always strollers for children?"
Malavotla told Newsweek that the generosity in donations hasn't just been exclusive to the Polish border either and he's also photographed strollers lined up at borders in Slovakia too.
"Goods are and continue to arrive for every need," he said.