Ukraine Police Send Hundreds of Men to Military Office After Club Raids
Law enforcement raids on hundreds of Ukrainian establishments over the weekend resulted in summonses and arrests for individuals breaking curfew or being in possession of illegal drugs.
Law enforcement officers and military commissars from the National Police in Kyiv, as part of consolidated mobile groups, reportedly carried out raids of 420 establishments in order to verify citizens' compliance with martial law restrictions and to prevent violations during curfews.
"Under martial law, citizens must comply with curfew restrictions," said Ivan Vyhovsky, the Kyiv police chief, according to an English translation of his statement. "Thus, Kyiv police together with military commissars patrol the city streets, squares and parks at night, as well as focus on inspections of night entertainment venues."
Vyhovsky said that, of the establishments inspected, two were operating at night and that 413 individuals were found to have violated curfew. Of those 413 people, men of conscription age were checked for appropriate registration certificates. Police ultimately handed out summonses to 219 men.
A national curfew was first established in Ukraine in March, weeks after Russia's initial invasion. During the curfew, citizens are supposed to stay in their homes or shelters unless they have a special permit for working in vital services, Andriy Kulykov, a Kyiv-based Ukrainian radio journalist, told NPR at the time.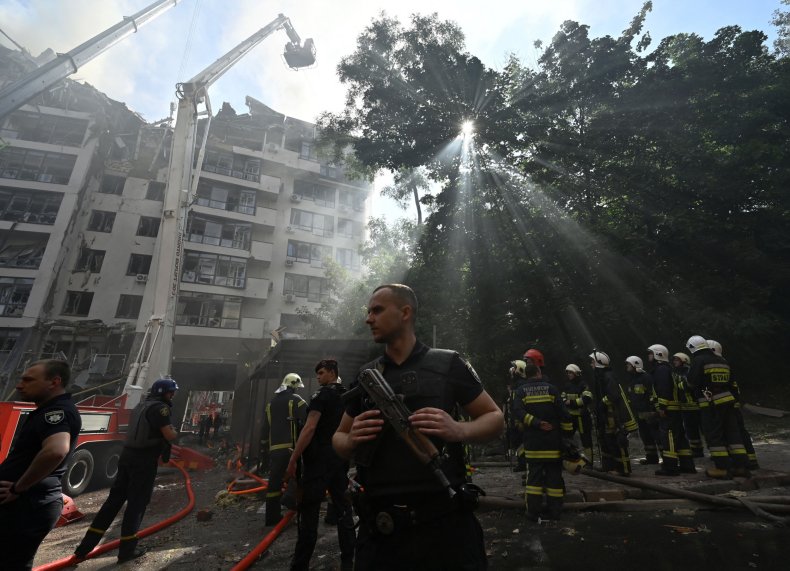 Illegal drugs were also allegedly discovered in the recent raids, Vyhovsky added, with criminal proceedings already instituted under national law pertaining to the illegal production, acquisition, storage, transportation or transfer of narcotics and psychotropic substances.
Police also reportedly wrote another 73 administrative reports for violations involving alcohol consumption in prohibited places, petty hooliganism and malicious disobedience to a lawful order or police requirement.
"We will continue to conduct such tests because every resident of the capital must understand the seriousness of the situation and be aware of the danger that still exists on the part of the aggressor country," Vyhovsky said. "I want to emphasize that during the curfew it is strictly forbidden to move around the city, except for special vehicles and emergencies."
Escalations in the ongoing war were feared on Monday as a partial transport blockade of the Russian exclave of Kaliningrad was causing reported Russian aggression toward Lithuania, with a Russian hacker group claiming responsibility for a cyberattack targeting the Baltic nation.
On Sunday, Russian state TV host Vladimir Solovyov publicly stated that his country is in a position to readily confront NATO—saying that Russia is using just 18 percent of its military capabilities in Ukraine and is ready for "direct confrontation" with international forces if necessary.
Yury Shvytkin, deputy chairman of the Russian parliament's defense committee, told a Russian news outlet last Thursday that the United States arming Ukraine with a High Mobility Artillery Rocket System (HIMARS) was evidence that the U.S. was "moving step by step towards a Third World War."
Newsweek reached out to the Ukrainian Ministry of Defence for comment.