Ukraine's President Was 'Very Confused' Over Whether He Should Listen to 'U.S. Embassy' or Trump's Campaign, Senator Says
Senator Chris Murphy said Wednesday morning that Ukraine's President Volodymyr Zelensky had been "very confused" over whether he should listen to the communications he received from the U.S. embassy or to President Donald Trump's "campaign advisers."
Speaking to CNN, Murphy discussed what he had learned during a recent trip to Ukraine, during which he had met with leaders of the country's recently elected government.
"The government there, which is a novice government – President Zelensky – he's never held elected office before, was very confused about whether they should be listening to the U.S. Embassy or they should be listening to the president's campaign advisers, who were making these demands on them about investigations," the senator from Connecticut said.
Murphy's comments came ahead of the release of the transcript of a July 25 call between Trump and Zelensky, when the president congratulated his counterpart in Kiev on his recent election. During that discussion, Trump repeatedly pressed Zelensky to investigate the Ukrainian business dealings of Hunter Biden, the son of political rival former Vice President Joe Biden. Zelensky voiced his willingness to open the probe.
"The other thing, there's a lot of talk about Biden's son, that Biden stopped the prosecution and a lot of people want to find out about that so whatever you can do with the attorney general would be great," Trump said on the call. "Biden went around bragging that he stopped the prosecution, so if you can look into it ... It sounds horrible to me."
Ethics experts have said that Biden's son's decision to serve on the board of the Ukrainian energy company Burisma created bad optics for the former vice president. However, Biden's successful efforts to get Ukraine's chief prosecutor removed did not appear to be linked to his son's business. It's unclear whether the prosecutor was even investigating Burisma at the time—with some outlets reporting that the investigation had already concluded at the time of Biden's request—and Biden's son would have been unlikely to have faced any repercussions. Additionally, the prosecutor's removal was widely supported by the U.S. government and other western leaders in Europe.
Ahead of Trump's call with Zelensky, his administration temporarily withheld $391 million in military aid to Ukraine. The aid package had significant bipartisan backing and lawmakers, both Republicans and Democrats, were concerned about the president's decision to suspend the payment. Critics have alleged that Trump withheld the aid as leverage to get Zelensky to pursue the investigation into Biden. Although that has not been established, Ukrainian officials have said they were given the impression that Trump's support for Zelesnky's government would be impacted by whether or not the probe moved forward.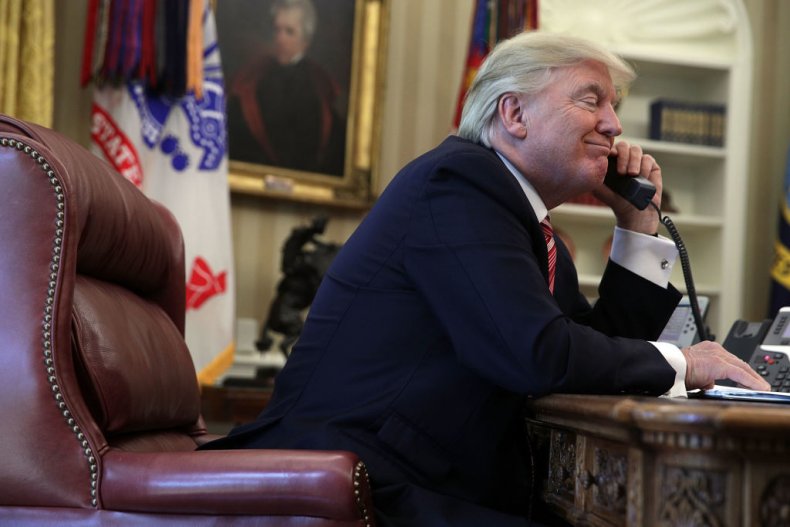 "When you have a new president of Ukraine, who's hearing from the United State of America that his aid is being cut off and that he has an outstanding request to do the president's political bidding, it is of course common sense that he ... would connect the two," Murphy told CNN.
Democrats have slammed the president's actions, accusing him of attempting to get a foreign government to dig up dirt on his political rival. The revelations have pushed the needle closer for many Democratic lawmakers to support impeaching the president, and Speaker of the House Nancy Pelosi, the top Democrat in Congress, announced the official launch of an impeachment inquiry on Tuesday evening.
"This week, the president has admitted to asking the president of Ukraine to take actions which would benefit him politically," Pelosi said while making the announcement. "The actions of the Trump presidency revealed dishonorable facts of the president's betrayal of his oath of office, betrayal of national security and betrayal of the integrity of our elections."
Ukraine's President Was 'Very Confused' Over Whether He Should Listen to 'U.S. Embassy' or Trump's Campaign, Senator Says | U.S.