Ukraine Presidential Election 2019: Polls, Candidates and Issues As Zelenskiy, Tymoshenko and Poroshenko Face Off
Ukraine's voters will head to the voting booths Sunday to choose the next leader of the country, and polls indicate they might take a chance on the unknown.
There are currently 38 candidates running for president in Ukraine, but only three have a solid chance to win. Two are political veterans, one of whom is the incumbent President and candy tycoon Petro Poroshenko. One is a newcomer, a comedian named Volodymyr Zelenskiy who has only played a president on television. The 41-year-old Zelenskiy is currently leading in the polls.
Concerns About Corruption
Sunday's vote will be the first Presidential election since a pro-Western movement changed the course of the country in 2014 by ousting the pro-Russian President Viktor Yanukovych. The Euromaidan movement, as it was dubbed, brought Poroshenko to power. But five years later, some Ukranians have been left disillusioned by unfulfilled promises and a perception that government corruption still hasn't been stamped out.
A recent scandal involving the son of one of Poroshenko's deputies and a scheme to smuggle cheap Russian military parts into Ukraine's defense industry did little to assuage people's fears of rampant corruption.
Meanwhile, Ukraine is still at war with its larger neighbor Russia. Moscow continues to support pro-Russian separatists in the eastern part of the country known as the Donbas, and many argue that Russia will attempt to interfere in the elections on Sunday. An estimated 13,000 people have died since the conflict began.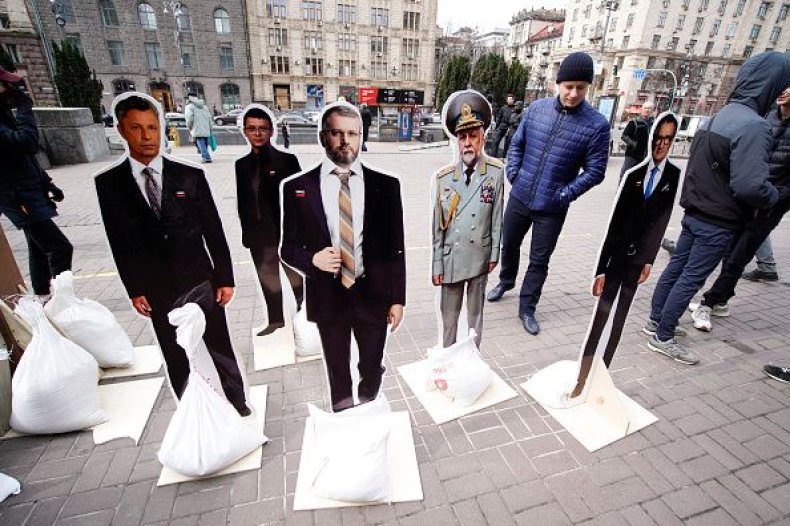 Slow Economic Growth
Melinda Haring, an expert on Ukraine at the Washington-based Atlantic Council, says the election will have a decisive impact on the future of the country's economy.
"The economy is somewhere between two and three percent. It is growing, but it's very small growth. The finance minister estimated that Ukraine would have to grow for 50 years at this rate to finally reach Poland. There is a lot of concern about people's salaries and whether they are actually going to see an improvement in their day-to-day," Haring told Newsweek. "It's one of the poorest countries in Europe."
The first issue the new President will face is how to negotiate a new deal with the International Monetary Fund (IMF), Haring notes. "Ukraine has a lot of debt coming due from the Yanukovych era. And Ukraine really needs more IMF funds," she told Newsweek.
Elise Giuliano, a lecturer and expert on Eastern Europe at Columbia University's Harriman Institute, says low living standards and corruption will be at the front of voters' minds.
"There is massive disappointment among the population that the current president, Poroshenko, has not reduced corruption and lived up to the hope of the EuroMaidan Revolution of 2104," Giuliano told Newsweek. "This is why Poroshenko is lagging so far in the polls behind a candidate, Zelenskiy, who has no prior experience in politics and is a television actor."
"Though Zelensky has a vague political program, he does not make unrealistic promises to people and his sitcom, named 'Servant of the People,' in which he plays a fictional president who criticizes corruption in Ukraine, mounts a sustained critique of the current political establishment that resonates with many people," Giuliano added.
Candidates will need to win at least 50 percent of the vote on Sunday in order to emerge victorious. Otherwise, a runoff will be held on April 21. Zelenskiy is currently leading in the polls, with Poroshenko and Tymoshenko tied for second place.
"We know that Zelenskiy is going to make the first round. The question is will it be Poroshenko or Tymoshenko," Haring told Newsweek.
Here's what we know about the three leading candidates ahead of Sunday's vote: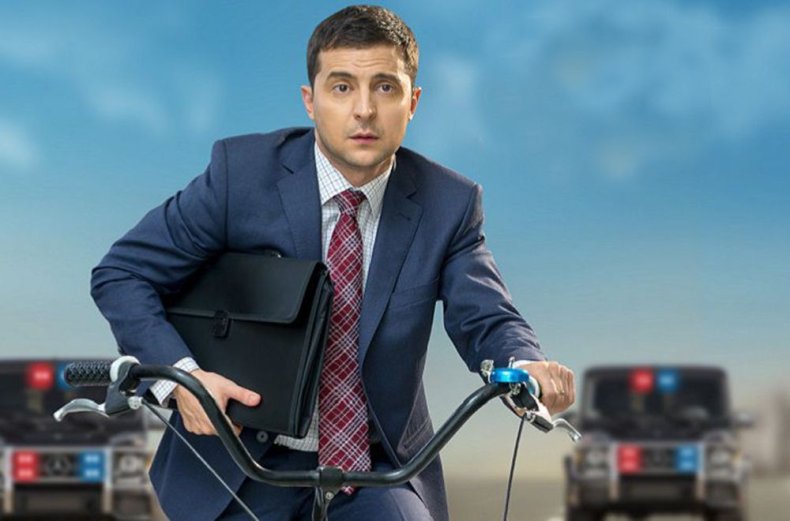 Volodymyr Zelenskiy
The comedian is the least traditional candidate and currently leads the polls. His popular television show and social media savvy make him popular with young people. But some argue that he is too closely linked to oligarch Ihor Kolomoiskiy, who owns the television channel which broadcasts his series. He has also been criticized for speaking more frequently in Russian than in Ukrainian.
"Zelenskiy's show was launched by Kolomoyskyi, whose advisors are said to be working closely with Zelenskiy's campaign," Andrea Chalupa, a writer and filmmaker focused on Ukraine, told Newsweek. "Should the TV star be elected the next president, only time will tell if Kolomoyskyi was using him or if it was the other way around."
"We've seen in the U.S. what a politically untested TV star can do to a country, both domestically and internationally. Plus a recent investigation by Ukrainian investigative journalists uncovered that Zelenskiy failed to declare a 15-room Italian villa in a vacation locale popular with Russian oligarchs known as Italy's 'Moscow province.' That's far from the populist hero he plays on TV," Chalupa added.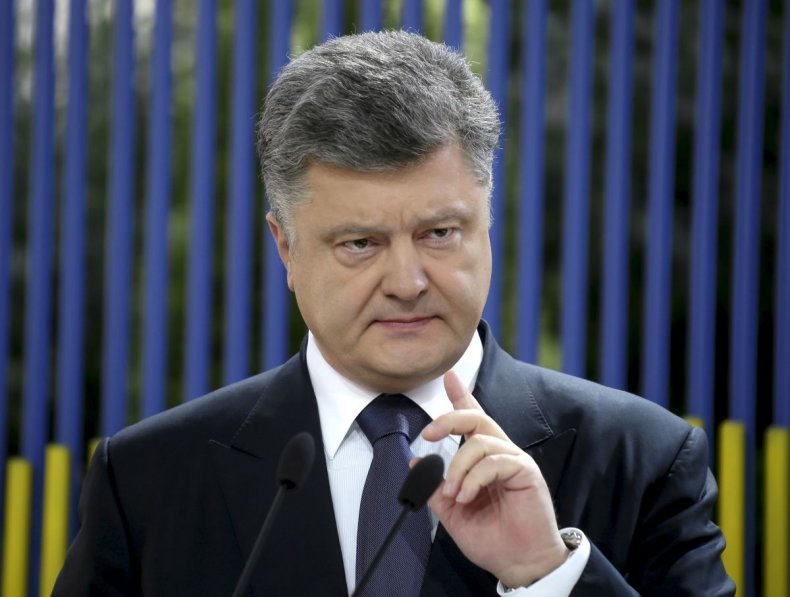 Petro Poroshenko
Over the past five years, the chocolate oligarch known as the "Chocolate King" has reoriented Ukraine towards the West, with the overwhelming support of the population. He recently pledged to pursue eventual membership for Ukraine in the European Union and North Atlantic Treaty Organization. He's also presented himself as a nationalist who defends the army and the Ukrainian language.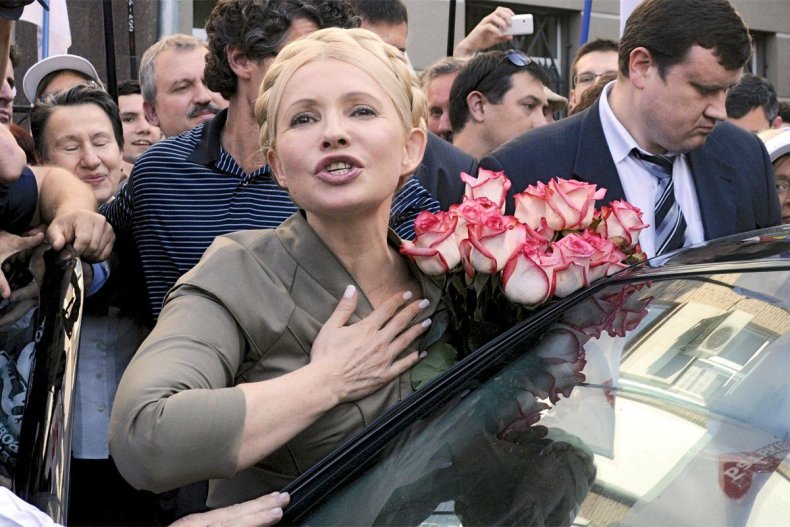 Yuliya Tymoshenko
The former Prime Minister landed in jail for allegedly abusing her office by striking a 2009 deal with Russia over the price of natural gas. She was released in 2014, following Yanukovych's ousting. Tymoshenko is a well-known face and a populist. She has promised to raise pensions, end corruption and slash gas tariffs.
"The good news in Ukraine's elections is that there is no pro-Kremlin frontrunner. There's no Yanukovych in this race. The Kremlin's response to this has been to fill Russian state TV with accusations trying to delegitimize Ukraine's election," Chalupa told Newsweek. "The bad news is that the election has essentially turned into a war of revenge by Ihor Kolomoyskiy, a powerful oligarch busted for corruption, including massive bank fraud, against the current president, Petro Poroshenko."