What Are Ukraine's RAAM Mine Systems? Equipment Stalling Russian Advances
Ukraine's effective use of anti-armor mines has helped stop Russian assaults in the Donetsk oblast, British defense officials have said.
In its daily update, the British Ministry of Defense (MOD) said that Russian attempts on the town of Vuhledar, south of Bakhmut, have "almost certainly slowed" following repeated failed attacks over the previous three months.
A renewed Russian offensive at Vuhledar started at the end of January reportedly involving the 155th Marine Brigade of the Pacific Fleet. The MOD said on Thursday that one of the reasons for Russian losses in this sector has been "Ukraine's successful adoption of Remote Anti-Armour Mine systems (RAAM)."
The United States-supplied RAAM is a 155mm howitzer shell containing nine anti-tank mines. It can scatter anti-armor mines between 2.5 to 10.5 miles away from the firing unit, allowing Ukrainian forces to lay the mines from a distance rather than by hand.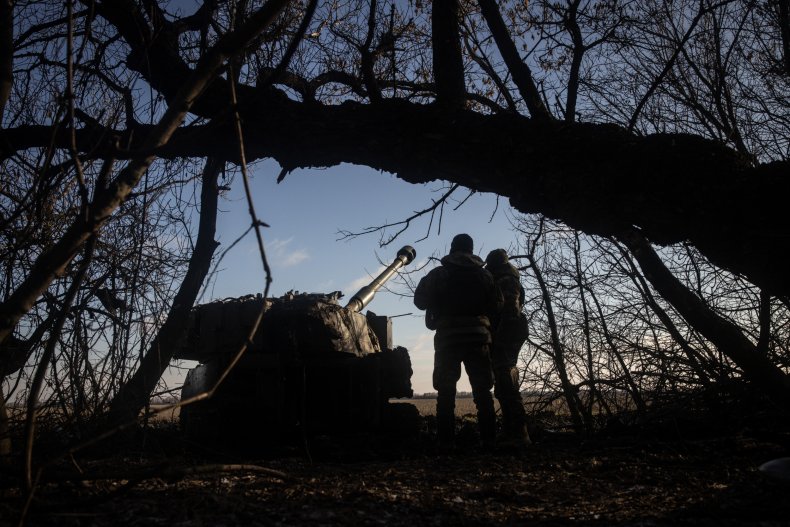 First developed in 1980, the projectile can be delivered using either the M109 series or M198 or M777 series howitzers and can be triggered in enemy territory after a pre-set time. To stop them, Russian forces have to suppress the guns firing the mine shells.
They are part of the U.S. package of military support for Ukraine provided since the start of the war. By January 2023, the U.S. had sent approximately 10,200 rounds to Kyiv's forces.
British defense officials said on Friday that Ukraine launched the mines over and behind advancing Russian units, "causing disarray when Russian vehicles attempt to withdraw."
Newsweek reached out to the Russian defense ministry via email for comment.
It comes amid reports that Russian forces have struggled to cope with Ukraine's mines, in particular RAAM shells. Videos have circulated on social media appearing to show Russian tanks driving into minefields and exploding.
In one video, Ukrainian soldiers wait for Russian troops to clear a path through a minefield before firing new mines into the freshly cleared path. Ukraine is also using the traditional mine, the Soviet TM-62, according to Forbes.
"I think this is the first time we are seeing them used in anger," former British military intelligence officer Philip Ingram told Newsweek. "They are proving to be an extremely effective weapon system able to rapidly deploy an area denial capability where it is least expected and most disruptive."
"Not only will it impact Russia's freedom of maneuver and its ability to support operations, but the psychological effect will likely be having a major impact on Russian morale," he added.