Ukraine Ready to Fight Russia in Court Over First Land Link to Annexed Crimea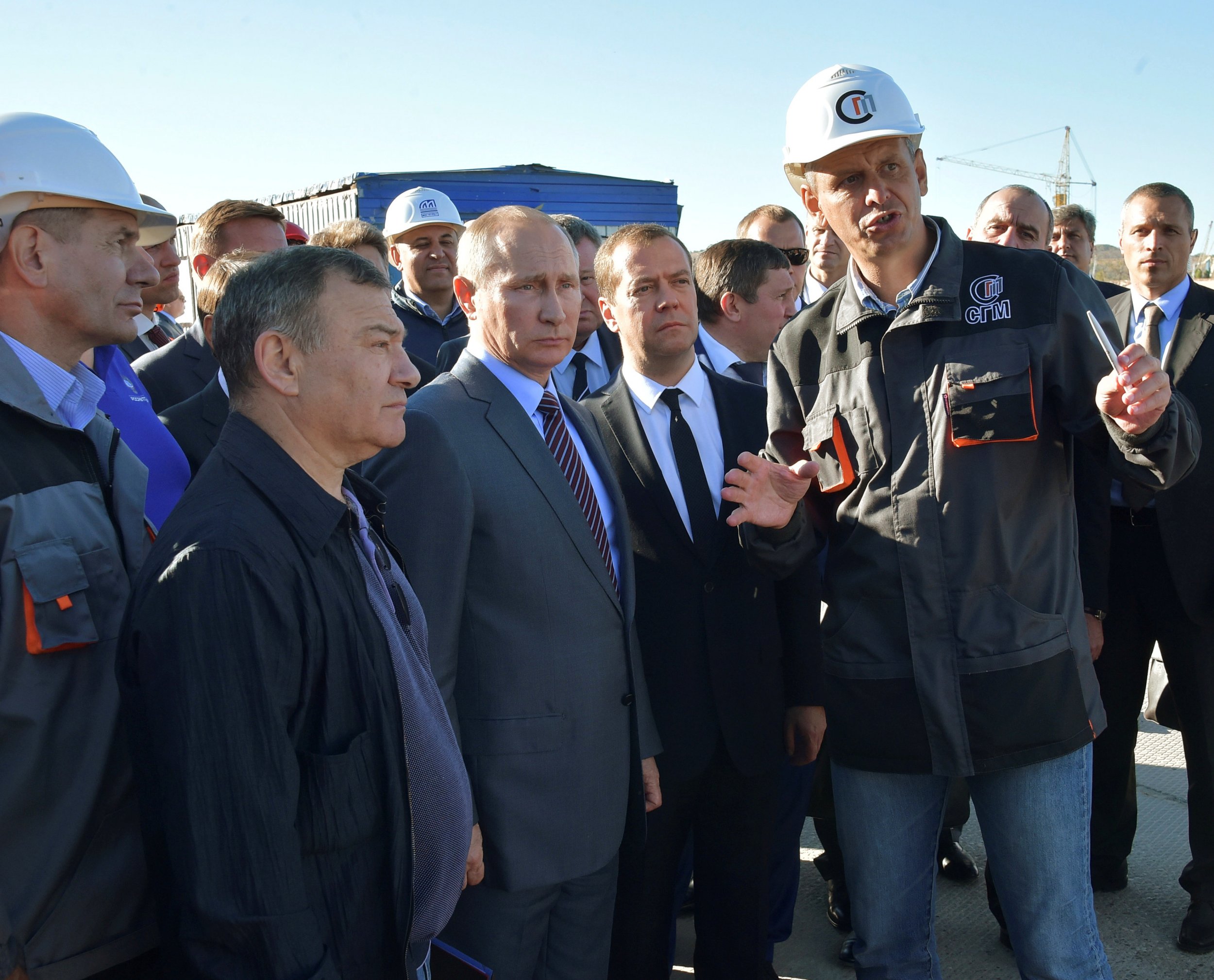 Ukraine is preparing a lawsuit against Russian President Vladimir Putin's bridge to Crimea, fearing that it will close off the waters of three other Ukrainian regions, Kiev-based news agency UNIAN reported Wednesday.
The bridge is mired in controversies already, without even having opened. It will be the first land link between Russia and the Crimean Peninsula, a region Russia annexed from Ukraine in 2014 but that is still recognized as Ukrainian by U.N. General Assembly majority.
The 12-mile construction is the project of Arkady Rotenberg's company. The Russian businessman is one of Putin's closest associates and is under Western sanctions introduced because of the Crimea annexation. The bridge will cost Russia around $5 billion, Radio Free Europe estimated.
Read more: Russia's security forces blame Ukrainian spies as Crimea tourism season slumps
As well as being a link to an annexation considered illegal, Ukraine's Ministry of Infrastructure fears the bridge, stretching across the narrow Kerch Strait, will also have another effect—it will close the strait. The narrow waters of the strait link the large Black Sea with the Sea of Azov, which is shared by Russia and Ukraine.
Besides Crimea, three more Ukrainian regions sit on the Azov coastline, sea access to which will be obstructed by the bridge.
Ukraine's Justice Ministry is in the process of drafting other legal action against Russia—namely linked to issues with the annexation and supporting violent insurgencies in eastern Donetsk and Luhansk regions. According to Deputy Infrastructure Minister Yuri Lavrenyuk, the bridge, planned to open for car traffic next year, will be the specific focus of a suit.
"At the moment, a summons is being prepared, and the financial losses from unreceived cargo for the Mariupol and Berdyansk commercial ports are being calculated," Lavrenyuk says.
"This is a global, political and complex issue, but we will absolutely resolve it," he adds.
By December 2018, Russia hopes the road section of the bridge will be fully operational, with a rail link opening soon after.
The bridge has faced some backlash in Russia and Ukraine, where experts have queried the safety of the construction, some pointing to the collapse of the only previous attempt to link Russia with Crimea by bridge. This has not deterred current construction, however, as the failed project took place in 1944 and was much less expensive.