Ukraine Receives 20,000 Applications for 'Stormtrooper' Fighting Force
Ukraine has unveiled a new initiative to create a fighting force that can help in liberating occupied territories. Those who apply for the "Offensive Guard" assault brigades among the country's National Guard will be called stormtroopers.
The National Guard of Ukraine stated Saturday that they've already received more than 20,000 applications to become part of the fighting force.
Ukrinform reported that NSU spokesman Ruslan Muzychuk announced Saturday during a national telethon that interest in joining the Guard has grown by the thousands.
"In general, there are already more than 20,000 applications. We have three main sources of applications," Muzychuk said. "We receive the largest number through www.storm.mvs.gov.ua, where the online survey works. More than 14,000 questionnaires were received through this channel, more than 7,500 of them are applications for joining the National Guard units. "TsNAPy" also work, "hot lines," of course, work is carried out through the picking centers."
Muzychuk said the next step is to cipher through the applications and determine which potential fighters will best fit its assault brigades. Any candidates selected during the process must go through a medical examination, psychological testing and a thorough review of documents.
"All these stages of selection are necessary, since we are forming assault brigades. Highly motivated candidates must get there, they must also meet other requirements for the formation of such units," Muzychuk said.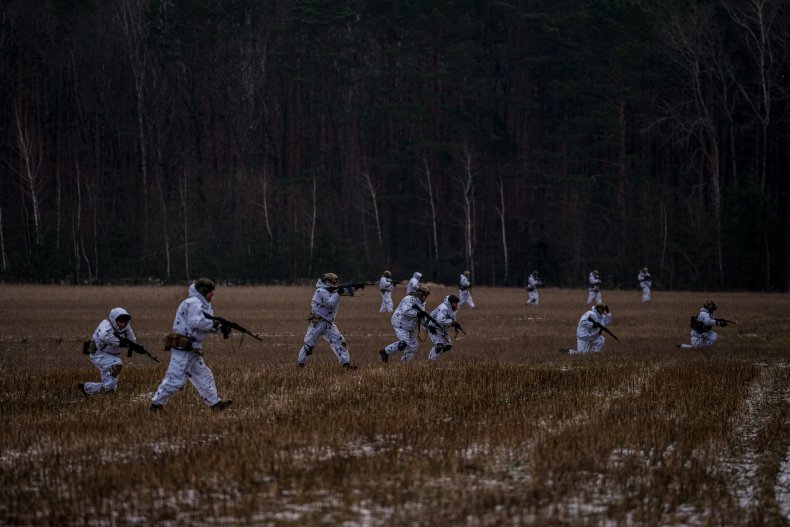 These troops called stormtroopers by the Ukrainian National Guard will be given several federal perks should they make it through the liberation of Luhansk, Donetsk and Crimea from Russian occupiers.
"Volunteers who will become stormtroopers receive a number of social guarantees - in particular, a stable and competitive salary, the opportunity to receive housing and treatment and rehabilitation in state medical institutions, study at departmental universities, retire with mixed experience, acquire the status of UBD and other significant advantages," Muzychuk said.
The war between Russia and Ukraine began on February 24, 2022, after Russia amassed troops along Ukraine's border for a month while conducting military drills with Belarus.
The first anniversary of the Russia-Ukraine war happens in less than two weeks, and Ukraine has announced it anticipates possible Russian offensives to commemorate the date.
Ukraine Defense Minister Oleksiy Reznikov said that Russia "likes symbolism" and that strikes on February 24, 2023, on the war's anniversary wouldn't be far-fetched.
"We still, of course, expect possible offensives from the Russians, because it's February, they like symbolism - February 24 will be a year since this invasion began, the open stage of the Ukrainian-Russian war, which began in 2014," Reznikov said Sunday at a press conference. "That's why we expect this pressure. We are ready, the Armed Forces are ready, the Staff of the Supreme Commander-in-Chief is constantly monitoring, so there are no unexpected things for you and me."
Russia lost approximately 1,140 soldiers on Friday, according to Ukraine's Ministry of Defense on Saturday. That tops Russia's losses for personnel in a single day of this war.
Russia has now lost nearly 137,000 troops during the war, according to Ukrainian figures.
Newsweek reached out to the Ukraine Ministry of Defense for comment.