A Ukrainian refugee has been reunited with her beloved dog at the San Diego Humane Society after being separated at the U.S.-Mexico border about a month ago so the pet could complete a required rabies quarantine.
Perseya, a Pomeranian, was seen jumping and barking in excitement upon meeting her owner, Rosaliia Raison, on May 29 in a video shared by the San Diego Humane Society that captured the heartwarming reunion.
Veterinarian Dr. Gary Weitzman, the president and CEO of the San Diego Humane Society, said in a statement: "Pets are family, and families should never be forced apart."
Raison, who is from the Cherkasy region in central Ukraine, arrived in Mexico with her husband, mother and dog and entered the U.S. via the San Ysidro Point of Entry, according to the society.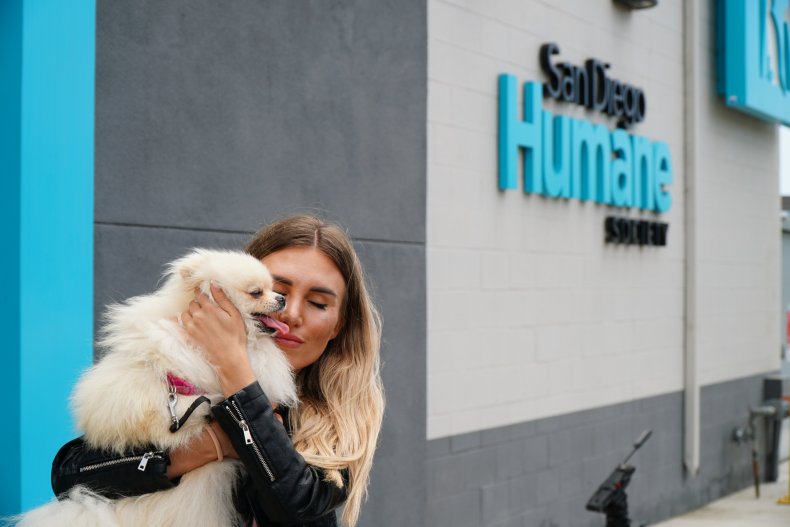 On April 30, Perseya was taken to the San Diego Humane Society, where she began her 28-day quarantine and received care at the society's behavior center.
The video showed the dog running around a grass patch enclosure, while playing fetch and being fed treats by a staff member.
Raison told NBC News on May 29: "When I saw her, I felt her heart beating so much, so quickly. But now I feel she is better, she's okay," she told NBC News, while cradling the dog in her arms.
Weitzman told NBC News: "Right now we are all bleeding from our hearts about what is happening in Ukraine.
"Having this beautiful animal here and being with her wonderful owner and to be able to bring them back together to start a new life in the United States is taking away a little bit of that pain from everyone," he said.
The effort to support Ukrainian refugees entering the U.S. began after Weitzman deployed to Poland with the Greater Good Charities organization to provide veterinary care and help the International Fund for Animal Welfare establish a border crossing veterinary clinic to support pets impacted by the war in Ukraine, the San Diego Humane Society said.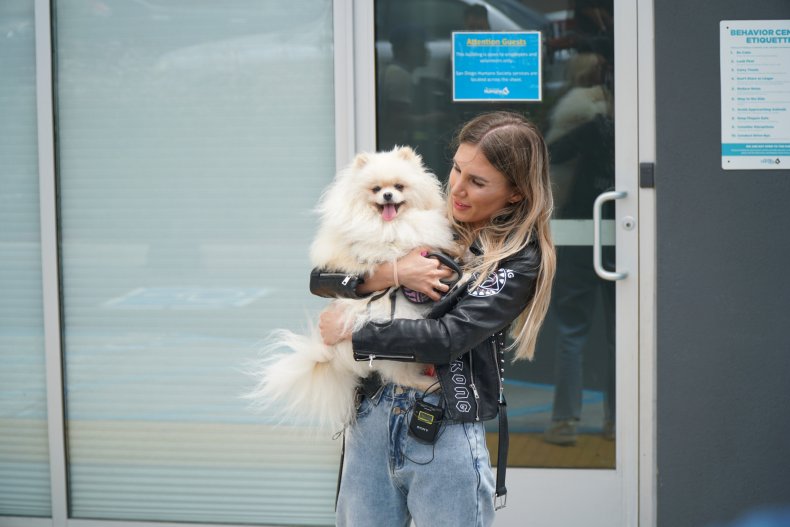 "As soon as the war broke out in Ukraine, we began looking for ways to support people with pets and the animals left behind by this tragedy. When we heard that Ukrainian pets were getting stopped at the border—right in our own backyard—we immediately wanted to help," Weitzman said in a statement. "We'll do whatever we can to help the animals and people impacted by this tragic crisis."
The San Diego Humane Society will continue to work with the U.S. Centers for Disease Control and Prevention as well as the U.S. Customs and Border Protection to transport and quarantine the pets of Ukrainian refugees as needed, the society said.
Do you have funny and adorable videos or pictures of your pet you want to share? We want to see the best ones! Send them in to life@newsweek.com and they could appear on our site.