Ukraine Residents Return to Bombed Cities as Mayors Ask Them to Stay Away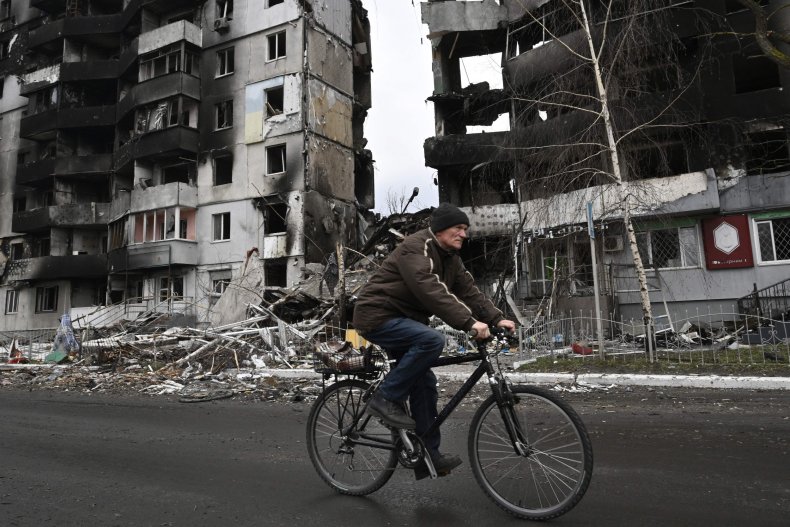 Some residents of Ukraine are headed home while Russian attacks continue, ignoring warnings urging them to stay away from bombed-out cities.
While over 10 million Ukrainian residents have been forced from their homes since Russia invaded on February 24, either by fleeing the country or by moving internally, a significant number have since returned. In a tweet on Tuesday night, Ukrainian journalist Nataliya Gumenyuk said that returning residents of Kyiv were ignoring pleas from Mayor Vitali Klitschko and others urging them to delay their return.
"Our beautiful Kyiv comes back to live," Gumenyuk tweeted. "Subway is to run, restaurants to open, least important check-points are removed to make traffic easier. Mayors asks ppl not to come at least for a week, but they return. Border police confirms more ppl come back then leave Ukraine now."
Gumenyuk added that fewer sirens were being heard in Kyiv and that there was "a feeling of victory in the battle" of the city, while noting other areas of Ukraine were "paying the price for Kyiv."
Over 4.2 million residents have fled Ukraine amid the war, according to the United Nations Refugee Agency. Recent figures from the State Border Guard Service of Ukraine suggest that more residents are still leaving the country than returning, although by a slimmer margin than some might expect—29,000 left the country on Monday, while 24,000 entered.
An increasing number of refugees were returning to the country from the west, near the city of Lviv, according to The New York Times. A returning refugee named Oksana told the paper that she and her family were headed to their home in Dnipro, a city recently struck by Russian missiles, partly due to a lack of opportunities in the Czech Republic.
"Nobody needs us," Oksana said. "Nobody needs teachers. Knowing the Czech language is obligatory. They would be ready to take me as a cleaning lady, but even then I would need to find a place to live."
Klitschko urged those hoping to return to Kyiv to delay their homecoming in a Telegram message on Wednesday, while acknowledging that residents "who traveled to other cities continue to return to the capital."
"Those who have not gone home yet, I appeal: please wait a bit," Klitschko wrote. "There is still a likely threat of shelling of the city."
Klitschko vowed that officials would continue to "support" those remaining in the city. He urged residents to carefully adhere to restrictions that have been introduced since the Russian invasion, including a daily 9 p.m. to 6 a.m. curfew and rules affecting drivers.
"Since there are many checkpoints and blocks on the roads in the city, I urge drivers to be careful and follow the rules of the road," said Klitschko. "Since there are much more cars in the city, and obstacles on the road complicate traffic."
Officials in Kyiv recently released an assessment that concluded 98 civilians had been killed and nearly 400 others injured during the first 40 days of the Russian assault.
Casualties have been heavier outside of the capital, with Ukraine saying that at least 400 civilians were massacred by Russian troops in the Kyiv suburb of Bucha alone.
In Mariupol, Mayor Vadym Boichenko said that more than 5,000 civilians had been killed as of Wednesday, while over 90 percent of the city's infrastructure had been destroyed by Russian bombs.
Officials in hard-hit Irpin believe that hundreds of civilians were killed before Ukraine retook the city from Russian forces. On Wednesday, Ukrainian journalist Anastasiia Lapatina tweeted that hundreds of residents had volunteered to help clear debris from streets.
Newsweek reached out to the Embassy of Ukraine in Washington, D.C., for comment.