Ukraine Losing Land, Pausing Fighting Would Lead to 'More Bloody' War: Ally
Mykhailo Podolyak, an adviser to Ukrainian President Volodymyr Zelensky, said there's no going back on the war with Russia and cautioned that even a pause on the fighting could lead to a "more bloody" war waged by Russian President Vladimir Putin.
"I want the fullest possible understanding that nothing is over yet. Therefore, we must continue to fight in all directions," Podolyak wrote on Telegram on Wednesday. The top official said there can be "no question" about freezing the war and that doing so would only result in "a war postponed."
"[A] larger, more bloody and better prepared by the aggressor, who will work on the mistakes, release and arrest the generals, and in their place will put militants with the experience of today's war," Podolyak warned.
His remarks came as some have suggested that Ukraine agree to give up some of its territory in order to reach a peace deal with Russia to put an end to the three-month-long war.
But Podolyak made it clear that "Ukraine will not take part in this discussion."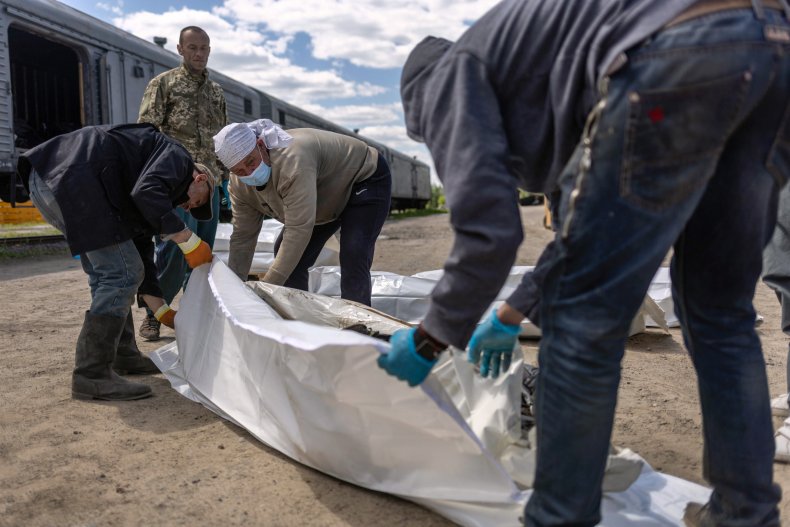 "We do not trade our citizens, territories or sovereignty. This is a clear red line," he said, according to an English translation of his post. "Ukrainian society has paid a terrible price and will not allow anyone to even take a step in this direction—no government and no country. Any hint of this from either partner will receive a principled response."
Kyiv's lead negotiator also slammed geopolitical consultants for reducing the war down to Ukraine's territories, saying that even after a deal is reached, the 13 million refugees who have fled Ukraine will be unable to return to occupied areas due to safety risks and a lack of economy.
"Any war ends at the negotiating table, and this will be no exception. But negotiations will be possible only when the parties are ready to agree," Podolyak said. "To do this, Russia needs to start soberly assessing the situation. Allegations of concessions, saving faces or freezing the conflict are unlikely to help."
On Wednesday, Podolyak also sent a clear message to anyone asking Ukraine to make compromises in order to put an end to the war, referring them to the defiance of the Ukrainian people these last few months.
"Ukraine was given from three days to several weeks. The Ukrainians defended Kyiv, liberated three oblasts and are completing the liberation of the fourth," he said. "Today, the same people [who predicted Ukraine would lose to Putin] offer us to give Russia the east and the south. Thanks for the advice, but we'll probably take up arms."