Attempt to Retake Crimea Will Spark Global Nuclear War, Official Warns 
A global nuclear war will "immediately" break out should any attempt be made to return Crimea to Ukrainian control, the head of Sevastopol's Civic Chamber said on Tuesday.
Alexander Formanchuk, the chairman of Crimea's Civic Chamber, made the remarks in an interview with state-run news agency RIA Novosti.
"Any attempt to seize Crimea and return it to Ukraine will immediately escalate into a thermonuclear global conflict. Russia will not forgive this," he warned.
Formanchuk, who has led the chamber since May 2021, was responding to recent comments made by former CIA Director David Petraeus about the potential recapture of Crimea—the Black Sea peninsula that Russian President Vladimir Putin illegally annexed from Ukraine in 2014.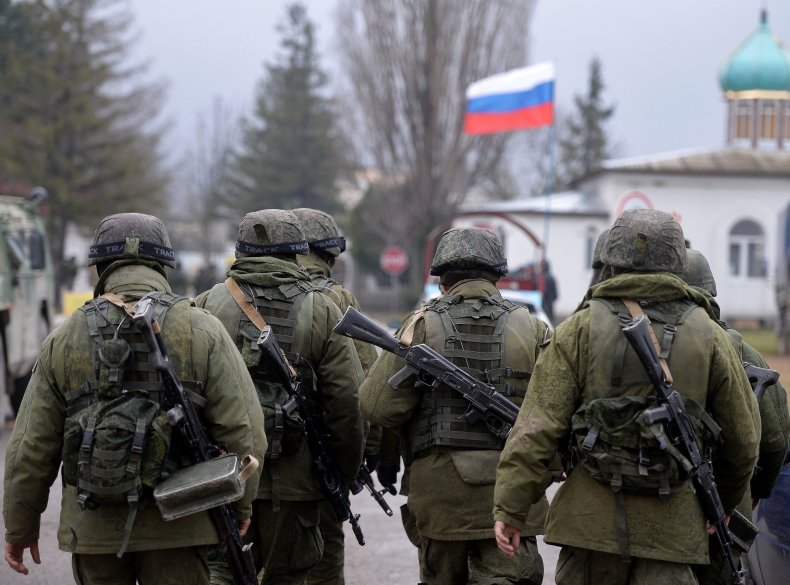 Speaking to the Washington Post, Petraeus said he believes it's an "open question" as to whether Ukraine will be able to retake Crimea.
"Here's the scenario. If [Ukraine] can, in the spring/summer offensive this year sever the ground link that Russia has, the ground bridge, as it's called, that Russia has established that goes from Russia proper down into Ukraine, and so they block that, then, Russia is dependent on the Kerch Strait Bridge to keep Crimea resupplied," Petraeus said.
"If you could take that down again—or part of it, of course, was knocked down earlier—and then force it to rely on ferries, and then if you can start taking them out—now, these are very, very challenging actions and operations."
Petraeus added: "If you can isolate Crimea fully and if you then have the precision munitions with greater range and can start picking off the Black Sea Fleet headquarters, the various air bases, the various sea ports, and all the rest of this, again, it is not inconceivable that you could sufficiently isolate it, and then at some point in time, either go in on the ground or have some kind of concession in the other direction."
Formanchuk said the former CIA director's outlined scenarios "are suicidal."
Washington and Kyiv should remember how Russia reacted to the October 2022 attack on the Kerch Strait Bridge that links Crimea to Russia, he said. Kyiv didn't claim responsibility for that attack, but Putin responded by launching a barrage of strikes on Ukraine's critical infrastructure for months.
"It was after that terrorist attack that high-precision strikes began on critical infrastructure facilities in Ukraine. Crimea is Russia's untouchable territory, if they try to return it to Ukraine, then the United States will be responsible for unleashing a thermonuclear military conflict," Formanchuk added.
Ukrainian President Volodymyr Zelensky has vowed to take back Crimea, saying during a televised address on August 29, 2022, that Ukraine's military had "kept the goal" of recapturing Crimea since it was annexed by Putin.
"This war, which began with Russia's occupation of our Crimea, with an attempt to seize Donbas, must end precisely there—in the liberated Crimea, in the liberated cities of Donbas, with our troops reaching the state border of Ukraine," Zelensky said at the time. "We have always kept this goal in mind. We do not forget about it.
Many fear however that retaking Crimea would be a red line for Russia and that Putin may use his country's nuclear capabilities to defend the territory.
Newsweek has contacted the foreign ministries of Ukraine and Russia for comment.
Do you have a tip on a world news story that Newsweek should be covering? Do you have a question about the Russia-Ukraine war? Let us know via worldnews@newsweek.com.