Ukraine Retakes 'Key Terrain' in Blow to Russia Supply Lines: General
Ukrainian forces have "brilliantly executed" a two-day armored attack that could pay long-term dividends in the Kharkiv Oblast, retired U.S. Army General Mark Hertling said.
The northeastern city of Kharkiv fell to the Russians in mid-May after three months of heavy bombardment. New maps show that Ukrainian troops in the nation's second-largest city are capturing nearby cities and potentially putting Russian forces on their heels due to reported diminished forces and Ukraine's recent counteroffensive.
"[Ukraine] regained key terrain that will affect Russian supply lines, w/ the added benefit of depleting RU units & overall RU morale," Hertling tweeted on Wednesday.
Michael Kofman, Russia Studies director at the Center for Naval Analyses, tweeted on September 4 that "with supply lines strained" due to consistent Ukrainian strikes against bridges and ferries, Russians are being forced into "an untenable position" that might cause retreat across the Dnieper River, aided by U.S-provided artillery like HIMARS suppressing Russian air forces.
"To place the offensive in context, much of the front has become active with UA forces launching localized counter attacks around Kharkiv and Donbas," Kofman said in another tweet. "These local initiatives are probably designed to take advantage of lost Russian momentum."
CNN reported that Ukraine's sustained attacks on command posts, ammunition stores and fuel reserves beyond the front lines in Kherson have also proved successful by cutting off and isolating Russian troops west of the Dnieper.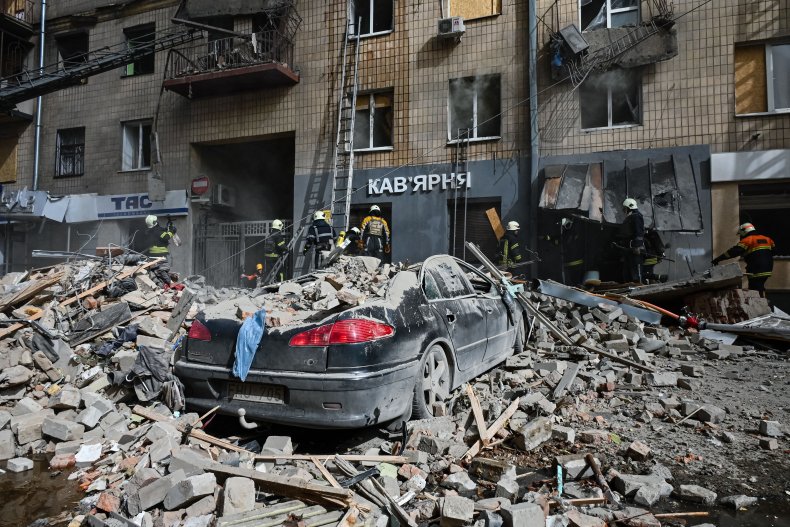 The counterattack conducted on Tuesday "likely drove" Russian forces to the north side of the left bank of the Siverskyi Donets and Serednya Balakliika rivers, according to a tweet from the Institute for the Study of War. Ukrainian forces also "likely captured" Verbivka, which is less than 3 kilometers northwest of Balakliya, the Institute said.
Satellite images showed Ukrainian infantry in eastern Verbivka—including one image of a destroyed Russian bridge over the Serednya Balakliika River, viewed as a refuge for the Russian military frontline.
Mykhailo Podolyak, adviser to Ukrainian President Volodymyr Zelensky, said Russian forces should evacuate the area.
"The only good strategy for Russian troops now is large-scale retreat in all directions," Podolyak tweeted on Tuesday. "Strongly recommend."
The Institute for the Study of War also said that Russian forces likely abandoned Bayrak and Nova Husarivka, located south of Balakliya on the right bank of the Seversky Donets River, in late August and no longer maintain their positions.
"Russia's deployment of forces from Kharkiv and eastern Ukraine to Ukraine's south is likely enabling Ukrainian counterattacks of opportunity," the Institute wrote September 6. "The Ukrainian counterattack in Kharkiv was likely an opportunistic effort enabled by the redeployment of Russian forces away from the area to reinforce Russian positions against the Ukrainian counteroffensive in Kherson Oblast."
According to Reuters, Kyiv-based military analyst Oleh Zhdanov said Ukraine taking control of Balakliia could facilitate the full or partial encircling of the Russian-held city of Izyum.
Journalist Samuel Ramani reported that Oleksiy Arestovych, an adviser to Zelensky, said that Ukraine will fight simultaneously on the southern and Kharkiv fronts.
"Ukraine's strategy is to advance across the whole front-line and restrict Russia's advance to Bakhmut in Donetsk, which is stalling," Ramani tweeted.
Newsweek reached out to the defense ministries of Ukraine and Russia for comment.